Unveiling of the award by (second from left) JASTECA Past President Sunil Wijesinha and Lean Enterprise Group Director Shri Skandaraj. (From left) JASTECA Senior Vice President Gamini Marambe, President Nimal Perera and General Secretary Sunil Ratnayake also present
By Divya Thotawatte

The Japan Sri Lanka Technical and Cultural Association (JASTECA) recently announced the launch of the JASTECA Awards which recognises the country's strongest performers who excelled in 5S, Kaizen and Corporate Social Responsibility.

The main objective of the JASTECA awards competition, which is to be held on 11 September, is to create awareness on 5S and Kaizen concepts which helps improve organisations to grow up to international standards.

JASTECA President Nimal Perera stated: "Among JASTECA awards, the Taike Akimoto 5S award scheme is the most popular event which many organisations in Sri Lanka are looking forward to take part in. 5S is a five-step Japanese concept which makes the day-to-day activities in your life easier. The Taike Akimoto 5S competition commenced in 1995 in support of the Productivity decade declared by the government of the time."

"Initially the competition was restricted to the Industrial sector only which was extended to the Service sector later in 2001 and with that many state sector organisations such as government hospitals, Sri Lanka Telecom, CEB, police stations and district councils started to participate," he added.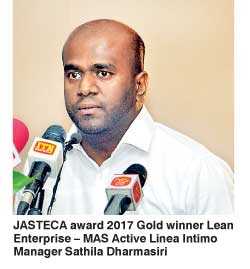 With the implementations of 5S, many private sector industries have improved the productivity and quality levels of their products tremendously and thereby their profitability. Perera noted that leading apparel exporters including MAS Holdings had accepted the 5S concept as a major contributor to their products achieving international standards.

"5S is a Japanese technique which stands for sort, set in order, shine, standardise and sustain. 5S was made popular by Japan and it was spread to lots of other countries. Even European countries have courses on 5S. To implement the 5S concept in a place you need to have strong leadership, a can-do attitude and a belief that you can make a change. That sort of leadership is essential," said JASTECA Past President Sunil Wijesinghe.

He said that 5S was much more than making the workplace clean, orderly and neat. A focus on productivity, quality, cost, on-time delivery, safety and morals is essential for a business to be competitive in the local and global market. According to Wijesinghe, 5S helps improve all these factors in an organisation.

JASTECA Senior Vice President Gamini Marambe spoke on the evaluation criteria of the 5S and Kaizen Competition.

"We have four categories - large, medium, small and micro - and those are based on the number of employees in the workplace. Organisations with more than 250 employees belong to the large category, organisations with 51-250 are medium, companies with 40-50 belong to small and organisations with less than 10 employees are selected as micro," he noted.

The Kaizen Award was added on to the JASTECA Award scheme to subsequently encourage organisations to sustain and continuously improve 5S. Another award within the JASTECA Award scheme is the CSR sustainability award which was introduced to recognise the organisations that contribute immensely to society.

Additionally, a new award is to be introduced this year to recognise entities that have successfully implemented many Japanese management systems such as Kaizen, Quality Circles, Total Quality Management (TQM) and Total Productive Maintenance (TPM).

Pix by Ruwan Walpola