Top export promotional professional Indira Malwatte has joined the Cargills (Ceylon) Plc Board as an Independent Non-Executive Director.

Malwatte holds a Combined Degree in Economics and Geography from the University of Peradeniya Sri Lanka and was the first woman Chairperson of the EDB.

She commenced her career in international marketing at the Ceylon Tea Promotion Bureau in Tokyo, Japan and joined the Export Development Board (EDB) in June 1981. She has over 40 years of experience in serving the Government both internationally and locally as a top export promotion professional.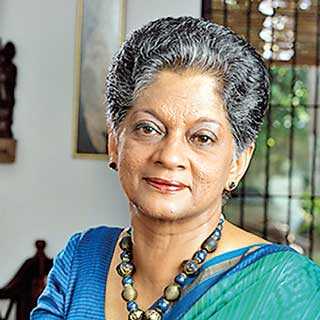 Indira Malwatte
She has served as the focal point on a number of World Bank, ITC, GIZ, CBI and JETRO export development projects. She served as a Director on the Boards of the National Gem & Jewellery Authority, National Design Centre, Development Holdings Ltd. and Chairperson of the National Packaging Centre and the Mushroom Development Centre among several other Government Committees.

She undertook upon herself to facilitate the maximising of the export contribution to GDP through achieving the National Export target of $ 23 billion in 2020 under the Public-Private Partnership model introduced by her by giving leadership to the Professional staff of EDB towards achieving set targets whilst adhering to ethical business practices.

To encourage and honour women exporters she initiated the Woman Exporter of the Year Award of the Women's Chamber of Industry and Commerce (WCIC) of Sri Lanka.

In July 2016 she was internationally recognised for her long years of service in Business and Commerce by the Women's International Film and Television Showcase (The Wifts) with The Wifts Foundation Lifetime Achievement Award 2016 – Business in London, UK. She was the first Sri Lankan to be bestowed with this honour.

She was also recognised by Zonta Sri Lanka with the 'Woman of Achievement' Award on Management in September 2017 and Women in Management Top 50 Professional and Career Woman Gold 2018 State and Government Sector in 2018 and was featured on the 'The 2018 A List of Sri Lanka Business People' by the LMD Magazine.

With the latest appointment the Board of Directors of Cargills (Ceylon) Plc comprises L.R. Page (Chairman), V.R. Page (Deputy Chairman and CEO), M.I. Wahid (Managing Director and Deputy CEO) A.A. Page, A.T.P. Edirisinghe, S.E.C. Gardiner, J.C. Page, E.A.D. Perera, S. Mendis, D.P. Rodrigo, Y. Kanagasabai, H.A. Pieris and I. Malwatte.