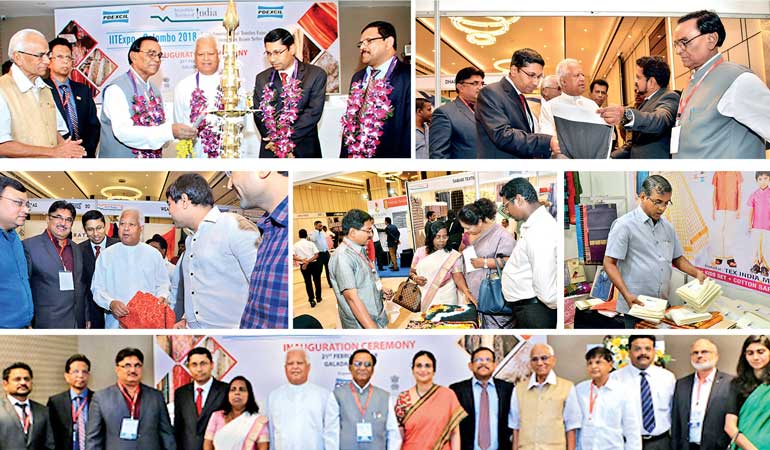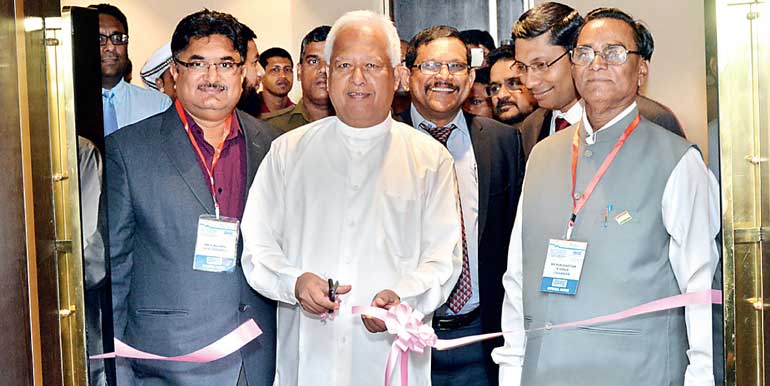 Special Assignments Minister Dr. Sarath Amunugama (C) cuts a ribbon as Deputy High Commissioner of India to Sri Lanka Arindam Bagchi, PDEXCIL Chairman Purushottam K. Vanga, PDEXCIL Vice Chairman Sunil Patil and SLAEA Chairman Felix Fernando look on -Pic by Upul Abayasekara
The India International Textiles Expo (IITExpo) Colombo 2018 Exhibition cum Buyer-Seller Meet, organised by the Powerloom Development & Export Promotion Council (PDEXCIL) of India, was inaugurated at Hotel Galadari yesterday.

At the event, about 45 exhibitors from various textile clusters of India are displaying a variety of fabrics (woven, knitted and non- woven), made-ups, home textiles, traditional items etc., in various blends, texture, colour designs etc., suitable for apparel, industrial, technical application and general consumers. This would be a unique opportunity to see the products of reputed Indian textile companies under one roof.

The three-day event is organised by PDEXCIL with the support of Ministry of Textiles & Ministry of Commerce & Industry, Government of India. The Chief Guest at the inauguration ceremony was Sri Lankan Special Assignments Minister Dr. Sarath Amunugama. Sri Lankan Deputy Petroleum Resources Development Minister Anoma Gamage, Acting High Commissioner of India Arindam Bagchi, Sri Lanka Apparel Export Association Chairman Felix Fernando, and PDEXCIL Chairman Purushottam Vanga were also present.

Dr. Sarath Amunugama noted the stellar contribution of textile sector to Sri Lanka's economy. He mentioned the upswing in the sector in the post-conflict period, and noted that there are huge opportunities, especially considering the regaining of GSP+ status from the EU. He cited the rich textile traditions in both India and Sri Lanka, and said that Sri Lanka sourcing of textile material from India, and transforming it into apparel and garments for rest of the world, could lead to win-win situation for both the countries. Acting High Commissioner of India Arindam Bagchi noted that India would encourage Sri Lankan companies to be part of the supply and value chains of large Indian companies. He noted that apart from traditional fabrics, there is a niche market for products such as banana and bamboo fibres, organic dyes; Sugandha Vastra (Ayurvedic Spice Dyed Garments) etc. and our effort should be to innovate and grow together. He also urged Sri Lanka to make use of fully-funded training opportunities in India, under Indian Technical & Economic Cooperation (ITEC) program, in which a number of slots is earmarked for textile related subjects.

PDEXCIL has had a longstanding association with Sri Lanka since 1998. There exists an MOU between PDEXCIL and Sri Lanka Apparel Exporters Association (SLAEA), which was signed on the sidelines of Textiles India 2017, the first ever Global B2B Textile event held in India, organised by Ministry of Textiles, Government of India in Gujarat in June 2017, which saw participation from several Sri Lankan companies.