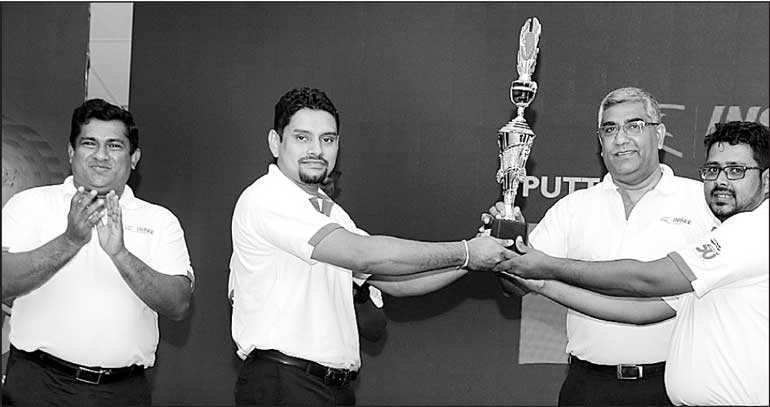 Best Sportsman of the Year 2018 Neel Thushara Appuhamy (Production Department Team) being awarded by INSEE Cement Sri Lanka Organisation and Human Resource Director Chandana Wijayanama, Chairman/CEO Nandana Ekanayake (left), and INSEE Puttalam Cement Plant Manager Chinthaka Thuduwewatte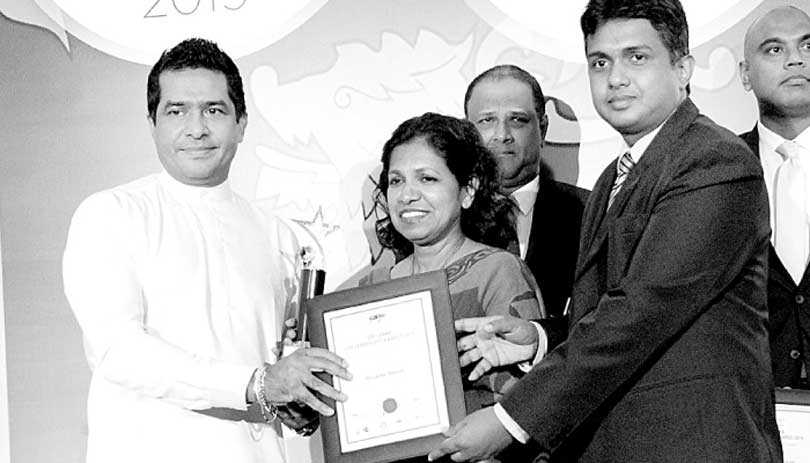 Production Department Team being awarded for the Championship of 2018
Sri Lanka's foremost cement producer, Siam City Cement (Lanka) Ltd., known as INSEE Cement, celebrated a unique milestone in the Company's journey when the Company's manufacturing plant in Puttalam commemorated 50 years. The Puttalam Cement Plant has proved to be a vital strategic investment, enhancing INSEE Cement's role as Sri Lanka's only fully-integrated manufacturer of cement. INSEE Cement celebrated the event with a spectacular Colours Night, honouring the sporty employees in the Company. All employees of the Puttalam Plant were also presented with gold coins to mark the event.

INSEE Cement's Organisation and Human Resource Director Chandana Wijayanama said: "Encouraging and focusing on sports at INSEE Cement also commenced 50 years ago, so the Colours Night is truly meaningful. Sports has enhanced our inter-department interaction, and has contributed to better relationships within functions as well as individuals. Sports events are part of our annual health and wellness program and the winners were appreciated on this important day, when INSEE Cement celebrates 50 years of the Puttalam Plant. The celebratory sports events started in June, and will continue until end December, without disturbing the operational requirements of the Puttalam Plant."

INSEE Cement's Puttalam Plant was set up under the Factories Act of Parliament in 1969 at a time when clinker was brought to the grinding plant in small quantities by train. INSEE Cement's Chairman/CEO Nandana Ekanayake explained: "We are proud to produce the country's most preferred cement brands 'Sanstha' and 'Mahaweli Marine Plus', which have the highest market share and largest customer-base in the cement industry in Sri Lanka. Our products are an important resource for the country's development projects, and significantly contribute to the growth and prosperity of the nation. We are indeed proud to supply cement for building highways, ports, airports, dams, bridges, and high-rise buildings, which are changing our landscape and the lifestyle of all our people."

Quality is a high priority for INSEE Cement, ensuring strict compliance with local and British standards. Quality control and quality assurance are vital aspects in the manufacturing process at INSEE Cement, and the Puttalam Plant aims at achieving zero harm in operations for employees, contractors, suppliers, customers, visitors, and the local community, and is compliant with environmental standards in the cement industry.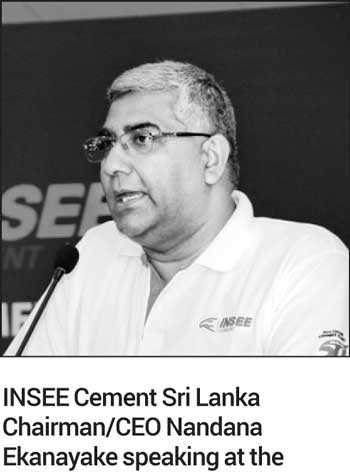 The Puttalam Cement Plant impacts over 10,000 stakeholders both directly and indirectly, in and around the Puttalam area. In 2017, the company spearheaded the renewal of the Memorandum of Understanding (MOU) between the INSEE Enterprise-based Vocational Education (EVE) training centre and the National Apprentice and Industrial Training Authority (NAITA). Under this program, students in the Puttalam area receive National Vocational Qualification Level 4, further proffering lessons in English language and Information Technology along with relevant subjects, including pneumatics, hydraulics, lathe/milling and AutoCAD. The project was initiated in 2007.

INSEE Cement Sri Lanka also known as Siam City Cement (Lanka) Limited is a member of the Siam City Cement Public Company Limited in Thailand. INSEE Cement Sri Lanka is the only fully-integrated cement manufacturer in the country. The company produces Sri Lanka's most preferred brands - INSEE Sanstha Blended Cement and Mahaweli Marine Cement. The flagship brand Sanstha Cement is the first Blended Cement launched in Sri Lanka and the first "Green cement product" to receive the green labelling certification from the Green Building Council, Sri Lanka. The company produces Customised Concrete-based Solutions (Ready-Mixed Concrete) in a state-of-the-art INSEE concrete manufacturing facility in Peliyagoda. It is an eco-friendly, zero-discharge plant with a reclaimer that reuses aggregates and water.

INSEE Innovation and Application (I&A) Centre in Peliyagoda assures the high-quality consistency of all concrete and cement produced by the plants and delivered to the market, and will continuously develop new products and solutions for the industry.

Further, INSEE Cement Sri Lanka currently imports and sells 'Conwood', a popular product in Thailand and Indonesia, as a concrete-based replacement for wood. The company also owns subsidiaries such as Mahaweli Marine Cement Ltd and INSEE Ecocycle Lanka Ltd, which provides safe disposal solutions to waste generated by other

industries.