Iftikhar Ali Malik, a home-grown leader with a global touch, is taking over as the new President of the SAARC Chamber of Commerce and Industry (CCI).

Previously he served in the capacity of Senior Vice President (2018-2019) and Vice President of Pakistan Chapter of SAARC CCI for over a decade.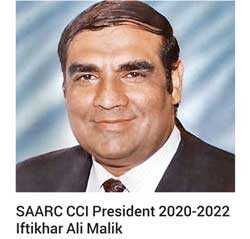 A founder member of the SAARC CCI, the Federation of Chambers of Commerce and Industry of Sri Lanka (FCCISL) has extended best wishes to the new President Malik.

Iftikhar Ali Malik belongs to a well-known and well-respected family of Lahore, Chief Executive at Guard Group of Industries is one of the few highly reputed personalities in the archives of business community of Pakistan. He is currently chairman of United Business Group, and his services as President of FPCCI (2001-2002), LCCI (1990) are laudable for institutional development and patronage.

He is the former Director of National Bank of Pakistan, Founder Chairman of Pak-USA Business Council, Honorary Member of Islamic Chamber of Commerce and Industry Special Lifetime member of Confederation of Asia Pacific Chambers of Commerce and Industry (CACCI), Pakistan Automobile Spare Parts Importers & Dealers Association, PASPIDA (1985-86) Life member and FPCCI. He has established credentials in social services and mentorship for start-up businesses.

Iftikhar Ali Malik has an extensive exposure in regional chamber movement in the Asia Pacific region and has taken part in many international trade forums representing federation of Pakistan Chamber of Commerce and industry. He takes over the reins at a time when the South Asian private sector really needs a strategic direction and a collective thrust towards development and social advancement.

South Asia is home to nearly 25% of the world population and has a lot of potential to grow up economically in the future. South Asian countries commonly feature high concentration of economic activity in larger cities, vast untapped potential and excellence in apparel industry, struggle in attracting investment within the region, less participation in products of high value and ICT – the world largest and fastest growing industry, limited success in global and regional value chain, low productivity coupled with weak management capabilities.

As a way forward, SAARC CCI has a pivotal role to play under the stewardship of Iftikhar Ali Malik in narrowing down difference of opinion of south Asian chamber movement, bringing the much-needed reconciliation, policy advocacy and lobbying through deeper understanding among member chambers.

In fact, the new world order after COVID-19 has opened up new opportunities for business communities in the world and especially towards the integration of South Asian economies. As of today COVID-19 and climate change are two common issues faced by all South Asian countries. We respectfully request new President elect Iftikhar Ali Malik and the new leadership of SAARC CCI to start up a fruitful dialogue among South Asian chambers with a view to take a joint action to help South Asian industries make use of opportunities arising out of both COVID-19 and climate change.

FCCISL President Shirley Jayawardena, being a founder member of SAARC CCI since its inception, wishes to stress the need to respect and comply with the principles of SAARC charter which was formally established in 1985 by its member countries at the first SAARC summit meeting held in Dhaka, Bangladesh.

"We wish Iftikhar Ali Malik the President elect good health, courage and success at all his future endeavours towards South Asian economic integration," Jayawardena added.