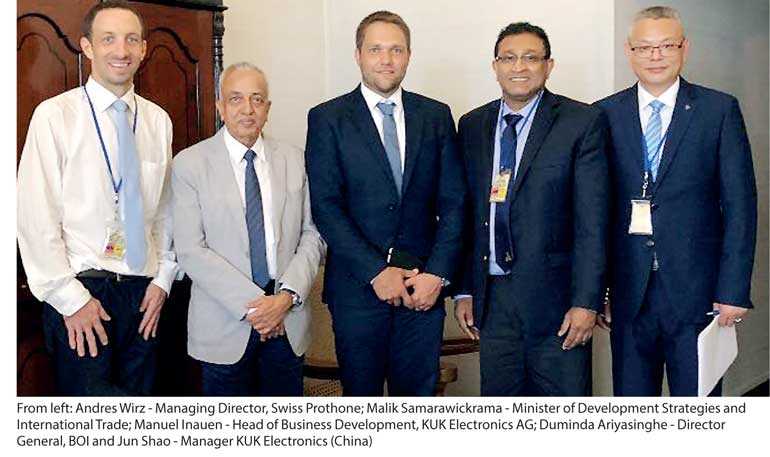 Manuel Inauen, Head of Business Development at KUK Electronics AG, a high-tech Swiss electronics manufacturer, had a meeting with Minister of Development Strategies and International Trade Malik Samarawickrama at the Parliamentary premises recently.

The Swiss Company was interested in the possibility of setting up a manufacturing plant in Sri Lanka with the objective of exporting their products. KUK Electronic AG, which was established in 1990 in Appenzell, Switzerland, operates production facilities in China, Slovakia, France, The Netherlands and Germany.

KUK Electronics AG's annual production includes the manufacture of over 200 million coils, over one million printed circuit boards and over 250,000 modules. Minister Samaraweera briefed the company on the advantages that Sri Lanka can offer overseas investors, including a highly skilled workforce, excellent infrastructure and international market access through free trade agreements. He added that the current policy of the Government is to attract high-tech companies with a view of creating a diversified Sri Lankan export base.

The visit of KUK Electronics AG is a direct result of the visit by the BOI Reinvestment Team comprising of BOI Director General Duminda Ariyasinghe and Executive Director (Investor Services) Mahinda Ramanayake to Switzerland in September last year. This visit was, in fact, organised by another Swiss company already established in Sri Lanka, Contrinex Ceylon Ltd. and which also targeted similar Swiss export manufacturers with an interest in setting up manufacturing plants in Sri Lanka.