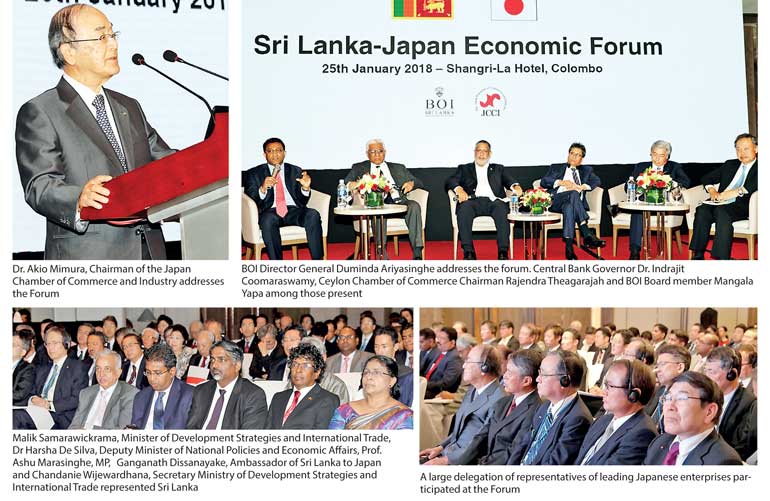 A delegation of 59 Chairmen, Chief Executive Officers and leading officials of some of the largest, most important and best known Japanese companies visited Sri Lanka on a special invitation of the Prime Minister and participated at the Sri Lanka-Japan Economic Forum organised by the BOI at the Shangri-La Hotel recently.

The event is of great significant as this is the first time in recent years that a Japanese business delegation consisting of companies of this significance has come to the country to evaluate opportunities for investment and trade.

It is also a reflection of the growing confidence that the international investor community holds for Sri Lanka as well as its appreciation of the efforts made by the country to improve its business and investment environment.

The delegation was led by Dr. Akio Mimura Senior Advisor, Honorary Chairman of Nippon Steel and Sumitomo Metal Corporation, assisted among others by leading business leaders such as Takanobu Ito, Director and Advisor of Honda Motor Co., Ltd, Masami Iijima, Chairman of the Board of Directors, Mitsui & Co. Ltd. Masaru Onishi Director, Chairman, Japan Airlines, Yoichi Kobayashi, Vice Chairman, ITOCHU Corporation, Muneo Kurauchi, Advisor, The Bank of Tokyo-Mitsubishi UFJ Ltd, Shigeki Dantani, Executive Vice Chairman, Sojitz Corporation, Taku Morimoto, CEO, Mitsui & Co (Asia Pacific) Ltd, Hiroshi Sakuma, Executive Vice President, Mitsubishi Corporation, Kazunori Konishi, Managing Director, Mitsubishi Heavy Industries India Private Ltd, Naoki Izumi, Chairman and Managing Director, Marubeni Corporation, Marubeni India Ltd, Sei Kosaka, Director, Komatsu Store., Co. Ltd, Fumio Hoshi, Senior Advisor, Sumitomo Mitsui Banking Corporation.

The delegation represented a wide cross section of the Japanese economy from sectors including heavy industry, Automobile, Airline, Banking, infrastructure, services, energy and machinery.

At the Forum, Board of Investment of Sri Lanka Chairman Dumindra Ratnayaka welcomed the Japanese visitors and introduced Sri Lanka's business and investment environment and strong commitment to attracting investment from leading Japanese companies.

He welcomed them to become the country's economic partners in development. Also addressing the audience were Ceylon Chamber of Commerce Chairman Rajendra Theagarajah, Japan Chamber of Commerce and Industry Chairman Dr. Akio Mimura and Sri Lanka-Japan Business Co-operation Committee President Daya Weththasinghe.

Japanese investments have had a significant presence in the country for several decades and are an integral part of national economy of Sri Lanka.

Ambassador for Japan in Sri Lanka Kenichi Suganuma and his counterpart Ambassador for Sri Lanka in Japan Prof. Ganganath Dissanayake also participated at the Forum.

The keynote address was delivered by Minister of Development Strategies and International Trade Malik Samarawickrama who was overall responsible for the organising and hosting of Sri Lanka Japan Economic Forum.

At the forum the BOI made a strong case to the Japanese side for investing Sri Lanka and a presentation was made by Executive Director – Research and Policy Advocacy Champika Malalgoda.

The final event was a panel discussion that provided an insight into doing business in Sri Lanka where the participants were Dr. Indrajith Coomaraswamy, the Governor of the Central Bank of Sri Lanka, Duminda Ariyasinghe, Director General of BOI, Mangala Yapa, Board Director of BOI, Dr. Toru Takehara, Chairman, Colombo Dockyard. The moderator was Rajendra Theagarajah, Chairman of the Ceylon Chamber of Commerce.

At a press conference held after the Forum, Dr. Akio Mimura, the leader of the delegation said, "My impression was that it was a good decision on our part to visit Sri Lanka and indeed we rediscovered the country." He added, "I also note the high GDP per capita by the standard of South Asia. Also important are the Free Trade Agreements with other countries."

He concluded by stating, "I have come to the conclusion that there is great potential in Sri Lanka and a need to create more awareness in Japan about this country. Fortunately the Japan Chamber of Commerce is a huge organisation. I will convey the information gathered during my stay including the messages from your President and Your Prime Minister."

This Forum is of considerable importance since Sri Lanka's economy is increasingly integrated to the growth taking place the Asian region. Japan has traditionally been a very close partner of Sri Lanka with known establishments such as Tokyo Cement, Colombo Dockyard Public Ltd and Noritake Porcelain Ltd.

In addition Sri Lanka and Japan have signed investment protection and avoidance of double taxation agreements.

Business relations are further facilitated by the presence of two Japanese banks namely Bank of Tokyo Mitsubishi UFJ and Mizuho Bank having signed MOUs with the BOI to co-operate on promoting Sri Lanka to Japanese entrepreneurs.

It can therefore be said that the visit to Sri Lanka of these leading Japanese enterprises augurs well and will strengthen Japanese investments in the Island in the future while at the same time reflecting the growing investor confidence internationally for Sri Lanka.