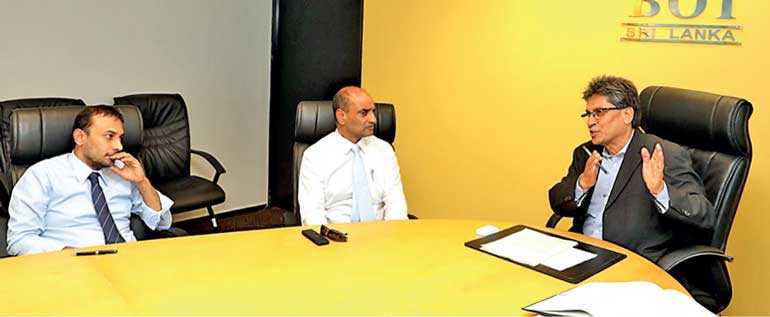 Move to expand unit for logistics centre for a globally recognised leader in sports and activewear
The Board of Investment of Sri Lanka has signed an agreement with Hellman MAS Supply Chain Ltd., for an expansion unit for a logistics centre and as the existing facility is now been expanded to provide additional services to an evolving successful partnership supporting a leading global sports and activewear brand.

The agreement was signed by BOI Chairman Mangala Yapa and by Shirendra Lawrence and Jehan Mutaliph, the Directors of Hellmann MAS.

Hellmann Worldwide Logistics and MAS Holdings signed an agreement in January 2018 to set up a joint venture for logistics and supply chain related activities.

Hellmann MAS Supply Chain currently operates five locations (two of which are BOI registered). The first BOI location provides logistics and distribution for incoming goods and local operations going beyond apparel. The second location is providing value added services for products being prepared for export with VAS, warehousing and logistics.

Shirendra Lawrence who is also the Group COO for MAS Holdings stated: "MAS has been delighted with the progress of the logistics business which has added value to the services provided to our customers and providing us with a competitive advantage with our customers. The logistics VAS centre could eventually be expanded to operate under the Hub Act."

Lawrence also added: "Apart from providing value added services, HMSC, provides warehouse capacity enabling MAS Group of Companies to expand their core competency in manufacturing by releasing previously utilised warehouse capacity for a globally recognised leader in the sports and activewear space."

Anton Grebener who is the CEO for Hellmann MAS Supply Chain stated: "I am optimistic that the demand continues to increase as is seen and we will not only require a further expansion unit in early 2020 for the current activities that we provide, but also expand in building a comprehensive end to end validated supply chain solution for the fashion sector from Sri Lanka."

He went on to point out that as we move beyond 2019 and having received positive feedback on the advantages HMSC offers to MAS Holdings and its customers, the intention as we move into 2020 will be to provide the same services to apparel exporters beyond MAS who would leverage on its capabilities.