Iconic diversified business conglomerate, Hayleys PLC, continued to set new benchmarks, standing amongst LMD's Top 3 Most Respected corporates in Sri Lanka for 2018.

"Having entered its 140th year of business, Hayleys continues to serve a vital role in the Sri Lankan economy, accounting for 3.29% of national exports, and display an unprecedented capacity for sustainable innovation and value addition. In that regard, we are proud to have our achievements continue to be recognised, having now joined ranks of LMD's Top 3 Most Respected.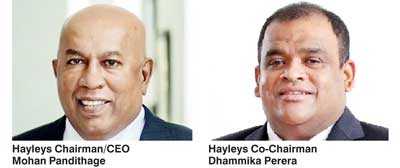 "Even in the face of challenging domestic conditions, Hayleys has shown vibrant resilience and moving forward, we anticipate strong development and consolidation across our diverse range of businesses, which we believe will encourage even greater returns for all stakeholders," Hayleys Chairman and Chief Executive Mohan Pandithage said.

Commissioned and conceptualised by LMD and conducted by Nielsen, the 14th annual edition of LMD's Most Respected is based on extensive surveys and interviews of senior management from listed Sri Lankan corporates utilising an Olympic Ranking System first adopted in 2015 whereby Sri Lanka's most admired entities are awarded gold, silver and bronze medals respectively – based on Nielsen's exclusive survey in order to enable LMD to more accurately gauge peer perceptions.

Operating across five regions with business interests spanning a total of 16 sectors, Hayleys has continuously ranked among the LMD's Top 10 Most Respected – being the first listed Sri Lankan corporate to surpass $ 1 billion in revenue.

The Group's numerous subsidiaries have also consistently won awards resounding recognition in their respective industries while the Group also made recent headlines with its high-profile acquisition of Singer Sri Lanka PLC in a transaction which was the single largest on record in the history of the Colombo Stock Exchange (CSE).

Catering to over 7.6 million customers world-wide, the Hayleys Group today stands as one of Sri Lanka's most crucial economic centrepieces, providing direct employment to over 32,000 people, in addition to providing indirect employment to over 20,000 people.

Community engagement and rural empowerment have also deeply embedded within the business model of the Hayleys Group. The group has invested substantially towards corporate social responsibility, including its flagship CSR project, Sath Diyawara – a vital program aimed at delivering safe, clean drinking water to communities in Sri Lanka's dry zone that have been harshly impacted by the outbreak of Chronic Kidney Disease of uncertain aetiology (CKDu).