First customer transaction at the HNB Finance Gold Loan Centre Medawachchiya
---
Increasing the touch points for Gold Loans across the country, Sri Lanka's leading financial services provider HNB Finance announced the launch of its popular facility at yet another critical regional location in the North Central Province, Medawachchiya.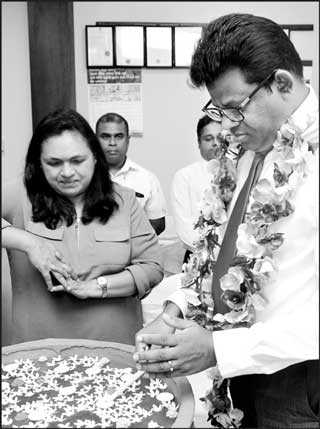 HNB Finance Managing Director and CEO Chaminda Prabath

lighting the auspicious oil lamp at the opening ceremony


The facility already available in Vavuniya, Trincomalee, Kantale, Dambulla, Polonnaruwa, Dehiattakandiya and Jaffna is ideal for customers seeking to mobilise funds at short notice. Initially established at Kirulapone and Rawatawatta branches, the Gold Loan facility has grown to cover the island with key locations providing a convenient and affordable services to niche untapped market segments often overlooked by traditional financial institutions.

"We at HNB Finance believe in offering our growing customer base the most holistic financial solutions available today. The union of value-added services and responsible financial practices have earned us the trust of niche segments in the market that have immense potential for economic growth but are often passed over by traditional financial institutions. The gold loan facility is one such product which offers customers the best possible interest rates with attractive benefits and the most efficient service," HNB Finance Managing Director/Chief Executive Officer Chaminda Prabath said speaking at the opening of the gold centre. HNB Finance offers up to 80% of the market value in addition to the lowest interest rates for all loans backed by 22 carats of gold as collateral with the added benefit of funds released for gold at the minimum weight of 1 gram with the option of choosing a repayment method of seven days, three months, six months or even a year. Moreover, attractive gifts and surprises await all Gold Loan customers as HNB Finance has established a unique gift scheme solely for individuals using the facility.

Equipped with state-of-the-art machinery, the financial institution's highly experienced staff is fully geared to offer the highest quality service. Special protocols have also been put in place to ensure that all gold transactions and inspections are conducted with care and given the utmost security to ensure the metal does not incur the minutest damage. Additionally, HNB Finance pledges to do the absolute best by the customers before unclaimed gold is auctioned to a third party.

HNB Finance Managing Director Chaminda Prabath along with HNB Finance officers participated in the ceremony held to announce the availability of the new facility.

Established in 2000, HNB Finance Ltd. is licensed as a registered Finance Company by the Monetary Board of the Central Bank of Sri Lanka. Maintaining an extensive island-wide presence across 48 branches and 21 service centres with the power of Hatton National Bank's 750 ATMs, HNB Finance has over the recent past expanded into new fields of business and now offers Small and Medium Enterprise (SME) Loans in addition to savings, gold loans, fixed deposits facilities and leasing products.