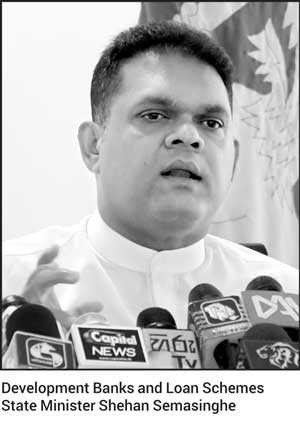 The Government this week said immediate attention would be paid to resolving issues pertaining to microfinance loan scams, noting that swift measures were being taken to free people of this burden.

"After many years, the Finance Ministry and the Central Bank have become institutions that listen to the woes of the people. We have found out that many people have become prey to microfinance fraud schemes and the Government is taking quick measures to prevent fraud and protect the general public from such scams," Development Banks and Loan Schemes State Minister Shehan Semasinghe said

He made these remarks at a discussion held on microfinance loans obtained by the people of the Northern and North Central provinces. The State Minister pointed out that grievances submitted by various parties to the ministry within the short period that the new Government has been in office reveal that more than 14,000 people in the district have become destitute due to various types of microfinance loans.

"The loans, which have been obtained at a high interest rate of 36% to 250%, have negatively impacted the livelihoods of the rural community and have also caused a number of social problems, including suicide. Most of these people have borrowed money for non-essential goods and for consumption purposes," he said.

He also said the majority of these people who had obtained loans were unaware of the high interest rates they had to pay later as the interest rates conveyed to them about the loans they took out were as low as Rs. 100 to Rs. 1,000, which is misleading.

Semasinghe pointed out that the previous administration had provided Rs. 250 million to the District Secretariat to provide relief to people who had difficulties in servicing their debt, but this had only been granted to 227 people who had borrowed less than Rs. 40,000.

"It was the only concession granted to those who have obtained loans before 31 May 2018. Out of the Rs. 250 million allocated for this purpose, only Rs. 9.76 million has been disbursed to people who had borrowed less than Rs. 40,000. This clearly indicates the poor and irregular management of the previous administration," he claimed.

He said the Government's intention was make decisions that would empower people to have a proper livelihood to meet their expectations.

"The Government's objective was not to collect tax money from people in order to accumulate it in the Treasury but to create economic activities that will allow money to circulate in society," Semasinghe added.