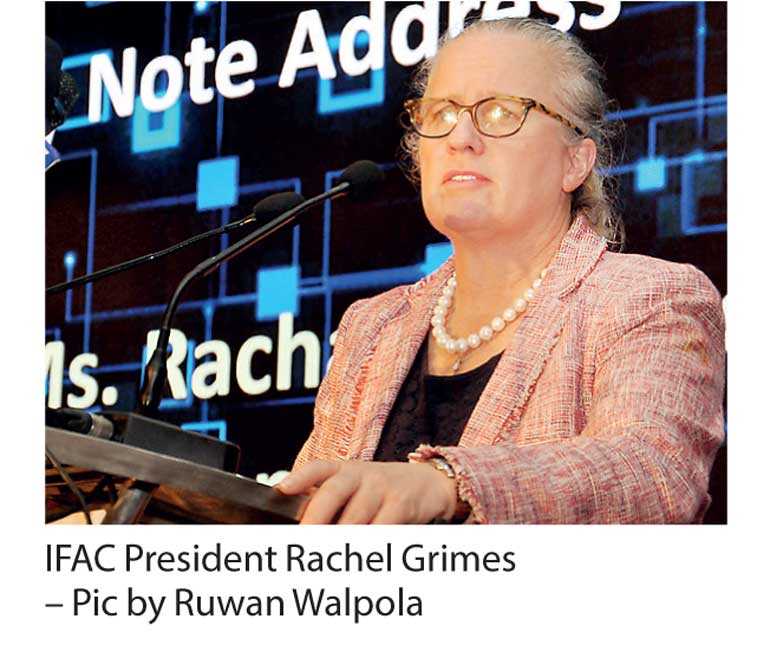 By Shannon Jayawardena

IFAC President Rachel Grimes recently urged the Government to employ the youth, more so the Millennials, as they challenge the way we think.

Addressing the CMA Excellence in Integrated Reporting Awards held last week, she said: "Millennials speak their mind and recently called out that environment was one of their key issues with corruption at a national level following as a growing concern and they also regarded it as a key impediment to their jobs. The Sustainable Development Goals of the United Nations is a really important factor as it is complementary to sustainable reporting."

Linking Millennials with the fast-growing digital economy, Grimes stressed that technology was the other vital factor in everything that we do and was one of the key opportunities for accountants throughout the world. "There is no more an exciting time to be an accountant in the history of the world than right now," she insisted.

"Young people, Millennials here in Sri Lanka, are participating in the digital culture and it is amazing. I am very confident that the global profession is in good hands and that the Sri Lankan profession is in great hands with the young coming through," said Grimes.

She further pressed the Government to look out for the youth in the country, grabbing every graduate they can as she believes that they change the way organisations, businesses and corporates look at things. They ask the most important question which is 'why?' and they challenge society. Thereby she challenged Sri Lanka to take the utmost use of them, showing them a fantastic career path.

"We need their talent, we need their technical skills and their knowledge. We also need those skills to mobilise integrated reporting and encourage all corporates to listen to their voices. I commend the Sri Lankan economy for participating in the CMA Excellence in Integrated Reporting Awards and having submitted 40 equally great reports," she further stated.