The Global Student Entrepreneur Awards (GSEA) has played an influential role in Sri Lanka, enriching and empowering student entrepreneurs since 2015. Over the years, Sri Lanka has produced three global finalists. This year marks the sixth consecutive year of the competition taking place locally. GSEA is a competition open to all undergraduates who have been running their own startup for six consecutive months and generated $500 or Rs. 90,000 in total revenue, or received $1,000 in funding.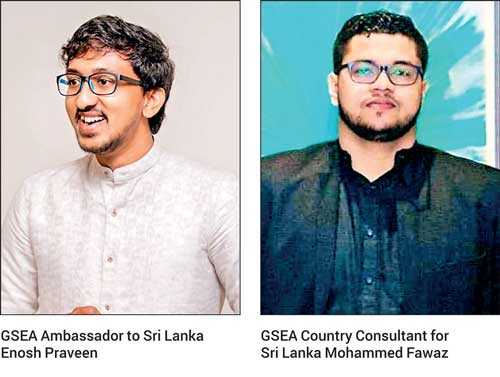 Winners of the local competition will receive an all-expenses-paid trip to South Africa to compete at the GSEA Global Finals in April 2020. Here, they will gain access to the vast business network of EO. Additionally, the first place winner at the Global Finals will receive a cash prize of $25,000, with the second and third place winners receiving $10,000 and $5,000 respectively.

Describing this exciting opportunity, GSEA Ambassador to Sri Lanka Enosh Praveen said, "The Sri Lankan education system is not designed to create entrepreneurs. As a country and culture, we're taught to follow only instructions. Amidst dozens of entrepreneurship programs focusing on startups and business plans, GSEA takes a whole new approach in identifying the true entrepreneurs within." GSEA Country Consultant for Sri Lanka Mohammed Fawaz added, "GSEA is a pathway and opportunity for students who live and breathe the entrepreneurial life, not for the ones who only dream about it. I welcome student entrepreneurs to join this journey, as this platform will help you cross global borders to boost your startup."

This is an ideal competition for student entrepreneurs keen to get a boost in growing their businesses. Applications are now open and can be accessed via www.gsea.org/apply. The deadline for application is 20 January. Visit the official website or Facebook page for more information.

The Entrepreneurs' Organisation (EO) is a global business network of 14,000+ leading entrepreneurs in 195 chapters and 61 countries. Founded in 1987 by a group of young entrepreneurs, EO enables business owners to learn from each other, leading to greater business success and enriched personal life. The Global Student Entrepreneur Awards (GSEA) organised by the Entrepreneurs Organisation (EO) is the premier global competition for student entrepreneurs.