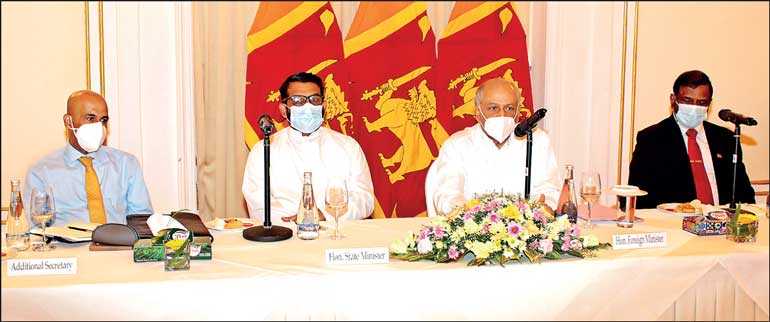 Foreign Minister Dinesh Gunawardena has sought the assistance of Honorary Consuls based in Colombo to encourage foreign investors to invest in Sri Lanka. The Minister made this request at a meeting held at the Foreign Ministry yesterday. The meeting was held in compliance with the COVID-19 health guidelines.

At the meeting, Minister Gunawardena reiterated the importance of mutually assisting each other to revive the world economy, as a collective effort amidst the pandemic.

Foreign Secretary Admiral Prof. Jayanath Colombage, speaking to the gathering, explained that the weather conditions of the previous year had a positive impact on the tea production of the country, and noted that Sri Lanka hence was in an advantageous position to market its quality tea worldwide.

State Minister Tharaka Balasuriya also explained the State Ministry's role of positively promoting Regional Cooperation under three pillars, in line with the vision and guidance of President Gotabaya Rajapaksa. The State Minister expressed his hope gaining assistance from all stakeholders concerned towards this endeavour.

The meeting also created a platform for a dialogue between the Honorary Consuls and Foreign Ministry officials on some pressing topics, which included ways and means of bringing investors to Sri Lanka during the period of the pandemic, opening the airport for tourists, and Sri Lanka's new foreign policy.

Representing the Ministry, the Foreign Minister, State Minister of Regional Cooperation, Foreign Secretary, and Senior Officials, participated in the meeting.