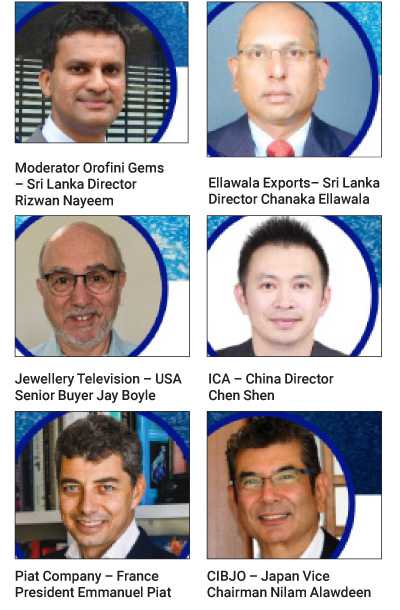 FACETS, Sri Lanka's premier gem and jewellery show and market platform, hosted an exclusive webinar on recovery and future potential of the global gem and jewellery industry in the wake of the COVID-19 pandemic.

Boasting a panel of leading industry experts hailing from different parts of the world, the webinar delivered an insightful and in-depth discussion, in exploring many different dynamics that are presently affecting the industry. The global audience that was engaged online consisted of participants representing 34 countries.

The panel of speakers consisted of Ellawala Exports Ltd. – Sri Lanka Director Chanaka Ellawala, The Jewellery Television – USA Senior Buyer Jay Boyle, ICA – China Director Chen Shen, Piat Company – France President Emmanuel Piat, and CIBJO – Japan Vice Chairman Nilam Alawdeen. The discussion was moderated by Orofini Gems – Sri Lanka Director Rizwan Nayeem.

Before the discussion began in earnest, Moderator Rizwan Nayeem made a note of remembrance; honouring those who have lost their lives due to the pandemic. He also expressed sincere gratitude on behalf of the gem and jewellery industry to all frontline workers and key staff, for their noble and selfless efforts during this challenging time.

It was very enlightening to note that some of the key markets have had sales of gems and jewellery continuously, though at lower volumes than usual, during the last few months. Many Chinese dealers had sold out their inventories and were looking to replenish stocks. In yet another positive turn of events, it was announced that The Jewellery Television in USA had experienced a 20% growth in gems and jewellery sales during the year to-date. There was also consensus within the panel that gems and jewellery will continue to be sought after globally; for their aesthetic beauty and emotional value, as well as for their capacity in being reliable 'stores of wealth'.

The webinar covered several key discussion areas; the first of which was 'Recalibrating our businesses for sustainable recovery' as elaborated on by Chanaka Ellawala of Ellawala Exports. He observed that it was a highly opportune moment for the industry to rewrite the narrative of the journey of the sapphire, as well as other coloured gems from a sustainability standpoint; thereby driving better customer buy-in to the value proposition of gems and jewellery.

Speaking next on 'Opportunities for gems and jewellery sales through digital technologies', Jay Boyle of The Jewellery Television emphasised on the need to promote education-based selling, which creates demand all the way back to the primary markets. He also noted how it was possible for traditionally inclined buyers to make purchases off modern digital channels such as Instagram.

ICA's Chen Shen, speaking on the topic of 'Post-lockdown trends in Chinese consumer buying for gems and jewellery', made the interesting observation on how high-end travellers were shifting their holiday and travel spending to high-end purchases such as gems and jewellery. He also noted that a challenge for the industry, would be to reach and engage with buyers in the online space; a necessity that would need to be overcome at any effort.

'Emerging insights from the high-end luxury jewellery brands in Europe' was the next topic of discussion which was addressed by Piat Company's Emmanuel Piat. He was of the opinion that Europe's buyers will continue to operate, in keeping the industry pulse beating. He also maintained that as brands, more thought should be given to promoting a much wider range of coloured stones, and not remaining restricted to only the high-selling and popular types. Growth for the industry Emmanuel claimed, would be through tapping into new market segments with a more varied offering.

The final speaker for the day; Nilam Alawdeen of CIBJO Japan, on his topic of 'Lessons from Japan in rebuilding a gems and jewellery business after a crisis', held the view that stakeholders across the entire value chain of the business should share strengths and specialties in coming out with a stronger and more compelling value offering. The transition to online, he stated, was an eventuality that has now been accelerated due to the COVID-19 pandemic. In accepting this reality, he further stated that Japanese businesses would also evolve their promotional messaging in portraying gems and jewellery, as purchases that promote positive emotional wellness.

Following the panel discussion, a brief Q & A session took place; which drew queries from viewers logged in from around the world. Many of them delved on what specific steps businesses in the gems and jewellery industry should take in the short and medium term, towards achieving sustainable stability.

The webinar ended on a touching note with the moderator; Rizwan Nayeem, upon thanking all those involved, taking a moment to appreciate the fellowship and unity displayed among people all across the world, and encourage the provision of continued support for all those in need.

The full webinar can be viewed on FACETS Sri Lanka's Facebook page; https://www.facebook.com/FacetsSriLanka/videos/872855386560443/ or their official YouTube channel; https://www.youtube.com/watch?v=kU1vzTIej-k&t=10s.