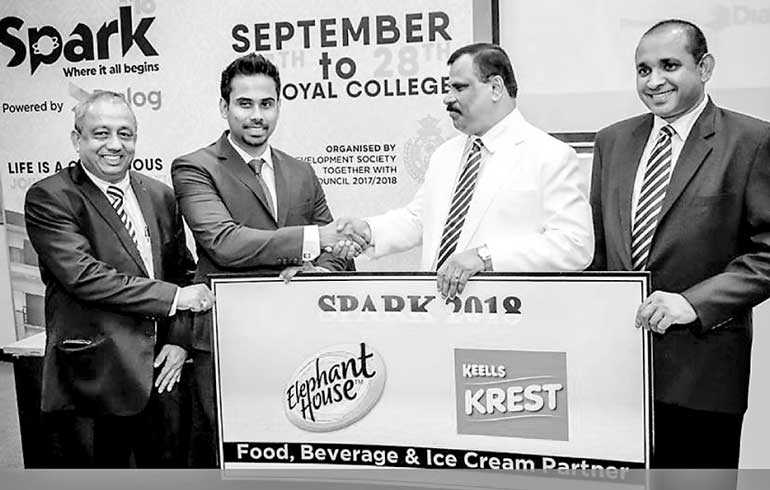 Spark 2018 Project Chair Rizan Nazeer, John Keells Holdings Vice President Sumudu Thanthirigoda, Royal College Colombo Principal B.A. Abeyrathna and School Development Society Secretary Asanga Pieris
Elephant House and Keells Krest recently partnered with Sri Lanka's largest innovation exhibition Spark 2018, organised by Royal College, Colombo, supporting the event as 'Official Food, Beverage and Ice Cream Partner'.

Spark 2018 is a platform and an exhibition aimed towards fostering imagination, invention and innovation. Held between 25 and 28 September at the premises of Royal College, Colombo, this free-of-charge, public exhibition welcomed in excess of 75,000 visitors over its four-day run.

Showcasing inventions and innovations from students in categories such as Food and Agriculture, ICT and Electronics (Education and Entertainment included), Home Technology and Appliances, Consumer Goods, Clothing and Fashion, Transportation, Green Technology and Energy and Sports, Games and Toys, Spark 2018 consisted of an Expo, where concepts, prototypes and completed products from over 400 students island-wide were exhibited, in addition to workshops and edutainment and even a Future Technology Pavilion.

As part of their commitment as the Official Food, Beverage and Ice Cream Partner for Spark 2018, Elephant House and Keells Krest offered up a wide array of products to cater to the needs of the thousands of visitors attending this four-day exhibition. Elephant House made available its recently launched Elephant House Milk, in Vanilla, Chocolate and Strawberry flavours, which proved to be very popular among participants and visitors. It also offered its delicious fruit drink Fit-O as well as Elephant House Water, in addition to its well-loved Carbonated Soft Drinks brands such as Cream Soda, EGB, Orange Crush and Necto. Also available, Elephant House's trusted range of wholesome and creamy ice creams, the premium Imorich and youthful Wonderbar and Wondercones in particular, along with high quality processed meats and snacks from Keells Krest.

"Elephant House and Keells Krest is proud to have served as Official Food, Beverage and Ice Cream Partner for the highly innovative and important Spark 2018 exhibition, organised by Royal College, Colombo. In particular, we are pleased that our support to students participating in this exhibition has undoubtedly complemented the nurturing that Spark 2018 has provided to young and limitless minds. This is important to us as it is part of our ongoing mission to empower students and schools by supporting sports as well as other learning and knowledge-based opportunities," said Daminda Gamlath, Sector Head – Consumer Foods Sector and Executive Vice President – John Keells Holdings.