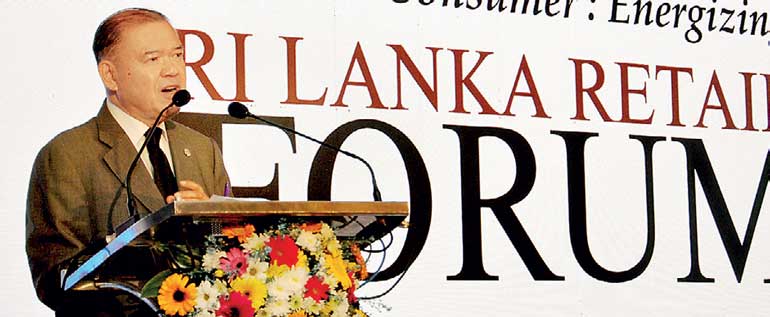 Former Deputy Prime Minister of Thailand and former Secretary-General of the UN Conference on Trade and Development Dr. Supachai Panitchpakdi
By Charumini de Silva

Thailand's former Deputy Prime Minister Dr. Supachai Panitchpakdi yesterday called on the Government to explore the vast opportunities in Southeast Asian economies, while acknowledging his support for Sri Lanka to become an associate member in the Regional Comprehensive Economic Partnership (RCEP) with the proposed free trade agreement (FTA) between the 10-member states of the Association of Southeast Asian Nations (ASEAN).

Delivering the keynote address at the first-ever retail forum organised by the Sri Lanka Retail Association, he said closer integration with Southeast Asian economies was vital for the growth of a sustainable retail industry.

"Though Sri Lanka is not a part of RCEP, if the country is interested in making that approach, you can become an associate member. I think it is quite productive for Sri Lanka's Government to be looking into more associated opportunities in the Southeast Asian economies," he added.

During a meeting with Development Strategies and International Trade Minister Malik Samarawickrama on Tuesday, Dr. Panitchpakdi has suggested opportunities for Sri Lanka by maintaining closer integration with Southeast Asia.

He said the world today is talking about shopping at a different level, which he termed as the 'Law of Sustainable Shopping'.



"I would sometimes call it informed shopping, shopping with experiences, knowledge shopping, but all this is going to be a part, which is inevitable," he added.

He pointed out that Sri Lanka's net retail sales to gross domestic product (GDP) was not very far behind Thailand and it was well above countries like Indonesia and Malaysia. In addition, he asserted that household consumption to GDP was quite substantial.

"Sri Lanka really has a sizable domestic market that you can play with. Of course, you need to strike a balance between international trade and domestic trade. But the domestic economy in Sri Lanka has been the main source, which is good," he said.

Dr. Panitchpakdi emphasised that this is the time retail businesses should take advantage of external demand and domestic consumption, noting that it was unhealthy only to rely on exports.

It was pointed out that although Asian countries have a lot of savings and investments, consumption is not substantial. "We see many economies are taking a lot of effort in rebalancing external demand and domestic consumption. It is important to have a sustainable consumer pattern to address the issue of wealth and income sharing."

Highlighting that the Southeast Asian market has 630 million consumers, the majority of whom are middle-class, he said the region has maintained an average growth rate of 5% to 6%, while mobilising around $ 120 billion on foreign direct investments (FDIs), which is equivalent to China.

"You can see the strength of Southeast Asia. All the large e-commerce platforms are today expanding to Southeast Asia, particularly Thailand. Therefore, connecting Sri Lanka's retail, tourism and primary industries to our region is very important. I think the idea to be associated with Southeast Asia is a really good policy that you have rightly spelled out," he expressed.

Dr. Panitchpakdi also suggested a pact on the tourism industry of the two countries, adding that Thailand's tourism sector has been very successful in contributing to economic development. "We have over 35 million tourists coming to the country at the moment, which is increasing 10% every year. Most of these tourists cater to 70%-80% of the retail business in Thailand's leading shopping malls. Sri Lanka can do the same located in the midpoint of Europe and Asia. I think you should explore."

He also outlined de-globalisation, deflationary and geopolitical impact as major challenges faced by the retail industry.

Commending SLRA for its efforts, he stressed that one should not be impressed by the sheer intention of the team but on the total determination and perseverance. "The theme of the association 'Driving Retail Excellence' I think is the keyword that one should keep in mind. It means that consumers expect excellence at all times, as we all expect excellence from our governments. It is the same kind of governance we have to think about."

Dr. Panitchpakdi reiterated that he would do his best to bring together the Sri Lanka Retail Association and retail associations in Thailand for their mutual benefit.

Pix by Ruwan Walpola