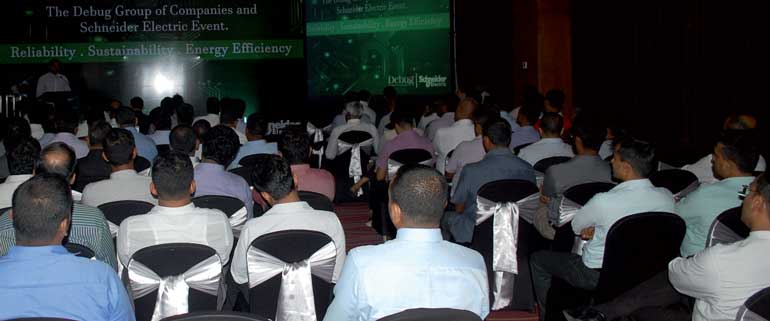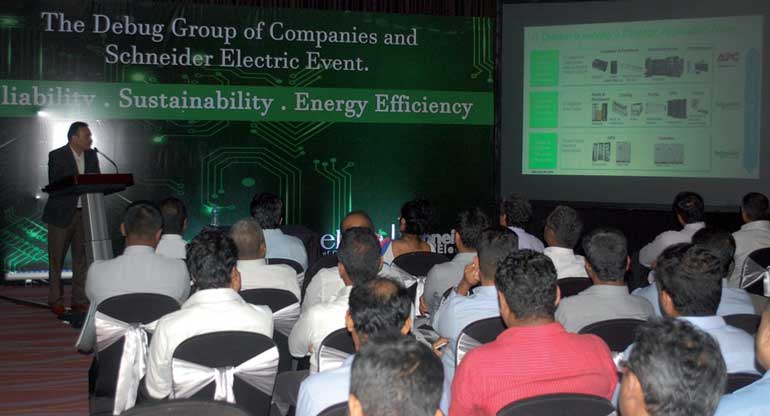 The Debug Group of Companies and Schneider Electric Conference was held recently in Colombo, under the theme of 'Reliability, Sustainability and Energy Efficiency' where more than 100 professionals from a multitude of industries attended this event.

Schneider Electric the global specialist in energy management ranked No.7 in Gartner's 2017 Supply Chain Top 15 for Europe, with operations in more than 100 countries, offers integrated solutions across multiple market segments, including Infrastructure, Industries and Machines Manufacturers and Residential, focused on making energy safe, reliable, efficient solutions.

Schneider Electric IT Business, a global leader in critical power and cooling services, provides industry leading hardware, software, and services designed to ensure availability and higher energy efficiency across the residential, business network, data centre, and manufacturing environments. Backed by the strength, experience, and wide network of Schneider Electric's Critical Power & Cooling Services, Schneider Electric IT Business delivers well planned, flawlessly installed and maintained solutions throughout their life cycle. Through its unparalleled commitment to innovation, the company delivers energy efficient solutions for critical technology and industrial applications.

The Debug Group of Companies, one of the largest ICT product, service and solutions company in SL, having a presence of over 25+ years in the Sri Lankan market, having provided solutions to some of Sri Lanka's top corporate and government institutes in a diverse form of solutions, has now expanded its business to several areas in the IT sector and also out of it – such as Power, Renewable Energy, industrial Automation, Geological Surveying, Printing, Advertising, Automotive services and leisure for instance with The Debug Hospitality and Leisure Ltd. the newest venture into the tourism industry that is a part of The Debug Group of Companies expansion plan into a non ICT industry sector further adding onto their powerful portfolio of products and solutions.

Presentations were made by Jitesh Soorya (Business Development – IT Schneider Electric India) and Manish Gokhale (Director Schenider Electric India) covering 4-Level Inverters for Higher Reliability and Efficiency where the Galaxy V Series offers even further reduced switching losses and significantly less IGBT voltage stress by its (patented) 4-level Inverter technology where the 4 level inverter operates at ~50% voltage stress on 600V device Vs ~80% voltage stress on a 600V device for 2 or 3 level inverter thereby increasing design margin results in increased reliability.

ECON version Technology, first time in the world where the Galaxy V series ECON version Mode is an advanced method of bypass operation is used (patent – 2012/0181871). Bypass Switch SCRs controlled like 'diodes', enables the UPS to handle occurring upstream short thereby forcing bypass input to zero. No current is conducted upstream, and the load is continually supplied by inverters thereby improving the system reliability, efficiency and availability tremendously.

Li-ion Battery Solution, New trend for energy storage where LIB is the way for the future of UPS Energy Storage system as it addresses the concerns of customers where Reliability of the battery is concerned, Footprint and Heavy floor loading which translates to higher costs, Although Capex is 2.2X, the Opex is much lower in terms cooling, footprint, life cycle, maintenance etc thereby resulting in a lower TCO over 10 years.

Struxure ON, Cloud Based Monitoring, a data-driven software for critical equipment, and a vendor-neutral cloud based software that monitors your critical equipment, delivers insights and smart alarming directly to your smart phone – proactively minimising downtime.

The event gave all the attendees an insight into Schneider Electrics latest research and technologies where Debug has been in the 3 phase business for the last 20+ years and continues to be the top service provider for Schneider Electric 3 phase business in Sri Lanka through digitisation, continuing to make strides to optimise efficiency in their operations to deliver great performance and accelerate more game changing outcomes.

The services provided by the engineering arm of the Debug Group of Companies consisting of well-qualified and trained engineers and other technical personnel , offering support to end users is further enhanced through the deep customer insight that the group has after 28 years of productively delivering technology and process solutions that increase both the affordability and effectiveness of services

This was appreciated and highlighted further by Kumara Wijerathna (Group Engineering Manager Rocell) who stated that he has continually obtained excellent service through Debug in Sri Lanka for the vast portfolio of products and services offered by the group.