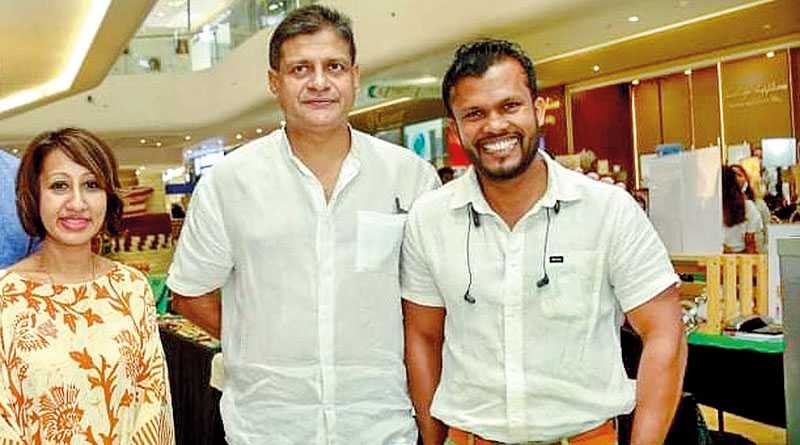 CAP Organic CEO and Founder Ranjan Hanchapola (right) at the CAN market at Colombo City Centre, Colombo 2. CAN Market founder Keshini Ann Suraweera and Dilith Jayaweera are also present
---
'Katu Anoda' a fruitful discovery: A jungle's miracle gift to the world
---
With the economy of the world crippled, as a consequence of the global pandemic, Sri Lanka's local entrepreneurs were amongst those severely impacted by the first wave of COVID-19.

Post the first wave, President Gotabaya Rajapaksa made a call to action to all local businesses, to move towards 'rebooting' the economy. The CAN weekend market was a brand-new initiative launched in August in response to this call. Creative Isle founder and visionary Keshini Ann Suraweera, in collaboration with Colombo City Centre and the Foundation of Goodness launched a platform that would support micro entrepreneurs around the island, severely impacted by the pandemic to get back on their feet.

The CAN weekend market is an exciting platform that was opened with the intention of creating B2B and B2C opportunities for small business owners to showcase their creative products. Prior to the second wave of COVID-19, the CAN weekend market was held every Friday through Sunday, at the Colombo City Centre lobby. The CAN weekend market earned the support of philanthropists Muttiah Muralitharan and Dilith Jayaweera, who endorsed the initiative as being a novel platform that could help create opportunities.

The objective of this series is to highlight the stories behind the creative talents that were being showcased at the CAN weekend market. Our first story is about Rajan Hanchapola a construction engineer who, whilst working on a Norwegian construction project, developed a passion to become a planter!

After many years of pursuing a career in construction engineering, Rajan Hanchapola, began his new journey with mango cultivation, but soon discovered that the increasing demand for healthy food choices worldwide made the cultivation of soursop (katu anoda)/graviola a more lucrative venture.

Having studied the health benefits of this locally grown fruit, Ranjan had a notion, that there would be a high demand for the fruit at an international level. However, he was faced with a challenge as Ranjan's initial idea of exporting Graviola as a fruit was unfeasible since soursop fruits are perishable after three to four days. Disappointment was the turning point which led to exploring technical aspects for preserving the product and finally achieving an acceptable 12-month shelf life for a value added novel tropical graviola beverage. Since then he has never looked back expanding on his innovative range of soursop products under sustainable farming practices, the introduction of 100% organic graviola products was presented to export markets.

The ready to drink beverage range, was expanded to introduce clients to a King Coconut, Jackfruit option and a Premium Graviola leaf tea. This ever-evolving range of products hope to include Soursop Ice Cream with Natural Sugar, Soursop Wine, made With Natural Graviola Pulp, Graviola Crispy Crackers (as dehydrated snack since seasonal fruit) and the Soursop Nectar Family Pack, which will be launched in the near future at the CAN weekend market at the Colombo City Centre.

Market interest increased as perspective customers embraced the health benefits of these products. The beverage is high in fibre and vitamin C, thiamine and potassium with medicinal properties such as treatment for insomnia, constipation, indigestions, diarrhoea, migraine, herpes, improving lactation, bone health and immune system. Additionally, the product has antimicrobial properties and help cure gall bladder ailments.

Soursop seed oil and soursop powder are ingredients with healing properties for eczema and would be ideal to create ointments and lotions for the cure of eczema. (Amazing Health Benefits of Katu Anoda, Daily News, August 31, 2020, p. 31).

In addition to their own plantation, CAP Organic cultivates over 200 acres buying farmers yield of soursop, in collaboration with the supply chain- farmers, farmer societies and Department of Agriculture Sri Lanka.

Currently CAP Organic is in limited scale amidst unmet demand by Key exports markets such as USA, UK, Maldives, Australia, Netherlands and Hong Kong. Czech Republic is also on the cards.

At present, a priority has been placed on growth in export volumes/investment resources and the expanding of plantation area. With the intention of enhancing local market presence Ranjan chose to connect with the CAN weekend market, which led to lucrative B2B and B2C opportunities within a short span of his presence at the CAN market.

The Can weekend market opened the door for CAP organics to feature the entire range of products. Ranjan was given the opportunity to share the vision and encourage many to experience the beverage first hand. His success story has inspired many.

As the CAN market continues to unveil many such creative entrepreneur gems through this series, we encourage you to allow The CAN weekend market to give your business the platform it needs to take you to the next level.

Let's unite and support local businesses during these hard and challenging times.

CAN looks forward to hear from those who are keen to be a part of this fruitful discovery!

For all inquiries contact the CAN market web/social media: canmarket@thecreativesile.com.