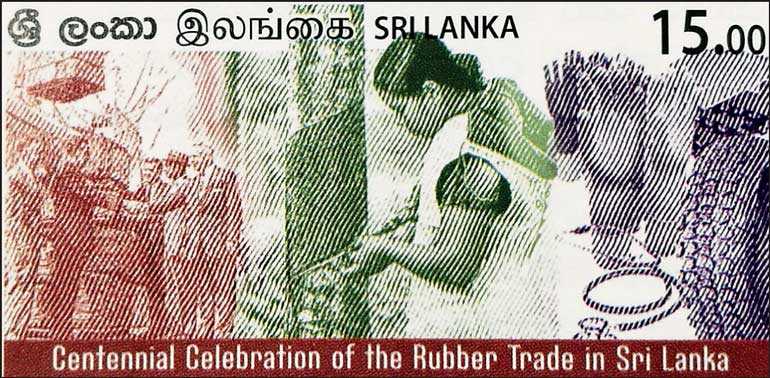 Centennial Postage Stamp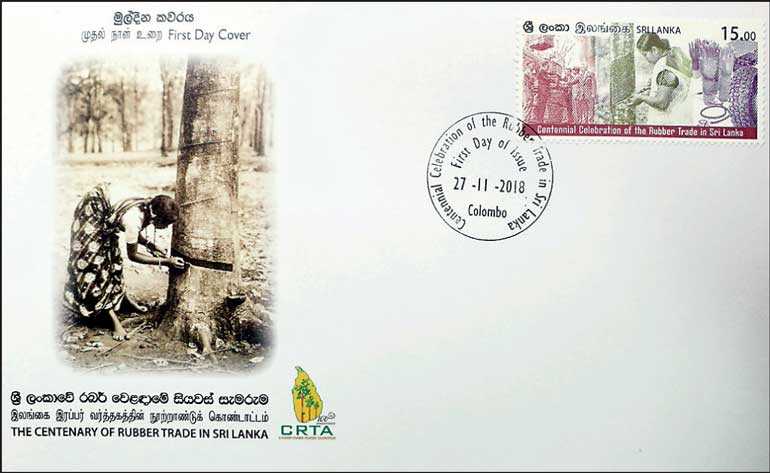 First Day Cover
---
The Colombo Rubber Traders' Association (CRTA) of the Ceylon Chamber of Commerce, which represents the interest of Sri Lanka's rubber industry, was inaugurated on 27 November 1918. The Association as a part of its celebrations launched a postage stamp and conducted a special rubber auction of its 100th anniversary on 27 November 2018, at the Ceylon Chamber. Minister of Plantation Industries S.M. Chandrasena and Minister of Posts and Telecommunication C.B. Ratnayake were the Chief Guests at the occasion.

"The CRTA and the auction system has stood the test of time, and we are thankful to the Ceylon Chamber and its visionary leaders, who converted a sub-committee of rubber to a standalone association," expressed CRTA Chairman Amanda Weerasinghe in his address.

To commemorate 100 years, a Centennial Postage Stamp of the Colombo Rubber Traders' Association was launched by the Posts & Telecommunication Department of Sri Lanka, and this was the first stamp launched in over 15 years to signify the trade. The previous one being the Rubber-Rice Pact Postage Stamp that was issued in 2002. The special Centennial stamp represents the rubber industry, depicting composite partakers of the trade.

The milestone event was further commemorated by a special rubber auction, the proceeds of which will be used for the benefit of the rubber trade. The following plantation companies generously donated latex crepe for the auction: Agalawatte Plantations PLC, Elpitiya Plantations PLC, Horana Plantations PLC, Kahawatte Plantations PLC, Kegalle Plantations PLC, Kelani Valley Plantations PLC, Kotagala Plantations PLC, Lalan Rubbers Ltd., Namunukula Plantations PLC, Pussellawa Plantations PLC, and Watawala Plantations PLC. The Brokers who sold at the special rubber auction were J.D. & Sons, Asia Siyaka, John Keells PLC, and Forbes & Walker.

In addition to these four brokers, the CRTA membership consists of the following brokers: Commodity Consulars Ltd., H.W.J. Dias & Bros Ltd., and Lanka Commodity Brokers Ltd. In all, the CRTA membership of 50 consists of producers, buyers/exporters, and brokers.

Continuing the Centennial Celebrations, tonight (30 November), a Gala Dinner will be held at Galle Face Hotel Colombo, graced by the presence of the Speaker of the Parliament of Sri Lanka, Karu Jayasuriya, who was a former Chairman of the CRTA. During the celebrations an American auctioning of a rare work of art '100 Years of Rubber Tapping' (once in a lifetime trophy painting by Ranjith Perera), will take place, together with a felicitation of outstanding achievers in the rubber trade.