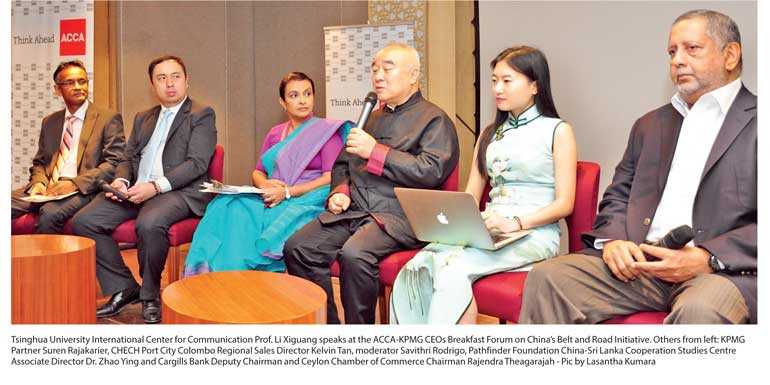 By Nisthar Cassim

Lamenting that Colombo still suffers from colonial-era type fears, a Chinese expert yesterday urged Sri Lankans not to have any concerns over his government's Belt and Road Initiative (BRI) as it was for the common good of all people.

"In history, it was the Portuguese, the Dutch and the British who invaded Sri Lanka with guns to rule whereas the Chinese, starting from the monk Faxian (in 410 CE), came here to learn Buddhism, culture and do trade. However, Sri Lankans still suffer from fears of the colonial era and unfortunately China's BRI is viewed in the same vein when it shouldn't be," said Prof. Li Xiguang from the Tsinghua University International Center for Communication.

This colonial era-type fear is prevalent in the rest of South Asia too, he said, and despite being an award-winning journalist himself, Prof. Li blamed "bad journalism" for fuelling it. "Fear, often fuelled by bad journalism, is in your head and it is not reality," he added.

"The fear of China is also due to a lack of understanding," said Prof. Li, speaking at the CEO Forum organised by ACCA and KPMG on the theme 'Belt and Road initiative: Implications for Sri Lanka'.

Prof. Li, who first visited Sri Lanka 28 years ago as a UNESCO Silk Route scholar, said that China was ever grateful to Sri Lanka for standing up against the international community and lending support when China most needed it in the past.

He referred to the famous Sino-Lanka Rubber-Rice Pact in the 1950s when the rest of the world shunned China (Sri Lanka became the first non-communist country to sign a trade pact with China then) as well as in 1989 when Sri Lanka became the first country to invite the then Chinese leader to visit Sri Lanka when the international community denounced China over the Tiananmen Square incident.

"China will never forget Sri Lanka's strongest support economically and politically," emphasised Prof. Li. According to him, through the BRI, China is giving leadership to building a prosperous common future for all and uniting civilisation.

The BRI involves around 70 countries in North Asia, Central Asia Southeast Asia, South Asia, the Middle East, Africa and Europe. These countries account for 65% of the world's population and over one-third of global GDP. BRI will be connected with Russia, Canada and the Americas via the "Polar Silk Road" under China's Arctic Policy. He detailed how under the BRI, China was investing in building ports and railways to connect China and countries within the BRI network. To ensure quicker shipments, ports were built or are under construction in Myanmar, Bangladesh, Sri Lanka, Pakistan and Ethiopia, etc.
BRI must be a Board Room issue and strategy
KPMG Partner Suren Rajakarier, quoting joint research with ACCA, said there was a need for greater awareness of BRI among Sri Lankan companies as only 35% believed it would be a boardroom discussion within the next five years.

The ACCA-KPMG study also sheds some useful insights on five priorities for cooperation - policy, financial integration, trade, infrastructure and people-to-people bonds. He also said that Sri Lanka would benefit by "leveraging the leverage of BRI" and hinted at the potential of Hambantota's GDP becoming bigger than that of Colombo if Chinese investments in the port and industrial zone and resultant economic activities bear fruit.
BRI desk and B2C dimension
Cargills Bank Deputy Chairman and Ceylon Chamber of Commerce Chairman Rajendra Theagarajah said BRI was a long-term initiative with major impact hence Sri Lankan companies needed to include it in their future corporate and business strategies. He also said that the Ministry of Development Strategies and International Trade must set up a BRI desk to enhance awareness and lend support to interested Sri Lankan entities.

He emphasised that although at present BRI was largely Government-to-Government and initially favoured by Business-to-Business, there was greater scope for Lankan SMEs to tap the Business-to-Consumer space. He envisioned the possibility of Sri Lanka and its SMEs using the Hambantota port as a consolidation point to serve Chinese consumers won via ecommerce platforms such as Alibaba.

Dr. Zhao Ying, Associate Director, China-Sri Lanka Cooperation Studies Centre (CSLCSC) of the Pathfinder Foundation, said that BRI was championed by China but belonged to and benefits over 70 countries. She emphasised that there was great opportunity for Sri Lanka via BRI if strategised properly.

CHECH Port City Colombo Regional Sales Director Kelvin Tan also shared some of the salient features of the public-private partnership project which envisages a total investment of over Rs. 30 billion in the long term.