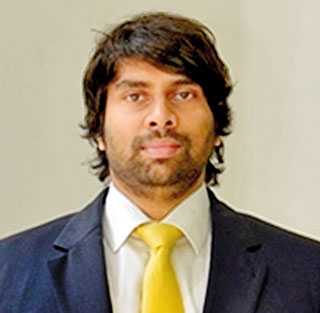 Chatura V. Cabraal
---
Renuka City Hotels PLC has announced the appointment of Chatura V. Cabraal as an Independent Non-executive Director of the company with effect from 13 January 2021.

Chatura V. Cabraal is a Graduate (with Honours) in Mechanical Engineering (BSc.) with a focus in manufacturing and design from the Missouri University of Science and Technology, USA.

He is currently working for CHEC Port City Colombo Ltd. as Manager – Estate Management.

Cabraal serves as a board member on the Export Development Board of Sri Lanka. He also serves on the boards of Kelani Valley Plantations PLC, The Fortress Resort and Spa PLC and Vallibel Power Erathna PLC.

He previously worked at Brandix Lanka Ltd. as a Sustainability Engineer (2011-2014) in the Energy and Environment Department. He began his career in 2010 as a Management Trainee at John Keells Hotel Management Services.

With the latest appointment the Board of Renuka City Hotels Plc comprises of Ravi Thambiayah (Chairman), N.A. Thambiayah (Deputy chairman), S.R. Thambiayah (Joint Managing Director), A.L. Thambiayah (Deputy Managing Director), N.R. Thambiayah, M.A. Jayawardena, R.S. Tissanayagam, T. Dharmarajah and C.V. Cabraal.