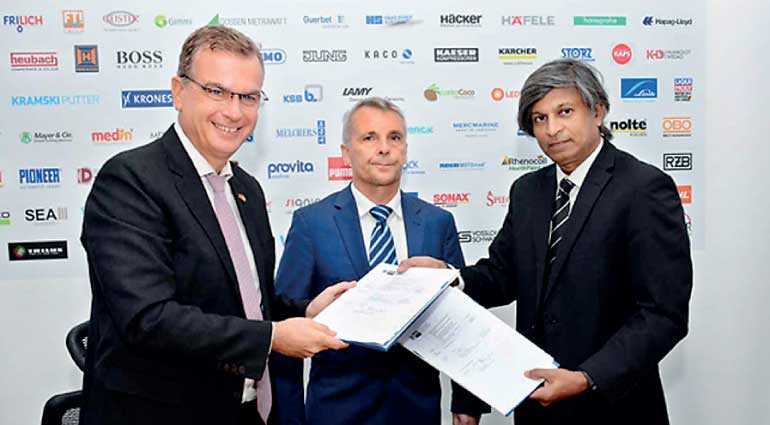 German Industry and Commerce in Sri Lanka (AHK) Chief Delegate Andreas Hergenroether (left) and Wurth Lanka Country Manager Rohan Amirthiah (right) exchange the agreement in the presence of German Ambassador Jörn Rohde
---
German Industry and Commerce in Sri Lanka partners German world market leader Würth for Technipreneurs Lanka project
---
Within the frame of the Rs. 60 million Technipreneurs Lanka PPP (Public Private Partnership), which is co-funded by Würth Lanka and German Development Bank DEG/KfW, Country Manager of Würth Lanka, Rohan Amirthiah and Chief Delegate of German Industry and Commerce in Sri Lanka Andreas Hergenroether, last week signed an agreement on the certification of craftsmen entrepreneurship training in presence of the German Ambassador. Joern Rohde.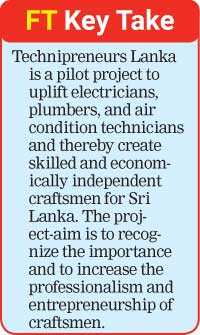 Chief Delegate Andreas Hergenroether stated: "There is an urgent need to develop demand related know-how of craftsmen in Sri Lanka. Our certification which is inspired in German industry driven quality control standards will increase the competitiveness of Sri Lankan craftsmen operating in the wider field of construction."

There is an increasing demand for professional craftsmen such as electrical, mechanical, air conditioning, plumbing, carpentry, welding, aluminum, and general fabrication, and fitters. However, the provided services, while executed by experienced workers, are often delivered in a manner which lacks the necessary standards for proper business conduct. With the increased number of residential apartments - thousands of high-end apartments are currently in the finishing stage - there will be even higher pressure to find skilled and professional craftsmen.

Technipreneurs Lanka is a pilot project to uplift electricians, plumbers, and air condition technicians and thereby create skilled and economically independent craftsmen for Sri Lanka. The project-aim is to recognize the importance and to increase the professionalism and entrepreneurship of craftsmen.

The Delegation of Commerce and Industry in Sri Lanka (AHK Sri Lanka) will be the certification partner of the project and thereby be responsible for monitoring and certifying the training according to agreed standards, based on German standards, in regard to entry requirements, examination structure, content, and passing marks. AHK-certification is aimed to increase the competitiveness of Sri Lankan craftsman.