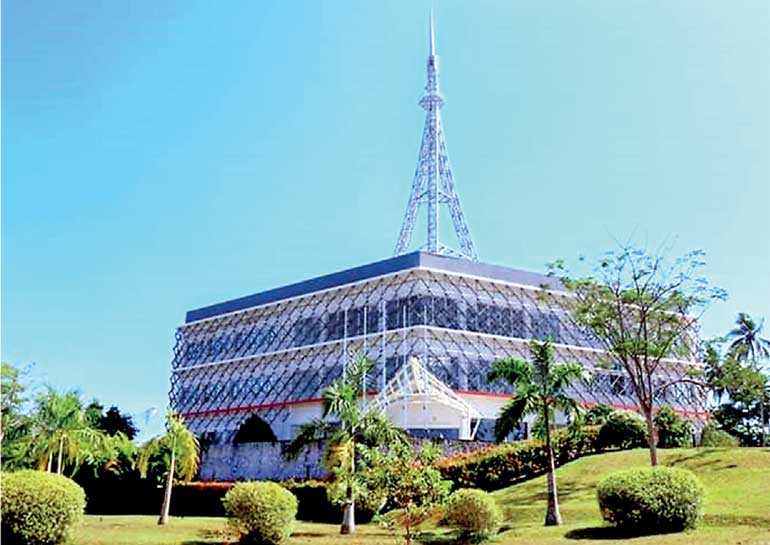 ---
Fine example of innovation in network of relationships open to collaborate
3,000 test kits are manufactured daily in Sri Lanka
SLINTEC swabs further validated locally by independent virologists
By Darshana Abayasingha

With testing and more testing one of the prime needs of the hour in the nation's battle to contain COVID-19, Sri Lanka Institute of Nanotechnology (SLINTEC) has produced a homegrown solution to manufacture nasopharyngeal and oropharyngeal swabs to meet local demand.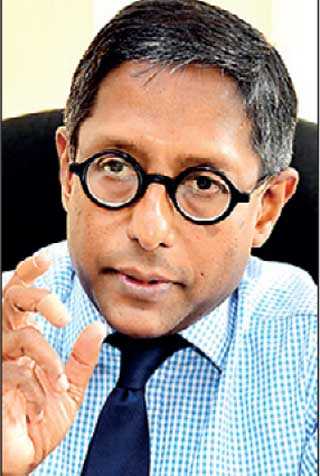 NMRA Head

Prof. Asitha De Silva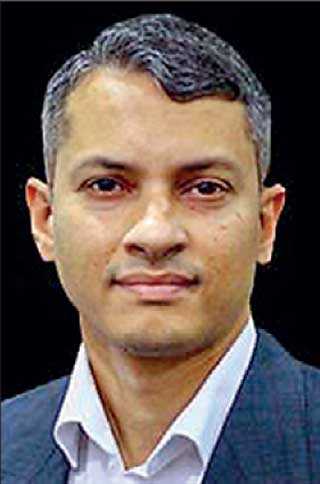 SLINTEC COO Heminda Jayaweera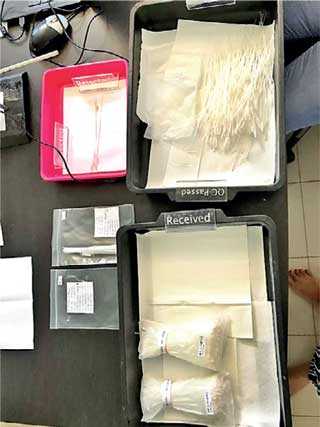 Globally, countries are struggling with sourcing test kits as demand grows exponentially under the backdrop of diminished production capability and logistics. Sri Lanka was facing a severe shortage of test kits and difficulty sourcing new ones in a timely manner, before scientists at SLINTEC was able to reverse engineer the COVID-19 testing swabs here at home.

These swabs were produced by electrostatically depositing the fine fibres on a flexible fine rod. This is attached to the rod with a binder. This is called the flocking technology. The SLINTEC team initially identified the suitable materials required to make these swabs, plus, studying the manufacturing process and available facilities. At present, 3,000 test kits are manufactured daily in Sri Lanka.

A human sputum has to be extracted by reaching deep inside a person's nose and throat to conduct the tests. A special kind of swab is being used to extract this human sputum.

The Sri Lanka Institute of Nanotechnology obtained necessary regulatory and quality approval from the National Medicine Regulatory Authority (NMRA) to operate and manage production of nasopharyngeal and oropharyngeal swabs for COVID-19 tests.

NMRA Head Prof. Asitha De Silva told Daily FT his institution together with the Medical Research Institute (MRI) provided research support and advice to SLINTEC during this endeavour. He added, once manufactured the swabs needed to be validated before approval – scientifically and virologically – and the SLINTEC products had been presented to different virologists to evaluate by testing against commercially available swabs. This entails testing their ability to catch the virus from the nasopharynges without destroying them and transfer it for testing. The results had been very satisfactory as reported by different virologists working independently, he added.

"When SLINTEC told us what they intend to do we were delighted at the NMRA, and we proactively provided the regulatory oversight and did the handholding we could do. Any test kit that comes to us, we practice something call a reference test under WHO guidelines. In this case there was nothing like that-for the first time in Sri Lanka. We subjected this particular nasopharyngeal test to the rigours of what we do to be confident it is not going to endanger public life. Because if you have a wrong result you can have a false negative or positive, which is serious in the case of COVID-19."

"This particular nasopharyngeal test stood all the rigours of testing and when the virology reports were available, we gave them a temporary marketing authorisation, because Sri Lanka was running short. I think the Infectious Diseases Hospital (IDH) was at one point down to about 30 swabs. We gave SLINTEC authorisation with minimal paperwork through the eNMRA program, and now they have given us their full dossier so we hope to give a full registration soon. The SWAB is now available to use in Sri Lanka," Prof. De Silva stated.

The NMRA is responsible for public health by ensuring medicinal products reach required standard of efficacy, safety and quality. PCR Tests kits, even face masks are classified as medical devices and fall under regulatory purview. Nasopharyngeal swabs are produced to capture pathogens and microorganisms from the throat, and must be made to certain quality enabling the virus to be captured and transferred. The usability of the SLINTEC swabs was tested at MRI and clinical studies done at IDH.

"It is very comforting SLINTEC took on this challenge. Without that we would be reliant on imported stuff and we were running short due to global shortage. Plus, some of the swabs we get from overseas are of good standard but not validated like we did locally. These SLINTEC swabs went one step further by getting them validated locally by independent virologists. It is a very good initiative on their part to bring a locally manufactured product into the market at a time of critical need. We have an assured guaranteed supply now. If SLINTEC can work with manufacturers for different products we require, be it N95 masks… and in addition to producing if they can support us with quality assurance using SLINTEC laboratories the NMRA will be delighted to work further with them," Prof. De Silva added.

Nasopharyngeal swabs globally are in major short supply, and medical practitioners cannot use just any swab to do tests as it has to be made to specific scientific quality. Sri Lanka was running really short of these prior to this measure. This sterling local effort is a fine example of innovation operated in a network of relationships who are open to collaborate.

Speaking to Daily FT, SLINTEC COO Heminda Jayaweera said: "The needs for test kits have risen globally with the World Health Organization request to implement a 'test, test, test' strategy to combat the coronavirus. Scientists at SLINTEC worked hard to address the shortage of swabs, and the process was transferred to Hi Fashion Ltd. to produce the swabs using their existing flocking technology. The SLINTEC team would like to thank Hi Fashion, Eco Spindle Ltd. and the teams from MRI and Lady Ridgeway Hospital for collaborating on this project, and specifically the NMRA to get approval in quick time. We also appreciate the support given by Ministry of Higher Education, Technology and Innovation throughout this project."

The locally-manufactured swabs can efficiently extract biological samples and also release to the testing liquid. The entire process is managed by the SLINTEC team. Once the swab is produced at Hi Fashion the quality test is done at SLINTEC alongside packing and sterilisation. The sterilisation is done at Lady Ridgeway Hospital (LRH). At present 3,000 swabs a produced per day with plans to ramp up if required.