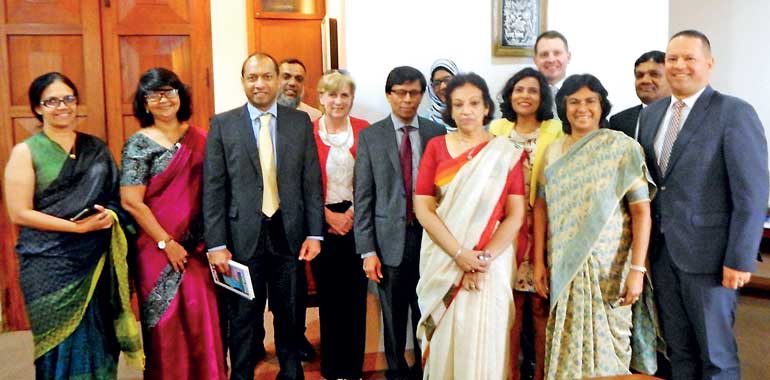 High Commissioner of Sri Lanka to the United Kingdom Amari Wijewardene says this is the best time to promote Lankan products in the UK market, as Sri Lanka has been rewarded with the 'EU GS Plus' facility.

She says under the 'ÉU GSP Plus' trade facility, Sri Lankan businesses can export products such as apparel and leather goods, rubber products, fish, coconut products, tea, spices, fruits and vegetables, gems and jewellery, toys and games ceramic ware into the 28 member states of the EU, including the UK, on duty free basis.

Wijewardene made these comments, when she visited the Ceylon Chamber of Commerce recently (26 September), where she held a meeting with the President Karim Schadlou, members of Executive Committee of the Council for Business with Britain (CBB) and the Chamber CEO Dhara Wijayatilake.

During the meeting, she also said, Trade Division of the Sri Lankan Mission in UK is continuing to educate the business community in UK on trade opportunities available under GSP Plus scheme and also other business opportunities.

As a result, the SL High Commission in UK will be facilitating a visit of Lankan ICT delegation to Britain towards the end of this year and also plans are underway to enhance the technical skills in the Sri Lankan Gem and Jewellery industry in collaboration with the Birmingham School of Jewellery.

During the meeting, Officials of the Council for Business with Britain explained the steps they have taken towards enhancing Sri Lanka-UK bilateral trade.

In response, she said, "I appreciate the interest shown by the council in enhancing trade and investment relations between Sri Lanka and UK."

Nimal Karunatilake, Director of Commerce and Ananda Dharmapriya, Director of Commerce of the Department of Commerce also took part in the meeting.

Representing the CBB, Karim Schadlou, President of the Council, Tania Polonnowita Wettimuny, Vice President, Damian Gilkerson, Managing Director of the Glaxo SmithKline Pharmaceutical, Roshanie J. Moreas, Vice President of the John Keells Holdings PLC, Ameena Ziauddin, Director of Norfolk Foods Ltd., Irfan Thassim, Managing Director of Oceanpick Ltd., Michael Fernandopulle, Head of Trade of the British High Commission in Colombo, Gill Caldicott, Country Director of the British Council in Sri Lanka and Cherryl Rodrigo, Assistant Secretary General of the Ceylon Chamber, attended the meeting.