The British Council Sri Lanka celebrated its IELTS partner achievements at the 'IELTS Partner Awards 2019' at the Kingsbury, Colombo recently.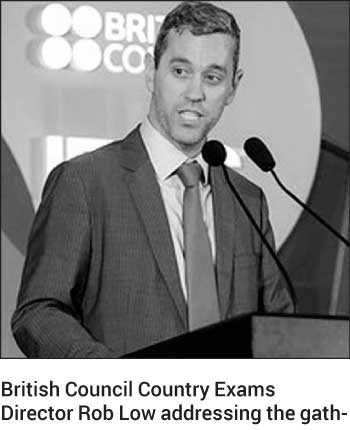 Conducted annually over the past few years, the IELTS Partner Awards Night recognises and acknowledges the significant contribution of all partners towards the delivery of IELTS to local candidates.

Speaking at the event, Country Examinations Director Rob Low said, "As the British Council celebrates 70 years in Sri Lanka, I would like to thank all our partners who have worked closely with us in helping to build a strong and valuable network. Tonight's awards celebrate the achievements of our extensive and excellent partner network as we continue to pave the path for students to enhance their life prospects."

Nations Victory Campus Ltd Chairman J.P. Gayan Eranga Kumara Jayasekara noted, "We have been working with the British Council since 2017 and we extend our heartfelt gratitude to all the team members of the British Council who enabled us to achieve this goal of receiving the Institutional Partner of the Year Award within such a short period."

"ACBT and British Council have a very long and mutually beneficial relationship," was the sentiment shared by ACBT COO Krishan Senaratna after receiving the 'Strategic Partner of the Year' award. "We work together in all our campuses located in Colombo, Kandy and Galle. This award acknowledges our contribution as we actively work towards promoting computer-delivered IELTS. Additionally, ACBT is also a key venue partner for other examinations conducted by the British Council," he further stated.

Gnanatillake Jayasekara, who was recognised as the 'Individual Partner of the Year' stated, "It was truly a pleasurable experience to have worked with the British Council and to be able to win the Partner of the Year Award for 2019. This achievement was possible because of the unwavering support given to me by the British Council IELTS team. I am looking forward to many more years of partnering with the British Council."

"Once again, ICBT campus is delighted to have been awarded as Corporate Partner of the Year by the British Council. This award is testament to high quality and standards extended to thousands of IELTS Exams conducted by ICBT Campus in association with the British Council. ICBT campus utilises dedicated staff to facilitate IELTS preparation programs and exams at all our branch campuses. ICBT campus is looking forward to offer Computer-Based IELTS at our Colombo campus soon. British Council is a key partner of ICBT campus and looks forward to further strengthen the relationship," noted ICBT Marketing Director Anura Gamage.

As a trusted brand, the British Council ensures customers are at its fore and strives to persistently deliver exceptional service, providing a seamless customer experience for all test-takers with more convenience, security and flexibility. With its latest introduction of computer-delivered IELTS, test-takers now get their results faster, typically available between five to seven working days and can choose a date convenient for them from over 20 sessions available a month.IELTS is among the world's most popular high-stakes English language tests, with over three million taken during the past year. The test is recognised by more than 10,000 universities, schools, employers and immigration bodies.British Council Sri Lanka delivers close to 100,000 UK exams on an annual basis, creating pathways and opportunities for students and young professionals, helping them realise their educational and professional aspirations.

The 70 year anniversary commemorates British Council's seven decades of work across the island, representing the UK in all aspects of cultural relations, building connections, relationships and opportunities between the people of the UK and Sri Lanka.