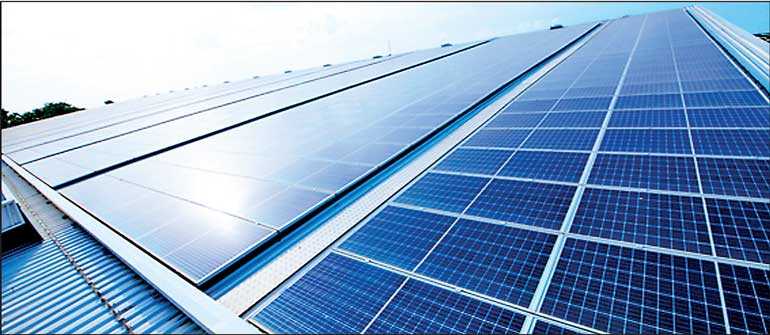 Solar Panels
---
Brandix facilities to be 'Net Carbon Zero' by 2023

Company received world's first LEED Platinum certification in 2008, world's first Net Zero Carbon status in 2019 for factory in Batticaloa
Firm has invested over $ 30 m into ultra-efficient, green technology over a decade
Outlines technology adaptation, recycling of waste major challenges for future
Insists sustainable business solutions are what companies should look to imitate
By Charumini de Silva


Sri Lanka's leading apparel solutions provider Brandix has made a significant impact in reducing its carbon footprint, while making a positive contribution to the communities in which they operate through systematic interventions while simultaneously addressing acute social needs that are considered national priorities.

Goals have been set to make all Brandix facilities 'Net Carbon Zero' by 2023, thus taking sustainability targets both in domestic and international markets higher.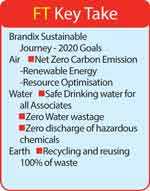 The company has also proven a positive correlation between reducing carbon emissions and how innovative solutions result in heftier revenue streams not just for the enterprise, but also for its employees and for the communities they operate in.

"Brandix is all about the inspired solutions through inspired people," Brandix Director Projects Natasha Boralessa told a journalists during a media tour at the Brandix Batticaloa Manufacturing Facility on Tuesday (6 August).

Brandix sustainability journey focuses on three key pillars — air, water and earth, where the company has made significant progress over the years. She said the sustainability journey of the company has resulted in Brandix being the first in the world on a number of occasions.

Since 2007, Brandix has pioneered sustainable practices, taking great, impactful business strides to bring it closer to the Group's vision of becoming the most sustainable apparel manufacturer in Asia and beyond.

The company has made significant progress since then by achieving the world's first LEED Platinum certification in 2008 and the world's first Net Zero Carbon status for its factory in Batticaloa in 2019, setting the trend for other manufacturers to follow in its wake.
"We signed up with the Green Building Council where we made a pledge that all Brandix facilities will be Net Carbon Zero by 2023," she added.

The company has taken on the responsibility of managing the lifecycle chain from the raw material stage to distribution. This enables management to account for all manufacturing processes that are under control.

Boralessa said Brandix will continue its work in environmental sustainability undeterred, reinforced by an agenda that goes beyond compensating for the impact the industry has on the environment.

Over the past 10 years, Brandix has invested over $ 30 million in ultra-efficient and green technology, and is keen on investing at a faster pace for the company to reach its goal in 2023.
Highlighting the company's vision to account for each and every resource used and all by-products produced within the company, Brandix Group Head of Engineering Iresha Somarathna said they focus on minimising their carbon footprint through long-term measures of energy optimisation and utilising on-site renewable energy resources across its manufacturing operations.

With most of the projects having an average return on investment (ROI) of about three years, he pointed out it was important to choose the correct technology to ensure that the year-on-year top line performance is on the rise.

"Business is doing extremely well and momentum with the help of sustainable business models definitely ensured a continued leadership position for Brandix," he added.

Walking through key points about the Batticaloa facility, he said the building is designed according to US Green Building Council and ASHRAE (American Society of Heating, Refrigerating and Air Conditioning Engineers) building guidelines.

"Around 44% of energy is generally consumed for the cooling of the building, hence we focused on optimising the cooling energy through the building design itself. The east-west orientation of this building minimises the solar heat emitting through the building's walls and windows. The solar panels also provide additional insulation to the building's roof. As a result, we are able to save over 53% of energy, in comparison to a conventional factory building," he pointed out.

At Brandix, they also monitor Real Time Building Energy Consumption with the support of a Building Management System (BMS). HVAC air cooling and indoor air quality is continuously monitored and controlled, with a special focus on temperature and CO2 levels. Chillers and Air Handling Units (AHU) can also be operated and controlled through the BMS system. Additionally, advanced sub metering devices have been provided to monitor daily energy consumption patterns.

"We have 1,800 sewing machines at the Batticaloa premises which are operational for 16 hours every day. All machines are provided with low-powered VSD servo motors instead of clutch motors. Clutch motors are continuously operational during production hours, whereas servo motors operate only during needle time, which accounts for approximately 17% of operation hours. A servo motor can save 68-73% of energy when compared with a clutch motor," Somarathna said.

Noting that knitted garments require uncurling as part of a new operation requirement, he said the company used compressed air continuously, but later an in-house team then went on to develop an innovative air-saving device to reduce the compressed air wastage by over 40%.

"We will be implementing these air-saving devices across new sewing machines as well," he added.

He also said that the company has invested $ 8 million on solar power generation thus far, while noting they would invest another $ 4 million in 2020.

"At the Batticaloa facility, 11% of energy used for the building's lighting is through solar tubes. We are utilising solar tubes to provide solar light into the building minus the solar heat. Additionally, a lux control mechanism is in place to switch off artificial light during daytime. These solar tubes have contributed to increased indoor lighting level by an average of 122 lux in the building during daylight," he stressed.

The Batticaloa factory lighting is 100% LED-generated as LED consumes less power than CFL, resulting in savings of over 50% lighting energy load versus conventional lighting. The lifetime of LED lighting is also double the span of conventional lighting. LED lighting can also be easily recycled and completely eliminates any disposal issues, he pointed out.

"We use a production information system through which the material flow can be visualised and it helps us identify bottlenecks in line feedings. All material supplies are synchronised through this system, which has contributed towards eliminating all paperwork. We also segregate and store used thread cones in separate bins. These threads are then re-used when new styles are introduced," Somarathna added.

The Brandix team also showed that all its garments go through metal detectors, which helps the customers receive real-time information on their products.

The double-glazed argon-filled e-clear glass windows in the factory help minimise the heat load. These glass panes are fixed around the main and front building walls to facilitate daylight and viewing of outdoor environment.

Brandix's installation of a 1.65MW rooftop solar plant was initially Sri Lanka's largest. The annual energy yield is 2,975 MWh, which even exceeds the annual energy requirement of the premises.

"We have implemented online solar monitoring by using the Sunny Portal software. As a result, we experience 1,591 tons net reduction in CO2 emissions annually and an overall reduction of 31,820 tons over a period of 20 years," he said.

The compressed air network design at the Brandix plant is different from a conventional design. "The system will generally have one air receiving tank after compression and drying yet the system we now have in place is designed with two air receiving tanks to balance the system and minimise the loss of energy. An online compressed air flow meter was installed to monitor air consumption," he added.

The company has also invested on the latest magnetic bearing chillers which help to cool water and have a much higher part load efficiency and no losses experienced due to oil clogging, saving over 37% energy when compared with conventional chillers. The refrigerant leaks detector helps identify any refrigerant leaks. All chilled water pipelines are insulated.

Going forward, Somarathna outlined technology adaptation and recycling of waste were major challenges. "Luckily for Brandix, we have a great leadership that invested and guided us through this sustainable journey. However there are major technical challenges in going forward with the country not having proper disposal plants or recycling plants, especially for industrial waste," he added.

Brandix Deputy General Manager – Environmental Engineering Jarook Mohamed said all water and sanitary fittings at the premises are LEED Platinum-rated and help save over 53% of water when compared with conventional water fittings.

"The dishwasher is used for cleaning plates of 2,400 in one shift and it contributes towards saving a significant proportion of water used for this purpose. We use a solar hot water system to provide hot water and for dish washing," he added.

He also said that all internal roads are made with high solar reflectance paving blocks which help in preventing the heat island effect taking hold within building and also reduces rain water run-off.

In terms of waste collection and storage, he said that all solid waste is segregated and stored in separate bins for recycling. The in-house water purification system provides safe drinking water to all Brandix associates.

"We have built a zero-discharge sewage treatment plant. The treated water is recycled and re-used for flushing and irrigation purposes. We also have a treated water pond which receives treated water from the sewage treatment plant (STP). The pump-house then releases the treated water to the irrigation network around the factory through efficient water sprinklers. The fish, ducks and birds in and around the pond help enhance biodiversity at the premises," Mohamed said.

The company also has a food waste composter that produces compost from food waste within a span of 24 hours, and the output is then used for in-house fertiliser and is given free to employees for their home gardens.

He also said an electric charging facility is provided to promote electric cars and a push-bike parking facility is provided to promote cycling in the area.

"On a journey to deliver inspired solutions at every point of its business, Brandix continues to develop, manufacture and market end-to-end apparel solutions to world-renowned brands, whilst inspiring sustainable development in the communities we operate in," Brandix Head of Corporate Social Responsibility Anusha Alles said.

According to her, since 2006, Brandix has actively engaged with its employees across its local network to correctly assess and identify the issues that impact their lives and the lives of their communities.

She said this enabled the company to understand that at the time, 90% of its employee base, which consisted primarily of women, were impacted at some level or the other by a lack of access to clean water.

"We found out that this issue inevitably hampered their lives where the females were unable to attend work, thus impeding their ability to earn an income to sustain their families. In an effort to make a positive contribution to the communities, Brandix conducts the 'Care For Our Own' and 'Model Village' initiatives to meet the immediate water needs of its employees and their surrounding communities," Alles pointed out.

"Brandix follows a simple model that underpins its community efforts through four key focus areas — Provide, Educate, Research and Disaster Management. To ensure that resources allocated for each project achieve the expected results, systematic monitoring followed by careful evaluation of project outcomes is done to measure their actual impact versus the desired targets," she said.

She said Brandix has also collaborated with the Kelani River Multi-stakeholder Partnership (KRMP) which is a sustainable development initiative to balance the development of livelihoods, community and industry, as well as ensure the safety of drinking water sources for the communities who live along the Kelani River.

Multiple stakeholders, including organisations such as Brandix, have actively come on board to support this initiative through funds and expertise to ensure water security for the communities in and around the Kelani River.

"Initiatives such as these are indicative of the broader social impact that can take place through strategic collaborations to address social and community issues at hand," Alles stressed.

She insisted that the concept of sustainability is not just based on helping the environment, but it must account for the people, business and markets. "Only by incorporating all factors can we really bear the fruits of our labour. We have shown our competitors a new horizon and proven that sustainable business solutions are the step that all companies should look to imitate," Alles said.