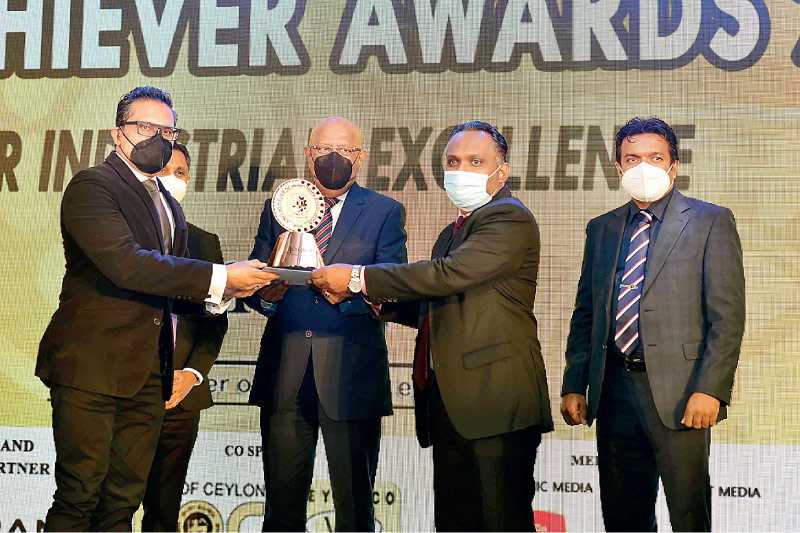 Bio Extracts COO Dilantha De Silva and CFO Haniffa Mohamed Fahim receiving the award
---
A leader in the herbal healthcare industry, Bio Extracts Ltd. has won the accolade of National Bronze Award at 'Ceylon National Chamber of Industry Achiever Awards 2020' held at Hotel Galadari on 26 March, a prestigious event graced by Minister of Industry Wimal Weerawansa.

Established in 1994, Bio Extracts Ltd. has seen steady growth within its specialised fields of herbal health supplements, health oils, herbal medicinal applications, and herbal personal care manufactured under the 'Baraka' banner.

Distributed throughout Sri Lanka at all pharmacies, Ayurvedic outlets, and supermarket chains, Baraka products are also exported to more than 35 countries around the globe. Now well-known both internationally and locally for the quality and efficacy of their products, Bio Extracts has been awarded many accolades over the years, including several Presidential Exports Awards. Leveraging on their knowledge of Sri Lanka's indigenous health system and its healing effects, international reach continues to expand to Russia, USA, The Middle East, South East Asia, and Oceania.

Going beyond established networks, Baraka's annual participation at several international trade exhibitions such as Gulfood (Dubai), Anuga (Germany), Bio Fach (Germany), Mihas (Malaysia), Foodex & Health Ingredients (Japan), Intercham (Russia), and Food Ingredients (France) have assisted the company to achieve success within international markets.

Bio Extracts pioneered introduction of latest technologies in manufacturing of herbal products in the country, based at their world class 50,000 sq. ft. facility in Ratmalana. Equipped with a state-of-the-art laboratory, the company's R&D team continually develops new and innovative products, keeping with the highest international standards. The company's numerous certifications include GMP, HACCP, ISO 2200 and 14001, USDA/EU/JAS Organic, Fair Choice, along with being USFDA and WHO compliant.

Equipped with technologically advanced soft-gel and hard-gel manufacturing units, tableting, blister packing, automated counting, liquid and cream filling, and finishing lines, Bio Extracts has made its way to the forefront of the industry.

With the continuous rise in non-communicable diseases largely brought about by lifestyle changes and environmental pollution, the world has begun to seek solutions from nature. As such, Bio Extracts is passionate about its quest for herbal and natural remedies, continuing to expand upon innovation at its R&D facility, a cornerstone of the company.

Leveraging on the rich herbal heritage of Sri Lanka, the Baraka basket covers a range of products and supplements for diabetes, good heart health, arthritis, GI care, asthma, memory enhancers, weight control, skincare, daily health supplements, cold and flu products, analgesic applicants, and natural health foods. The range selectively undergoes re-launches to improve upon the effectiveness of its ingredients, thus ensuring continuous improvement for consumer satisfaction. The latest additions to the extensive product portfolio are 'JointEase', a fast action pain relief spray, 'AcClear', an anti-acne cream, 'COFSID', a herbal cough syrup, and 'Citrills', a sore throat and cough relief lozenge, all of which are scheduled to be released within 2021 and 2022.

The range is differentiated by its key ingredient – the black seed, further enriched with Sri Lankan herbs such as lunuwila, garlic, mace, gotukola, karawila, ash plantain, velmi, virgin coconut oil, and more. Ingredients are sourced through a highly experienced, specialised team to ensure high quality.

A subsidiary of Aberdeen Holdings Group, Bio Extract's investment in well-trained and professional human capital, aptly guided by the vastly experienced Founder Managing Director and Group Director Sattar Kassim, has seen the company grow exponentially stronger over the years. Kassim's longstanding vision is to enable Baraka to become one of the highest echelons in the Sri Lankan herbal manufacturing industry, taking it to stellar international repute.

Aberdeen's businesses span the globe – from airlines to healthcare, corrugated cartons, commodity trading, solar energy solutions, recycling and waste management, food and beverages, to real estate services, whilst the venture capital arm of the group has significant stakes in insurance, banking, and the caged fishing industries. Each division in the group has a set benchmark in their respective industries, whilst one subsidiary holds the number one position within the country's corrugated carton industry.

Guided by Aberdeen's strength, dedication, and commitment, Bio Extract is set to safely achieve its vision in becoming the top herbal healthcare provider, both in Sri Lanka and around the world.