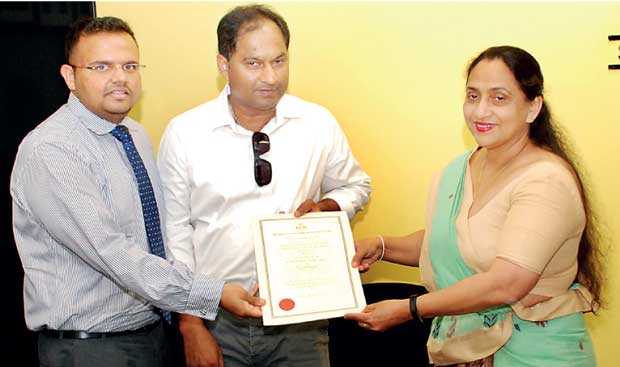 BOI Director General Champika Malalgoda formally presents the Certificate of Registrations to investor Chandima Karandawala
---
The BOI signed an agreement with Bellevue Residencies Limited, which is a mixed development project for a 35-storey tower and shopping complex.
The unique aspect of this project is that it will be constructed in Ja-Ela, and it is the first time that such a high-rise tower is built outside the city of Colombo. In fact, the Bellevue Tower will be the tallest building outside the Colombo District. The investor, Chandima Karandawala, who is a Civil Engineer residing in Nice, France, has been involved in construction for more than 15 years in France.

The Bellevue Residencies Limited project will create 228 new employment opportunities and represents an investment of $15.4 million. Among the projects that Karandawala has built in the past is the house of singer Julian Lennon, the son of Beatles Star John Lennon, in the French Riviera. His project in Sri Lanka, the Bellevue Tower, will have apartments in both tower buildings and one of its main attractions will be its close proximity to Colombo International Airport. Bellevue Tower is a joint venture with MAGA, a leading contractor in Sri Lanka. Chandima Karandawala is confident of Sri Lanka's potential and he is looking at future projects in the hotel sector. He added that as a Civil Engineer with vast experience working in France, his tower project in Ja-Ela will utilise some of the cutting-edge construction technologies currently available.