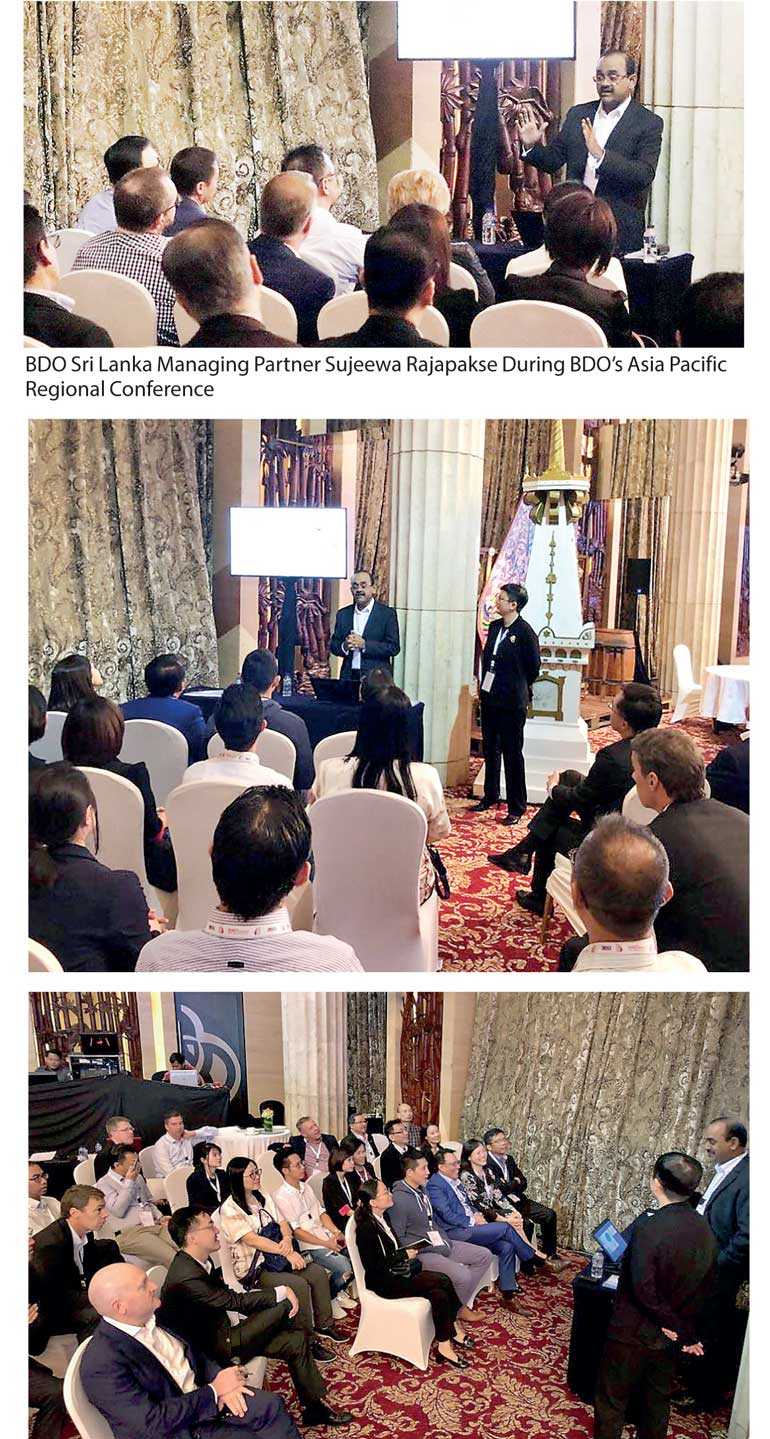 With BDO Sri Lanka taking the lead to strengthen the country's economy by attracting Foreign Direct Investments (FDI), the BDO Asia Pacific network has also come onboard to support BDO Sri Lanka's initiative by offering to bring in investors from the region to invest across diverse industries in the country.

During BDO's Asia Pacific Regional Conference (APREC) held in Jakarta recently, BDO's Asia Pacific network, which spans 25 countries in the region, expressed its interest in channelling foreign investments to the South Asian island and helping it achieve its long-term development vision.

The BDO Asia Pacific network conveyed its interest to help invest in Sri Lanka following a detailed presentation made by BDO Sri Lanka Managing Partner Sujeewa Rajapakse, who highlighted the existing investment potential which was available and open for FDIs spanning a cross section of industries from real estate, apparel, technology, engineering and leisure as well as agriculture and fisheries in Sri Lanka

Rajapakse's presentation on the existing investment opportunities available in Sri Lanka and open for FDIs was well received by the BDO network, with BDO Sri Lanka already receiving inquiries and invitations to conduct several roadshows overseas to attract further investments to Sri Lanka.

In his presentation, Rajapakse noted that BDO Sri Lanka's intention was to identify and help businesses to which attractive investment opportunities are offered and which are ideal and also seek debt/equity investments from overseas markets.

"Through our continuous efforts, we have identified projects spanning many industry sectors such as organic agriculture, animal husbandry, real estate, marine fish hatcheries and farming as well as leisure, engineering, value-added spices and tea and apparel," he said.

BDO Sri Lanka will be offering potential foreign investors who are interested in investing in Sri Lanka necessary investment-related facilitations.

Speaking further, Rajapakse also highlighted the role BDO Sri Lanka has played so far by taking advantage of China's One Belt One Road (OBOR) initiative to drive investments to Sri Lanka.

Before concluding his presentation at APREC, Rajapakse also highlighted certain challenges facing Sri Lanka as per potential investors.

"A few concerns from prospective investors are common and the instability of policies along with the lack of tax incentives and the constant changes in the regulatory aspects are among the key challenges we face in Sri Lanka when driving FDI-related initiatives," Rajapakse added.

Meanwhile, BDO Sri Lanka, together with Opportunity Sri Lanka, will kick off its inaugural roadshow, 'the Sino-Lanka Investment Conference 2018' (SLIC 2018) in October this year in Shanghai, China. The roadshow is expected to be an important platform to attract further Chinese investments into the country and drive forward Sri Lanka's economy.

From 2005-2007 China has invested a total of $ 14.7 billion for various infrastructure projects in Sri Lanka by building ports, airports, highways and power plants. Among these projects, China's investment, amounting to $ 1.1 billion which was directed towards the Hambantota Port, is the largest Chinese-funded project compared to other investments along the Maritime Silk Road by China.

BDO is the world's fifth largest network of accounting, tax and advisory firms, extending across 162 countries and territories, with 73,854 people working out of 1,500 offices.