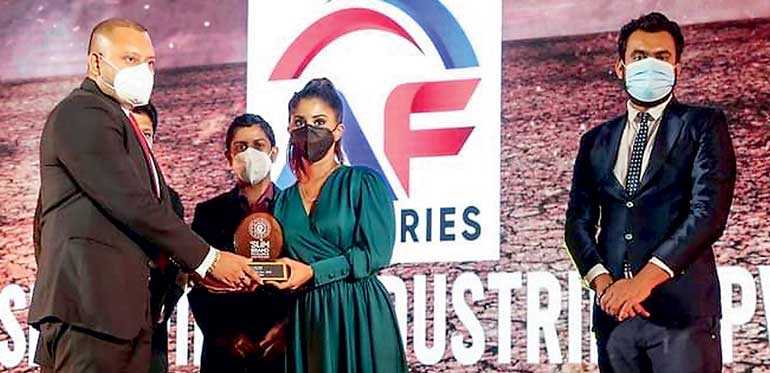 Anushka Fiber Industries MD Anushka Fernando receiving the award
---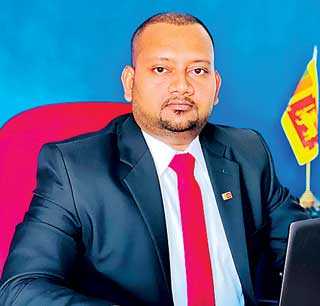 Managing Director Anushka Fernando
---
Anushka Fiber Industries (AFI) won 'SME Brand of the Year' for the second consecutive year at the 19th SLIM Brand Excellence – 2020 organised by Sri Lanka Institute of Marketing (SLIM) and held on 22 January 2021 at BMICH, Colombo.
Anushka Fiber Industries is one of Sri Lanka's leading manufacturers of Fibre Reinforced Plastic (FRP) products with 25 years of experience in the industry which is certified with the ISO 9001:2015 UKAS Quality Management System serving to various sectors such as apparels and garments, education, leisure, domestic, automotive, aquatic, advertising, hospitality and hotels. AFI product range covers canteen and restaurant tables, industrial furniture needs, garbage bins, trolley bins, trays, school desk and chairs, chemical and water tanks, leisure boats, fish boxes, water and acid proof layering, customised mould creations, promotional and marque (brand) products, seating for stadium and campus and children play area and any other customised designs requirements island-wide in Sri Lanka and exports also.
AFI is one of the leading suppliers in Sri Lanka for both indoor and outdoor children's play equipment and school furniture under AF Sports Brand. Over the period, AF Group has diversified by creating subsidiaries (Anushka Fiber Industries, AF Sports Goods, AF Marine Industries and AF Engineering which focuses on a specialty to better serve the values customers around the world.

AFI has already won many national and international level awards and some of them are; South Asian Partnership Summit and Business Excellence (SAPS) Awards (won the category of Fiber Product Manufacturer of the Year 2019 and Young Entrepreneur of the Year 2019), National Business Excellent (NBEA) Awards (was the Runner up under Manufacturing Category 2019 and 2nd Runner Up under Small Category 2019), 18th SLIM Brand Excellence by Sri Lanka Institute of Marketing (SLIM); (won the award under SME Local Brand of the Year 2019).

During the COVID-19 lockdown, AFI invented healthcare products 'Fibre Glass Foot Operated Wash Basin and Fiberglass Foot Bath' in addition to many other inventions manufacturing 100% locally in Sri Lanka as Made in Sri Lanka concept. Managing Director, Kirthi Sri Deshabandu Anushka Fernando said, "I must be grateful to all my staff, stakeholders and the customers who trusted us over the years. If not for those, this achievement would have been impossible." AFI is inviting international companies for joint ventures to expand the business and manufacture FRP related products for overseas orders.