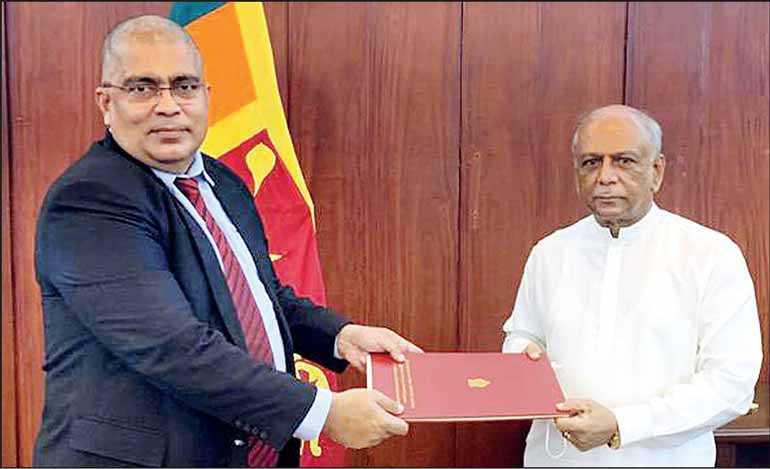 ---
Andre Fernando, Managing Director MAC Holdings Ltd., was appointed as the Honorary Consul of Bulgaria to Sri Lanka effective from 18 March and has been gazetted on 1 April.

This appointment was announced by President Gotabaya Rajapaksa, and was handed over by Foreign Minister Dinesh Gunawardena.

In a statement as Honorary Consul of Bulgaria, Fernando said that he would provide leadership in promotion of trade, economic cooperation and friendship between the two countries. He will help facilitate investments, trade, cultural tie-up and services, and help build strong cultural and strategic bilateral relations between Bulgaria and Sri Lanka.

Alumni of both St. Peter's and St. Joseph's, Fernando, is a well-known corporate figure, and a 30-year veteran of the domestic and international logistics, aviation and maritime industry, who has served as a Chairman/Managing Director and has held senior leadership positions at renowned global logistics companies and airlines, covering many international markets.

His industry experience has been recognised by several industry organisations to drive progress in many challenging environments. He has served as the Chairman/founder and a member of the executive board of the Sri Lanka Logistics Providers Association, Chairman of the ECCSL Market Access Team (MAT) Tourism committee, President of Sri Lanka Greater Mekong Sub Region Business Council (representing Vietnam, Thailand, Myanmar, Cambodia and Laos), Chairman of the Shipping and Aviation Committee of National Chamber of Commerce of Sri Lanka and Executive committee member of SLFBC, SLPBC, SLKBC, SL JBC and SLRBC. He is also a Life member of the Sri Lanka Institute of Directors and Member of the International Chamber of Commerce, Executive committee member of Sri Lanka Shippers Council, Sri Lanka Freight Forwarders Association, Japan Sri Lanka Technical and Cultural Association, American Chamber of Commerce, European Chamber of Commerce and Indo-Lanka Chamber of Commerce and Industry.

Bulgaria is a Balkan nation with diverse terrain encompassing Black Sea coastline, a mountainous interior and rivers, including the Danube. A cultural melting pot with Greek, Slavic, Ottoman, and Persian influences, it has a rich heritage of traditional dance, music, costumes, and crafts.

Sofia is the capital and largest city of Bulgaria. It is situated in the eponymous valley at the foot of the Vitosha Mountain in the western parts of the country. Bulgaria is the oldest country in Europe and preserved its original name. It has one of the most intelligent people in the world second to no other.

The strongest sectors in the economy are energy, mining, metallurgy, machine building, agriculture, medicine and tourism. Primary industrial exports are clothing, iron and steel, machinery and refined fuels.

Bulgarian Consulate in Sri Lanka will run an inclusive range of consular services to locals, Bulgarian's, and international citizens in Sri Lanka.

The Bulgarian Consulate in Sri Lanka supports Sri Lankan citizens through its consular services if they:
Need general or specific info regarding Bulgarian economy, culture, sports, tourism and more.
Need information regarding opportunities for investments in various sectors of the national economy of the Republic of Bulgaria.
Need help or advice about immigration, residence, work permits and obtaining Bulgarian Visa.
Need information or services of importers and exporters as well as investors.
The offices of the Honorary Consulate of Bulgaria will be located at No: No 66/3, Ward Place, Colombo 7; Telephone No: Off: +94-772260809; Mob: +94-777737155; Email: Office e-mail - andre.sec-pa@macholdings.com; Direct e-mail - andre@macholdings.com.

Opening hours: 8:30 a.m.-5 p.m. on weekdays by appointment.