JAT Holdings Chairman and last year Sri Lankan Entrepreneur of the year award winner Alieyan Gunawardena, Federation of Chambers of Commerce & Industry of Sri Lanka Secretary General/CEO Ajith D Perera, Federation of Chambers of Commerce & Industry of Sri Lanka and SAARC (CCI) Presi-dent Ruwan Edirisinghe, Primary Industries Minister

Daya Gamage, FCCISL Senior Vice President Shirley Jayawardena, FCCISL Vice President K. Gunawardena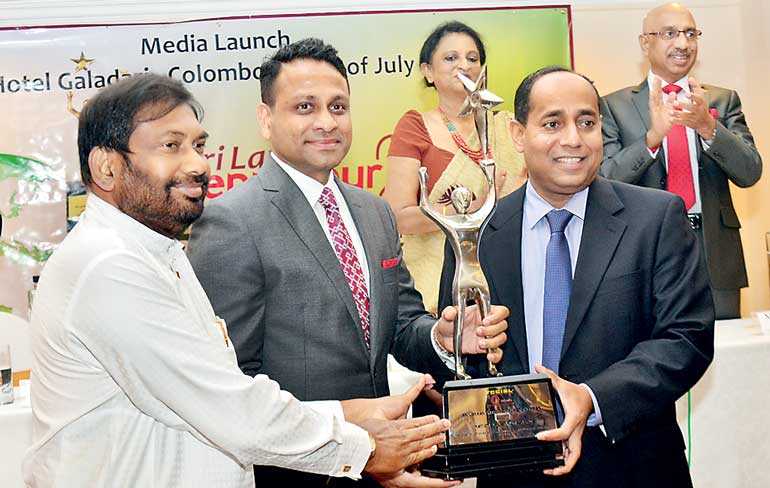 Handing over the trophy by last year Platinum Winner JAT Holdings Chairman Alieyan Gun-awardena- to Federation of Chambers of Commerce & Industry of Sri Lanka and SAARC (CCI) Presi-dent Ruwan Edirisinghe. Primary Industries Minister Daya Gamage looks on

- Pix by Shehan Gunasekara
By Ruwandi Gamage

The Government this week outlined ambitious plans to increase agriculture and fisheries exports by creating 23 new processing zones, improving fisheries production in 10 regions and rapidly expanding revenues from mangoes and cinnamon.

Speaking at a ceremony to announce the launch of 'Sri Lankan Entrepreneur of the Year' awards, Primary Industries Minister Daya Gamage detailed a large number of policies that his ministry is focused on to improve exports and investment in the agriculture and fisheries sector.

He also spoke of plans to distribute as many as 100 million plants to commercial fruit and vegetable producers around the country, which will begin in August in the areas of Elpitiya, Matale and Amapara-Uwana.

"Within a span of three to four years our ministry is hoping to make profits worth of $1.5 billion from the cinnamon industry, $300 million from mango imports and $300 million from prawn industry imports," Gamage said.

"During discussions with entrepreneurs about creating and developing industries they voiced their concerns about the lack of resources. In the year 2015 we planted 15 million agricultural crops; 17 million crops in 2016 and 25 million crops in 2017. Our goal this year is 100 million crops," he said. Gamage also highlighted the importance of increasing market contributions from the pepper industry as local pepper is of high quality and much in demand globally.

"Sri Lankan contribution to pepper exports is only 5%; and Vietnam holds 60% of exports. However, our pepper is of better quality. We have to look at the entire value chain and create economical ways of increasing production. We need to learn of new ways to cut production costs and make more profits in the global market," he said. Gamage emphasised the important role an entrepreneur plays in developing the economy of a country, through creating jobs and global connections to expand market contributions.
---
Applications called for 'Entrepreneur of the Year' awards
The Federation of Chambers of Commerce and Industry of Sri Lanka (FCCISL) has called for applications for its 'Sri Lankan Entrepreneur of the Year' awards for 2018.

Applications must be sent before 31 October. Applications are available at the FCCISL office at No. 696/3/4 Havelock Road, Colombo 6 or can be downloaded from its website www.fccisl.lk.

Applicants can apply under four different categories; Sri Lankan Entrepreneur of the Year, Woman Entrepreneur of the Year, Young Entrepreneur of the Year and Differently-abled Entrepreneur of the Year. The awards is the flagship event of FCCISL, which will be held for the 23rd consecutive year.