Religious Leaders at the 150th Anniversary Religious Ceremony
---
Aitken Spence inaugurated its 150th anniversary celebrations with a religious ceremony invoking blessings that commenced on 30 November.
The ceremony was held at Aitken Spence Towers in Colombo with the participation of senior religious leaders, board of directors, senior management and longstanding staff.

The religious blessings were invoked by His Eminence Malcolm Cardinal Ranjith, Ven. Galaboda Gnanissara Thero, Ven. Banagala Upatissa Thero, Ven. Monaragala Pagnayalankara Thero, Shri Luxmikantha Jegatheesa Kurukkal, Sheikh Arkam Nooramith, Rev. Fr. Deninton Subasinghe, Rev. Fr. Placidus De Silva, Rev. Fr. Felician and Rev. Sr. Selinta.

To mark the 150th year anniversary, lighting of the oil lamp by the distinguished guests followed by sacred blessings recited by the respective religious leaders that were present at the ceremony.
Aitken Spence Board of Directors poses next to the unveiled 150th Anniversary logo
---


Aitken Spence Plc Chairman D.H.S. Jayawardena pinned the 150 years badge on the Deputy Chairman and Managing Director J.M.S. Brito. Following the unveiling of the 150 years logo at the lobby of the building, board of directors to the celebratory cutting of the cake marking the occasion which was produced by award-winning chefs from Aitken Spence Hotels.

"Over the course of its history Aitken Spence has continued to adapt to an unprecedented variety of changes that are taking place in our industries, economies and societies, while growing both locally and globally. We will take this company to even greater heights in the near future," stated Chairman Jayawardena.

"I would like to say that we are 150 years young. Our youthfulness shall enable us not only to understand the plethora factors locally and globally affecting business today, but to address its risks and exploit its opportunities to keep moving Aitken Spence forward as we have done for 150 years," said Brito.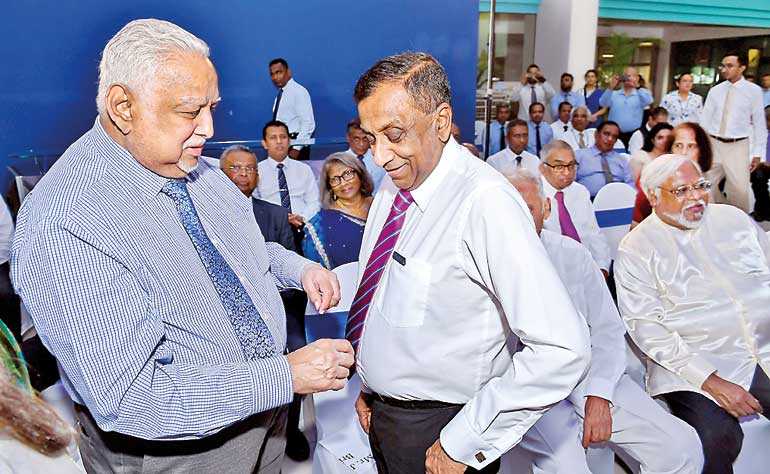 Aitken Spence Chairman Pinning 150th anniversary pin on Deputy Chairman and Managing Director
---


To conclude the ceremony, the Executive Director and Chairperson of Aitken Spence Hotel Managements Ltd. and Director of Aitken Spence Aviation Ltd., Stasshani Jayawardena, gave the final closing remarks, saying: "As we conclude this inaugural ceremony of the 150-year celebration, let us remember that the path ahead is bound to be ever more exciting and it is up to all of us sitting here to paint the future with the brightest colours of success. Let us not forget that no task worthwhile has come easy and let us continue a forward march to enrich this legacy of our past with our very own successes."

Over the century and a half, the journey of Aitken Spence has created many benchmarks, pioneering endeavours and a reputation of integrity. At the recent Best Corporate Citizen Award 2018 organised by the Ceylon Chamber of Commerce, Aitken Spence was the coveted winner for the second consecutive year and among the top 10 corporate citizens for an unprecedented 13th consecutive year.

Aitken Spence is a blue-chip conglomerate with a strong regional presence in the hotels, travels, maritime services, logistic solutions, plantations, power generation, financial outsourcing, insurance, IT, printing and apparel sectors.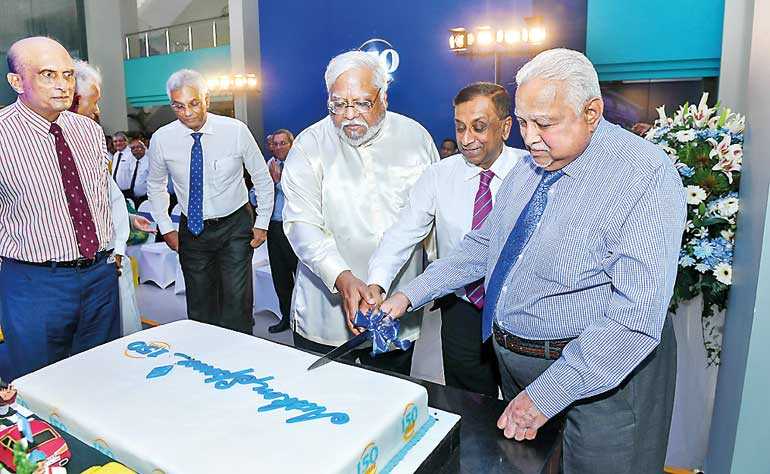 Aitken Spence Chairman, Deputy Chairman and Directors taking part in the celebratory cutting of the cake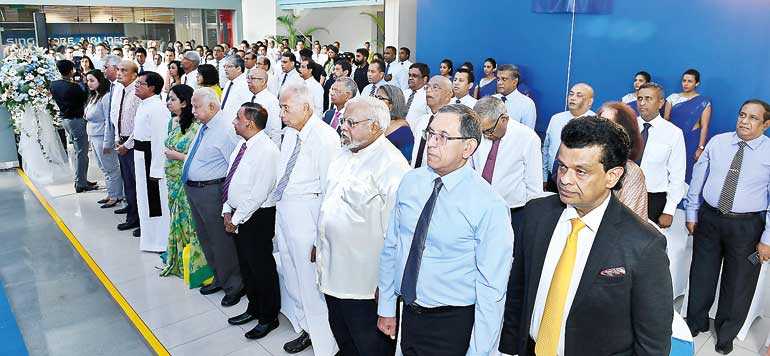 Participants at the Aitken Spence 150th Anniversary Religious Ceremony