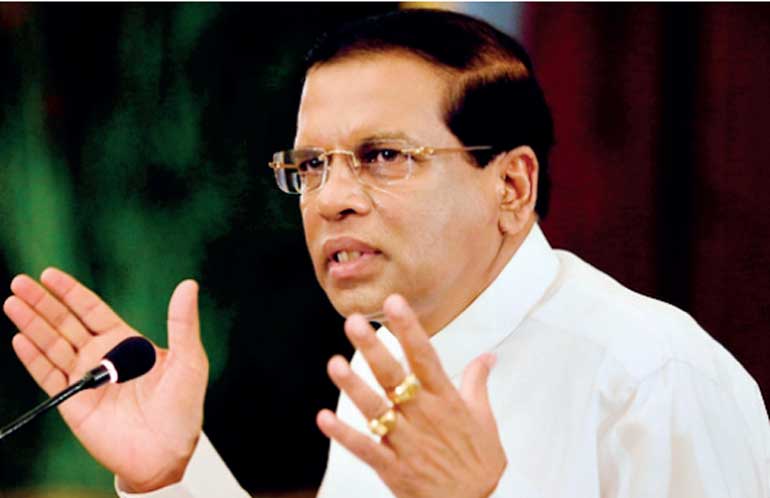 President Maithripala Sirisena yesterday stressed that the Government would not cut off or reduce benefits for Samurdhi beneficiaries.

Since alarge number people eligible for Samurdhi have yet to receive it, said President Sirisena, the Government will work out a solution to provide the benefit to new applicants without taking it away from existing Samurdhi holders.

The President was speaking at a ceremony held to hand over 5,000 deeds to Mahaweli settlers in the Walawe Zone yesterday at the Gam Udava Playground in Embilipitiya.

Dismissing allegations that the Government was on the verge of axing the benefit as politically motivated accusations, Sirisena said, "The current Government always takes policy decisions for the betterment of the people."

He further said the Government expects to implement a new program in the agricultural sector to strengthen the national economy in a way that will prove beneficial to farmers.

This will be achieved by providing farmers that grow fruits and vegetables better access to foreign markets, he said, adding that the Government is also looking to attract more youths to farming by modernising the industry.

Commenting on the people's right to hold land, the President said Government officers are duty bound to carry out their workin this regard without delay, irrespective of political differences, pointing out that land dispute have historically given rise to conflicts. Sirisena said the Government is committed to ensuring every citizen's right to land is upheld.

Ministers Mahinda Amaraweera, Thalatha Athukorala, Deputy Ministers Anuradha Jayarathne and Karunarathne Paranawithanaalso took part in the event.