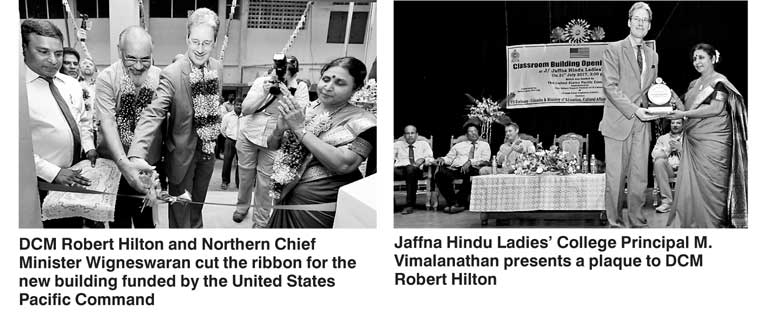 Deputy Chief of Mission Robert Hilton inaugurated a newly refurbished building at the Jaffna Hindu Ladies' College on 31 July, that will support reconciliation and stabilisation and provide girls in Jaffna with opportunity to study in a modern facility.

Coordinating closely with the Sri Lanka Ministry of Education and the Northern Province Ministry of Education, the US government invested Rs. 91 million to build the three-storey addition that will reach an additional 180 students. Chief Minister of the Northern Province C.V. Wigneswaran joined DCM Hilton and the principal of the college, M. Vimalanathan, in lighting the traditional oil lamp and cutting the ribbon on the new facilities.

"We believe there is no better investment or higher calling than educating young minds, especially young women," Deputy Chief of Mission Hilton said during the ceremony. "Sri Lanka and the United States are daily deepening our partnership, and this is another demonstration of our continued commitment."

The US Pacific Command (PACOM) selected the Hindu Ladies' College for funding in cooperation with the Provincial Ministry of Education. PACOM managed the four-year project, and the US Army Corps of Engineers, Magbool Engineering Consultants, and Salasi Lanka Engineering partnered on construction.