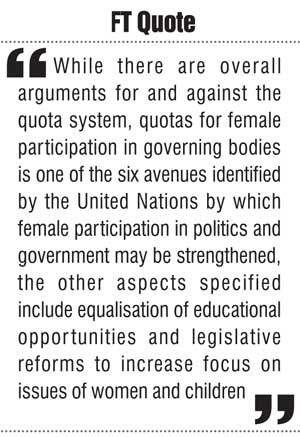 A male Pradeshiya Sabha member in a recent conversation was bemoaning the possible decrease in votes he would have to suffer if an increased political representation of women is operationalised in the next local government election. He went forth on a long tirade on how the inclusion of women candidates in areas with lesser number of voters would affect males contesting from the same party.

While his argument could be subject to discussion and debate, it was interesting to note that he ended his views with how important the woman's role was, at home, as a mother and that politics would disrupt that role! Interestingly a female community leader of the locale who was part of the conversation sympathised with the male politician; also highlighting the role of the woman as mother (which of course no one is disputing – and should be accorded the importance it deserves, alongside the parental role of the father).

This informal conversation as highlighted above reveals the subconsciously strong notions concerning women's leadership roles outside the home. Sri Lanka's current representation of women at local government is 1.9%, at provincial council level 4% (according to statistics available as at 2012) and representation in Parliament at 5.8%. Comparatively in the South Asian region, women's representation in Parliament stood at - Nepal 29.5%, Afghanistan 27.7%, Pakistan 27.7%, Bangladesh 20%, India 12%, Bhutan 8.5% and Maldives 5.9% .

The fact that Sri Lanka is ranked in the lowest rung in the world in female representation at local government, provincial as well as national level despite it priding itself as having high literacy rates and educational attainment of women is mind boggling. It is pathetic indeed that this should be the scenario in a country that 57 years ago produced the world's first female Prime Minister, Sirimavo Bandaranaike. In conversation with this writer last week, some women who were active at local government level narrated how they had been confronted with thuggery and intimidation when they attempted to get a foothold in the political ladder.

Government Midwifery Service Association (GMSA) President Devika Kodithuwakku, who had led several successful trade union actions to safeguard the profession of midwives, had attempted to enter politics at local government level contesting from Kundasale 13 years ago. She feels that her defeat in that election was tantamount to victory judging by what she faced during her campaign. Among her ordeals had been facing daily death threats to herself as well as her supporters, by none other than males in her own political party.

"Women have to be prepared for battling third grade rivalry that first begins within their own parties," states Kodithuwakku, who explains that her posters were diligently removed by her male party members the moment they were pasted. However, she is keen to re-enter and rise in the political arena, having further honed her leadership skills over the years and feels that the 25% quota for women at local government level introduced in 2016 should be an elementary base to set the foundation for changing Sri Lanka skewed participation of women in politics.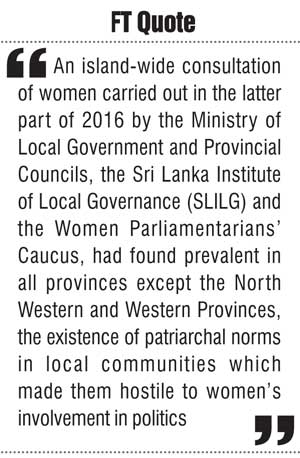 She also acknowledges that the mere representation of women is not enough and that women must free themselves from the mental bondage of being subservient to men and prove this by taking active part in whatever rung of politics they represent. Pointing out that it is easy for women from political families or celebrity personalities to parachute into power at provincial or national level with the help of their relatives and continue thereon in silent political cocoons far removed from everyday realities of people, she explains that women who represent the people at community level in diverse sectors will only have the assurance of getting into politics if a measure such as the quota system at local government is properly carried out.

Deepani Somaratne, a field officer in Govi Jana Seva in Kandy, feels that women who are active at the grass roots with local communities and who attend regularly to their welfare, do not need to depend on the power of money which is currently seen as mandatory for political campaigning. But she feels that educating women on the need to support women who are aspiring to enter politics is vital to create a tangible change in the political culture of Sri Lanka. Importantly she points out the need for political hierarchies of parties to take serious action to contain the hooliganism displayed by male politicians as evidenced in their derogatory comments uttered from election platforms when they want to attack a female political rival.

"If it is the order of the day for Sri Lankan male politicians to insult women in the vilest manner possible as part of their election campaigning, there would be difficulty in convincing women that politics is a decent profession to enter," she points out, stating that this is one of the main reasons that women, especially those who do not have links to political families, avoid politics like the plague.

Her argument brings to square one the dilemma of how women do not enter politics because it is seen as a pit of the worst kind and why large numbers of educated and capable women are needed to rescue Lankan politics from this abyss.

Why include women in politics? The main argument for women to be represented in politics would be for the simple reason that it is illogical in this modern world for men to hold a monopoly in taking key policy decisions while half of the population consists of women (51% in Sri Lanka). Specifically in Sri Lanka's post-2009 context, the brunt of the 30-year ethnic conflict is borne by women who lost their children or husbands, across the ethnic divide, suffering debilitating loss whether it is psychological or economic.

The political corruption, wastage, apathy and mismanagement that hits the masses are suffered directly by women who have to manage the household finances to dish out three square meals a day, however meagre the household income is. Capitalising on this inherent management skill of women and capability as nurturers of families there is the need to build up females for political leadership in order to foster and inculcate a capable and empathetic governance.

Given that it is not women who have been responsible for war making in this world, it is indeed in the interest of the human species to look at a new paradigm of political leadership where the policy level decision making for a population that consists of both genders is done equally by men and women.

The first requirement to reach this goal would be to remove any ideology that connects the strength of political leadership with violence and also remove any ideology that equates traits such as caring and nurturing as being 'weak'. Because in essentiality if we had policy makers who were caring and nurturing of the country's wellbeing (and not just their own) we would certainly have a very different economy and avoid abominations such as the Uma Oya project disaster which make a parody of development.

While it is yet to be seen if the Local Authorities Elections (Amendment) Act No. 1 of 2016 which stipulated a 25% mandatory quota for women would be amended following the Elections Commission requesting for changes to the legislation because of difficulties in the practical implementation of it, a decrease could reverse any chances of laying a solid enough foundation to develop and promote political leadership of women at grass root level, amidst the current overwhelming challenges. It should be kept in mind that the reason why many of the South Asian countries are ahead of Sri Lanka in terms of the participation of women in governance is because they had introduced the quota system.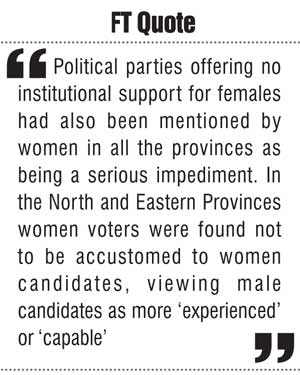 An island-wide consultation of women carried out in the latter part of 2016 by the Ministry of Local Government and Provincial Councils, the Sri Lanka Institute of Local Governance (SLILG) and the Women Parliamentarians' Caucus, had found prevalent in all provinces except the North Western and Western provinces, the existence of patriarchal norms in local communities which made them hostile to women's involvement in politics.

The consultation was done parallel to the Government last year taking the step to create a gender balance by amending the Local Authorities Elections Act to grant a quota for women. The gathering of views of women, done with assistance of Australian Aid and in partnership with the INGOs Search for Common Ground (SFCG), the International Foundation for Electoral Systems (IFES) and Chrysalis (formerly Care International) had focused on wide grass root representation of females, including those already in politics, those aspiring to political leadership positions, as well as women recognised as leaders in their villages.

Responses by women cited in all the provinces of Sri Lanka, on barriers to enter politics, had pointed to political parties' election nomination processes lacking transparency and excluding women while being openly hostile to women's representation. Political parties offering no institutional support for females had also been mentioned by women in all the provinces as being a serious impediment. In the North and Eastern provinces women voters were found not to be accustomed to women candidates, viewing male candidates as more 'experienced' or 'capable'.

Meanwhile, while there are overall arguments for and against the quota system, quotas for female participation in governing bodies is one of the six avenues identified by the United Nations by which female participation in politics and Government may be strengthened,. The other aspects specified include equalisation of educational opportunities and legislative reforms to increase focus on issues of women and children.

It is in recognising the significance of the issue of participation of Women in politics that the UN had identified gender equality in representation (mirror representation) as a goal in the Convention on the Elimination of All Forms of Discrimination against Women (CEDAW), an international treaty adopted in 1979 by the United Nations General Assembly.

Una McCauley, UN Resident Coordinator and UNDP Resident Representative in Sri Lanka speaking at an event held in Colombo recently on encouraging women's representation in politics observed that a 25% quota, although seen generally as a basic step, was still, setting the bar very low. Organised by USAID, UNWomen, UNDP and the Westminster Foundation for Democracy, the open forum on the 25% quota for women in local government included the sharing of comparative experiences from UK and Pakistan on advancing women's political participation. What was seen in these examples that were shared, was that there was active encouragement, at diverse levels, given to women to enter politics along with offering consistent support mechanisms and a systematic process of working with female voters to garner their support for women.



Nan Sloane, former Local Government Councillor from the Labour Party in UK spoke of her experiences of setting up a nonpartisan organisation to train and support the election of women candidates and spoke of how these efforts had resulted in an overall increase of women councillors in her party, marking a rise from around 28% to 40%.

"We concentrated on seats that we had a reasonable chance of winning," she explained, stating that the ultimate goal was not to have a certain number of candidates but to get those candidates elected keeping in mind the overall objective of increasing women's political participation to 50%.

Her emphasis was on how getting a quota was not sufficient unless it is systematically supported with action to get women to enter politics and to support them to stay in office while they carry out their dual roles as mothers.

Clare Haughey spoke on the initiatives taken in Scotland, where in the 2016 Scottish Parliament election, the three main parties, for the first time, were led by women. Haughey, an active trade unionist in the health sector and member of the Scottish parliament representing the Scottish National Party narrated how every branch of her party had a women's officer alongside a female officer representing the national level.

Hannah David, National Director of the Conservative Party's Policy Forum spoke of the importance of reaching out to women voters in order to support female candidates and also highlighted the need to encourage participation by women at school and university level to promote younger women entering politics.

Amra Khan, member of the Pakistan National Assembly, spoke spoke on how the 33% quota for women in local government is used inher country through the 18th. Amendment of the Constitution ofPakistan.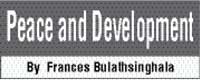 Dr. Sudarshini Fernandopulle, State Minister of City Planning and Water Supply and Leader of the Women's Wing of the Sri Lanka Freedom Party (SLFP) representing Sri Lanka at the forum, spoke of quotas as a temporary need until society is suitably sensitised to having women in politics for the general wellbeing of both men and women. Days later Dr. Fernandopulle announced that she would vote against the amendment to the quota system if it seeks to reduce the 25% gained so far for women. What would be interesting to see would be the reaction by the other women who are in Parliament if such a vote is taken.

It would be apt to end this article with the goal of 'Planet 50-50 by 2030' – the theme of the 2016 Women's Day as well as the 2017 Women's Day campaign slogan; being bold for change. Keeping in mind that slogans are just a string of words unless we implement them, what should be invested in are mechanisms to make these statements a reality, reminding ourselves that this is not just the duty of the Government but the duty of the average citizen as well.

Pix by Ruwan Walpola