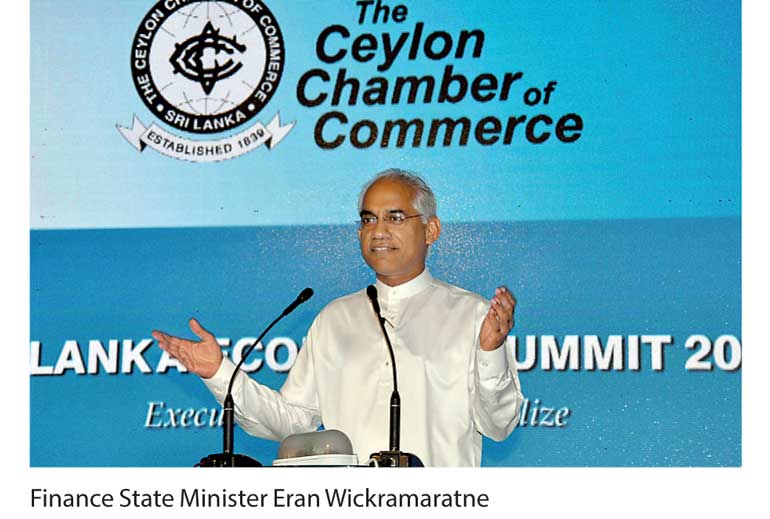 State Minister of Finance Eran Wickramaratne yesterday sent an emphatic message to the private sector plagued with worry over politics, asserting that the coalition Government would serve the full term and beyond with progressive policies.

"We are going in the right direction," Wickramaratne told the Ceylon Chamber Economic Summit opening. "One thing you can be sure is, it doesn't matter who is on the street; this Government will continue for its full term at least until February 2020 when it will be completing four-and-a-half years.

"It is not that we cannot deal with the issues on the street. We are trying to deal with issues on the street in keeping with the mandate that we have received. That is really the struggle and the issue in this period in which the country is transforming the economy," emphasised Wickramaratne.

During his speech he also gave an assurance over private sector concerns on the new Inland Revenue Bill: "Many chambers and industry groups have made representations. There are many challengers in the Courts and we welcome it because what we are doing, we want to do upfront and transparently," he said, adding during debate stages in Parliament necessary amendments or reasonable suggestions would be incorporated.

The State Minister of Finance was also forthright on corruption and revenue leakages.

"The Parliamentary Accounts Committee (PAC) appointed an all-party committee chaired by me to look at how leakage of Government revenue can be minimised. Three institutions – Customs, Inland Revenue and Excise Department – bring in 80% of Government revenue and 300 institutions bring in only 15%. There is an all-party consensus that by using information technology the country can reduce the leakage.

"Let's face it. Business is corrupt and that is why the Government is corrupt. One way of dealing with systemic corruption is use IT to reduce the discretion of politicians and high-placed officials. That is the way forward," he said.

Earlier on in his comments, Wickramaratne said every time he met the private sector, the common poser was stability and consistency. "We have taken stability and consistency on board. That is our priority. We also need structural reforms and an investor-friendly environment. This is the direction in which we will go," the State Minister for Finance assured.
From exchange control to management
He said that the new Exchange Management Act had been tabled in Parliament to replace the Exchange Control Act.

"We are doing away with the decades-old Exchange Control Act. This is a conceptual move away from control to exchange management. It is a conceptual move away from the Government thinking it is the owner of hard-earned foreign exchange of exporters, whereas exporters are the actual owners," he said.

"The new Act removes criminalisation of Exchange Control violations and prison sentences that were possible in the old Act. We are moving away from outward control to incentives for exchange to be brought to the country," he added.

According to Wickramaratne, those who have pending cases and violations could regularise it by remitting back the funds by paying a penalty fee. If the remitting is for investment in Government securities, that fee will not be applicable. "We are moving towards a more rule-based regulatory system," he added.

He also spoke of the Inland Revenue Act, which also takes away discretionary powers of the Minister and focuses on a rules-based system.

"You don't have to queue up outside the Finance Ministry to get exemptions. We are moving away from that kind of economic management," he said, adding the new Act ensured transparency and clarity.

It was revealed that this Act was largely drawn by Sri Lanka bureaucracy, hence people have issues with it. It was also revealed that an Audit Bill and a new Customs Ordinance would also be introduced.

"We want to get the legislative framework broadly in place as we go in to our next budget," he added.

He said introducing e-procurement was a dire necessity, noting that countries in the region such as Bangladesh, Bhutan, Nepal and even Afghanistan had gone ahead of Sri Lanka on e-procurement drastically reducing the number of days.

In Bangladesh it has been reduced to 29 days from 51, in India reduced to 35 days from 90-135 days and in Korea it is two hours. There is a National Procurement Commission which can give policy direction to set up an agency dedicated for e-procurement.

Govt. committed to equitable growth

Wickramaratne also told the Ceylon Chamber Economic Summit that the Government was committed to equitable growth in the country.

Noting that things were falling into place, the State Minister of Finance said that economic growth in 2015 was 4.8% and 4.4% last year. "We were planning for 5% this year but the drought and floods will have an impact," he added.

It was pointed out that foreign reserves of the country which were $ 5 billion in April had been increased to $ 7 billion. He hinted prospects for exports would improve, with the EU lifting the fisheries ban and re-admitting Sri Lanka to the GSP+ scheme.

He also noted that contrary to original fears, the exchange rate had stabilised. "Every adjustment has a cost. What is important is making the right decisions and sticking to it," Wickramaratne added.

It was pointed out that the IMF was satisfied with the Government's progress as confirmed by the release of the latest tranche under its Extended Fund Facility.

"People are asking why we are having an IMF program. It brings financial discipline and helps safeguard the country's credit rating as well as that of banks," he added.