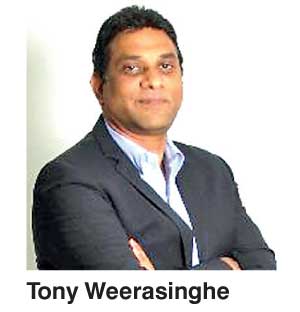 Sri Lankan IT pioneer Tony Weeresinghe will this week in Sri Lanka be launching his latest venture Ustocktrade, a revolutionary online trading platform that offers individual and institutional investors access to US securities at an unprecedented $ 1 per trade, with sale proceeds credited the same day.

Approved by the Central Bank of Sri Lanka, the platform is open to Sri Lankans with US dollar RFC or NRFC account with specified banks.

Ustocktrade recorded historic success in the US, transacting over a billion dollars since its January 2016 launch and is hailed as a tool for the democratisation of wealth.

Weeresinghe will be joined by a panel of entrepreneurs in a presentation entitled 'Democratize Wealth' in Colombo on 27 July. Ustocktrade (www.ustocktrade.lk) will be launched and open for registration at the same time.



Weeresinghe's reputation as a successful innovator and disruptor in the financial services sector was established with his first venture – Millennium IT – which built the world's fastest and most robust equity trading systems. He embellished that reputation by transforming systems at the London Stock Exchange (LSE) and being invited on to the board of the LSE. He resigned from that prestigious position and went on to build the disruptive trading platform Ustocktrade, the world's first retail Alternative Trading System (ATS). Weeresinghe's mission is to bring Wall Street to Main Street, with easy, affordable and fair access to US stocks to small investors.

Following its unexpected success in the US, Ustocktrade is set to launch in Sri Lanka at the end of July. Being the first international expansion, it will open access to US securities trading for the Sri Lankan investment community and will also be the first step in Ustocktrade's aim to connect nations through its financial market networks.

Ustocktrade is the first stock trading platform to afford Sri Lankans the opportunity to invest in and trade US securities without requiring an international broker. Extending the Ustocktrade platform into Sri Lanka aligns perfectly with Sri Lanka's ongoing initiatives for economic development by making it easier for Sri Lankan citizens and residents to invest in US securities.

With its launch in Colombo, Ustocktrade will enable eligible investors (apart from US citizens and US permanent residents, anyone can open a Ustocktrade account in Sri Lanka as long as they have a valid bank account with a Sri Lankan bank) to invest in shares listed on exchanges in the US, with a view of contributing to the Sri Lankan Government's strategy of positioning Colombo as an international financial centre in the region.

Ustocktrade's purpose is to democratise wealth by providing sophisticated financial trading technology to individuals at an affordable price. With this vision in mind, the company will extend its ultra-low pricing of $ 1 per trade and no minimum deposit to users. In addition to lowering the barriers of entry into US securities trading for individuals, Ustocktrade hopes to support Sri Lanka's economic development plans to increase its foreign reserves by keeping all Sri Lankan sales proceeds in the Sri Lankan banking system, thereby increasing the US dollar reserves in the country.

Customers of Ustocktrade will have unprecedented market access and transaction possibilities with UStocktrade iOS and Android mobile apps which stream real-time quotes, place buy and sell orders, research stock and view their full stock portfolio within the app. The app also enables users to set both price alerts and automate their trading strategies.

Since its US launch in January 2016, Ustocktrade has grown over 2000%, transacted over $ 1 billion dollars on its platform to date and added users from all 50 states. Weeresinghe's vision does not end with Ustocktrade though. His ultimate goal is to use the earnings from his latest venture to educate underprivileged children across the world through the Cainan Foundation – whose mission is to build state-of-the-art – and free – boarding schools. The first school, set to open in Sri Lanka, is already at its design stage.
Frequently Asked Questions
Q: What is an Alternative Trading System?

A: An Alternative Trading System (ATS) is a US and Canadian regulatory term for a non-exchange trading venue that matches buyers and sellers to find counterparties for transactions.

Ustocktrade is a US Security Exchange Commission registered Alternative Trading System (ATS), which means it offers peer-to-peer stock trading without requiring another broker to facilitate your trade. This means if you want to sell a stock and someone in the Ustocktrade network wants to buy that stock, Ustocktrade can match the order directly between buyer and seller.

Many firms route or sell orders to a wholesale broker dealer for execution, often charging a higher commission or missing an opportunity for the customer to get a more favourable price. Ustocktrade does not route or sell your orders, and there is no middleman so it can provide faster settlement and low fees.
Q: What is Same-Day Trade Settlement?

A: Settlement Day is the date the buyer must pay for their trade. Once the buyer has paid, the seller will promptly deliver the shares. Traditionally this transfer is done between two different brokers and this process takes three business days to settle (T+3 settlement). This means, in a cash account, you must pay for your trade before you can sell and use the sale proceeds to buy another stock. This can be frustrating if you want to buy and sell multiple stocks in a day because your previous sales proceeds are not available for three days.

Due to the fact that Ustocktrade matches your order internally within its network, it facilitates Same-Day Trade Settlement at no additional cost to you. This means that trades are paid for immediately and your cash from every sell trade is available to be reinvested immediately - not restrained by the three-day settlement period.
Q: How do I know I am getting the best price in the market?

A: We match trades at the national best bid and offer (NBBO), which are the best buy and sell prices published at all US markets at the time of execution. Ustocktrade shows its members the exact price they received compared to the NBBO.
Q: How does Ustocktrade provide liquidity?

A: Ustocktrade matches buy and sell orders between members within the network. In the event there is no member to take the other side of the order, a liquidity provider (a 'Superuser') may step in to complete the trade. The Superuser is similar to a market maker, but unlike market makers the Superuser does not create the market or set the price. Instead, it simply acts as the counterparty to complete the trade at the NBBO price.