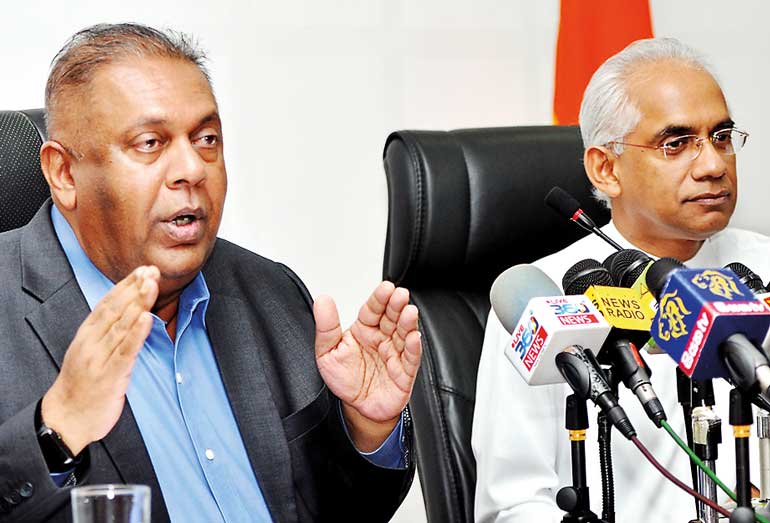 Finance Minister Managala Samaraweera and State Finance Minister Eran Wickramaratne – Pic by Ruwan Walpola
By Uditha Jayasinghe

Brushing up policy priorities, Finance Minister Managala Samaraweera and State Finance Minister Eran Wickramaratne yesterday pledged to engage with stakeholders on the Inland Revenue Bill with its implementation expected in the next financial year. The two Ministers also expressed confidence of meeting the 2017 fiscal deficit targets.

Both ministers backed the bill, insisting that it was critical to increase public revenue and put Sri Lanka's tax system on a more equitable footing. Contending that the new legislation, which was tabled in Parliament earlier this month, is pro-poor in the long run, they pointed out it would expand the tax net and raise indirect taxes that could in turn be spent on critical social welfare expenses such as education and healthcare. However, the two Ministers declined to respond to specific concerns raised by the media citing several petitions currently before the Supreme Court.

"Once the determination of the Court has been conveyed to the Speaker, those points will be added to the Bill. We are also talking to many representatives of the private sector and other concerned parties. Some of these people have already presented their views to us. We will collect all these and possibly make amendments to the Bill. Once that process is finalized, we will lay out our thought process," Samaraweera said.

The duo also told reporters the Government would consider concerns raised by tax officials and the Ceylon Chamber of Commerce who have appealed for the new legislation to be implemented from 1 April 2018. However, in light of the ongoing fiscal consolidation program of the Government, which is backed by the International Monetary Fund (IMF), early implementation may be necessary to meet the 2017 Budget deficit target of 4.7%. The World Bank in its mid-year Economic Outlook predicted the deficit may end the year at about 5.2%.

Nonetheless, Samaraweera was optimistic the Government would be able to meet its fiscal goals and insisted his main goal for the next three years is further fiscal consolidation.

"We may decide to implement the legislation in phases," said Wickramaratne in response to questions. "Ideally it should be implemented in the next tax year, but even then companies have six months to submit their tax returns, which means they have till end 2018. That is enough time to get used to the new laws."

Samaraweera and Wickramaratne were also grilled on whether high earning public employees, including Parliamentarians would be taxed under the new regulations. Samaraweera was unclear on specific impact on Parliamentarians, saying "officials are given what is necessary for them to carry out their work." However, both Ministers were adamant that low income earners would not be slapped with extra tax as the Bill exempted anyone with earnings below Rs. 600, 000, which is an expansion on the current bar of Rs. 500, 000.

"This legislation is based on the principle of no exemptions. Accusations that even temples will be taxed are incorrect. Charities that convert their assets into commercial ventures will be taxed. We are aware that better technology, training and higher standards of resources are necessary and we will work to provide those to the Inland Revenue Department," Samaraweera added.

The former Foreign Minister was also adamant that even though Sri Lanka is celebrating the 40th anniversary of an open market policy introduced by former President J. R. Jayawardene, the country failed to capitalise on liberalising its economy before many key players such as India and China.

"Dozens of countries that opened their economies after Sri Lanka are enjoying benefits. It was the open market that enabled the creation of tens of thousands of new jobs. The chance to taste an apple and buy a computer. These are advantages that should not be taken lightly. Unfortunately, due to shortsighted decisions taken, particularly during the time of former President Mahinda Rajapaksa, these gains were undermined. Our exports and investment have diminished, and this Government is working to turn things around. All patriotic people should support this," Samaraweera added.