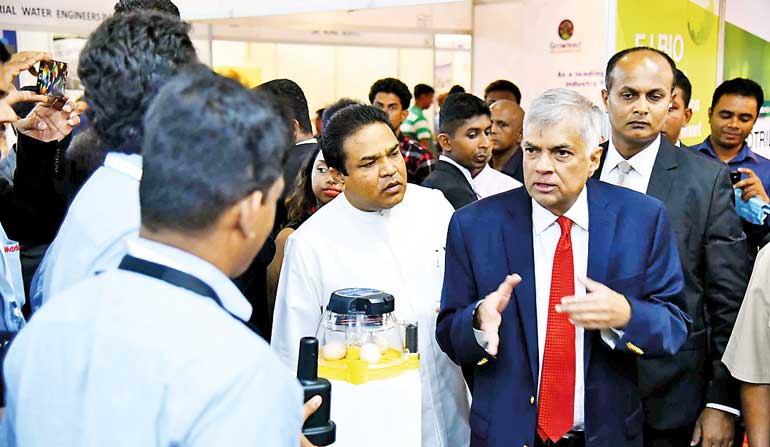 Prime Minister Ranil Wickremesinghe (R) and Livestock Minister P. Harrison at the Lanka Livestock '17 exhibition – Pic by Kithsiri de Mel
By Charumini de Silva

Prime Minister Ranil Wickremesinghe yesterday pledged to take steps to boost local livestock production, encourage dairy farming and livestock breeding to further strengthen the industry with the engagement of private sector investors.

Inaugurating LANKALIVESTOCK'17, the country's biggest international feed, livestock production and animal health exhibition and conference held at the Sri Lanka Exhibition and Convention Centre (SLECC), he pointed out that uplifting the livestock industry was a critical factor for rural economic development.

Wickremesinghe said efforts should be also taken to bring down the cost of production without depending fully on imports of what could be produced locally and to consider suitable options to address the phenomenon of soaring prices of staple commodities.

He further said the Government is in discussions with countries like Australia, New Zealand, Pakistan and India for expertise in methods to enhance livestock productivity that could make a visible and tangible impact in the entire sector.



According to the Premier, there are around 20,000 dairy farms and 5,000 water buffalo farms in the island while large scale farms are also being set up.

"We hope to further support small-scale fresh milk and curd famers through the National Livestock Development Board (NLDB). We are engaged in discussions with the NLDB and private sector companies to soon initiate a few programs to uplift them," he added.

Given the progress of the tourism sector of the country, the Prime Minister said there is an increased demand for curd and several programs are being rolled out to improve the capacities of those engaged in the curd business.

He commended private companies that have excelled in poultry farming, noting that it has helped the country be self-sufficient in the supply of eggs, chicken and milk which provide essential nutrients and protein for the wellbeing of Sri Lankans.

"We are also in the process of introducing a program to revamp small scale farms by tying them up with established companies, so that they would be able to supply their products at a better rate. It will eventually support these farmers to improve their earnings and living standards," he said.

Rural Economy Minister P. Harrison said steps will be taken to woo Sri Lankans to consume fresh milk which is more nutritional and make Sri Lanka self-sufficient in fresh milk.

Citing that the fresh milk industry was commercialised in late 1970s under the leadership of President J. R. Jayawardene, Harrison said Sri Lanka faces a scarcity of fresh milk due to supply constraints.

The Minister pointed out that, even at present, 85% of fresh milk in the country is provided by small scale farmers from around the country and it was necessary to uplift them with the support of leading private sector companies.

Currently, total fresh milk production is only 460 million liters, while the total demand remains as high as 750 million liters.

"The dairy sector is still operating as a primary industry. It is important to get the support of established private sector companies to take the industry to the next level," he added.

It was pointed out that the Ministry will import dairy cows to Government controlled farms and distribute them at a rural level.

"We were able to bring in 2,000 dairy cows from Australia and New Zealand last year and distributed them to private sector farms at concessionary rates. We also hope to bring dairy cows from India and Pakistan that will be able to withstand the climates in the dry-zone areas of the country," he added

Harrison said an initiative will be launched soon to popularise fresh milk consumption with the support of State-run Milco Ltd at the school level under concessionary rates.

The Minster also stressed that they have received several proposals from India's leading dairy company Amul to introduce a three-tier cooperative structure in Sri Lanka.