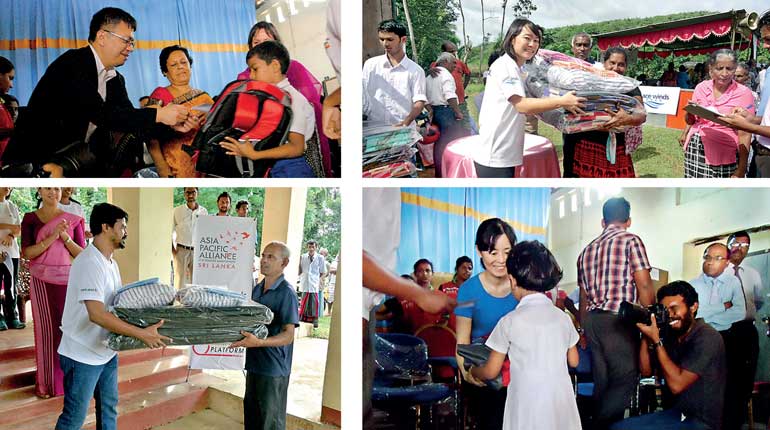 In the wake of losses and damages caused by the recent flood and landslides in May, Peace Winds Japan and Plan International Japan, with the financial support from Japan Platform, implemented two short-term disaster relief projects to support the affected communities in Kalutara and Ratnapura Districts.

As the first part of the projects, emergency relief items were distributed to the flood affected communities on 13 July with the participation of the Embassy of Japan, relevant government offices and implementation agencies.

Peace Winds Japan, partnering with Asia Pacific Alliance for Disaster Management, Sri Lanka (A- PAD) and in coordination with Dodangoda Divisional Secretariat donated 700 sets of kitchen utensils and 1,400 sets of bedding items for 1,685 flood affected families at five locations in Dodangoda, Kalutara District.

Plan International Japan, in collaboration with Plan International Sri Lanka and Sri Lanka Red Cross Society, distributed 'Back to School' packs to about 1,000 flood affected children from 10 primary and secondary schools in Ratnapura District. The distribution ceremony was held at Dharmapala Vidyalaya, Ratnapura on the same day. This program will benefit approximately 3,200 students from 17 schools of the district.

As the next step, Plan International Japan is planning to help the affected communities by providing water and sanitation facilities for 10 schools, teaching aids for 12-15 schools and mental support for students.