Top professional Mangala Yapa has been appointed to the Board of Directors of the BOI along with Dumindra Ratnayaka re-appointed.

Last week the Chairman and Board of Directors of the Board of Investment resigned for President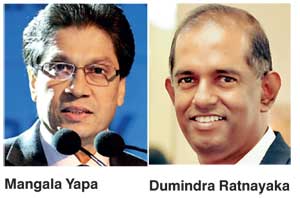 Maithripala Sirisena to reconstitute the Board.

Ratnayaka is so far the only member from the previous Board to be re-appointed.

Others in the previous Board were Upul Jayasuriya PC (Chairman), Buddhi Keerthi Athauda, Manoj Cooray, and M.A. Neeth Udesh.

Yapa is the Managing Director-designate of the Agency for Development, Ministry of Development Strategies and International Trade. He was previously the CEO/Secretary General of the Ceylon Chamber of Commerce and a longstanding Managing Director/CEO of Colombo Dockyard.

Ratnayake is the former CEO of Etisalat Lanka, successor to Celltel, the pioneering mobile telecom company in Sri Lanka. He is now Chairman/Senior Consultant at Martin & George Ltd.