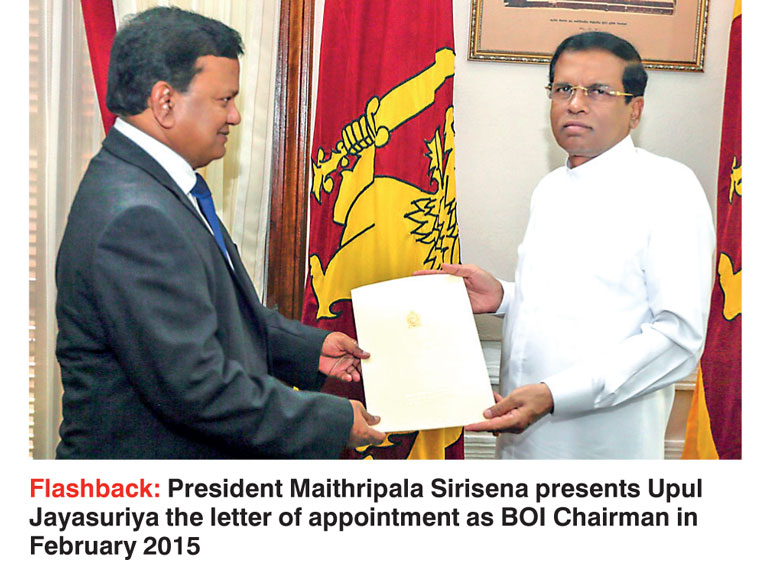 Executive action following criticism on the way BOI was run and underperformance
Upul Jayasuriya says he was to resign anyway for personal reasons and decisions made at BOI were in best interests
FDIs fell to a new low last year due to weak foreign investor sentiments on policy inconsistency
Assures future outlook for FDIs promising as Govt. keen to create an enabling environment
Insists incentives and tax holidays needed in the medium term to accelerate FDI
The entire Board of Directors of the country's main investment promotion agency resigned yesterday following a directive from President Maithripala Sirisena.

Sources said the move was to facilitate an overhaul including the appointment of a new Board of Directors.

The BOI Board comprised Chairman Upul Jayasuriya PC, Buddhi Keerthi Athauda, Manoj Cooray, M.A. Neeth Udesha and Dumindra Ratnayaka.

Chairman Jayasuriya said he had already decided to tender his resignation for personal reasons though he had come under flak for underperformance and other issues, including approval of projects by promoters whose backgrounds or intentions were questionable. However, Jayasuriya said he stands by all decisions made by him in the country's best interests.

He said that throughout the two year plus tenure in BOI he acted with honesty and integrity. "I stand by all the decisions I made and have acted honestly," he added.

Last year actual Foreign Direct Investments (FDI) hit a new low of $ 500 million while the Central Bank put it as $ 898 million, higher compared to the $ 680 million in 2015.

Jayasuriya attributed lacklustre FDI flows to the country to the pursuit of a policy of no tax holidays or incentives for FDIs. Others said overall sentiment of green-field foreign investors was low given policy uncertainties among other factors.

At a public forum last month he also faulted some draconian measures of the previous regime for having a lasting negative impact on Sri Lanka.

Jayasuriya, who thanked President Sirisena, Premier Ranil Wickremesinghe and Minister Malik Samarawickrama for their support, said the future outlook to attract FDIs remained positive.

"The Government is committed to increase FDIs and is engaged in creating the right environment. However, I personally feel Sri Lanka will need to continue to offer some degree of incentives and tax holidays in the medium term to attract much higher FDIs," Jayasuriya opined.

According to the Central Bank, total FDI inflows, inclusive of foreign loans to BOI companies, amounted to $ 1,079 million, while direct investments that exclude foreign borrowings of BOI companies amounted to $ 898 million in 2016. In 2015, total FDI inflows with foreign loans in 2015 amounted to $ 1,160 million, while the same excluding foreign loans amounted to $ 680 million.

The bank said while the low level of FDI inflows has been a chronic issue in the Sri Lankan economy, FDI inflows during 2016 were affected by the evolving global economic outlook, in the backdrop of the interest rate hike by the US Federal Reserve.

In addition, the significant increase in wage rates and other costs of production compared to peer countries in the region would have been disadvantageous in attracting foreign investments to the country.

Of the total FDI inflows in 2016, $ 260 million was in the form of equity, $ 450 million was reinvested earnings, $ 276 million was shareholder advances and intra company loans, while repayment of shareholder advances and intra company debt amounted to $ 87 million. During the year, BOI companies received $ 181 million in foreign loans from non-related lenders.

The country's investment promotion strategy has been up for a revamp with the Government proposing an agency for development as well as an agency for international trade.

The Central Bank said, as evidenced by realised inflows, Sri Lanka's attractiveness for FDI has remained low in spite of continued efforts to facilitate such investments. A reversal of this trend is urgently required. Failure to attract satisfactory amounts of FDI contributed to the high reliance on foreign debt to finance the current account deficit, increasing the country's already high level of indebtedness. The strategies that are being developed by the Government need to be implemented expeditiously with a view to attract higher levels of FDI to the country, particularly against the backdrop of relatively higher FDI inflows to emerging market economies such as Vietnam, Myanmar and Bangladesh.

"Consistent domestic policies that are aimed at improving Sri Lanka's competitiveness, strong institutional support and targeted promotional campaigns highlighting the potential of Sri Lanka as an attractive destination for investment would be instrumental in creating an enabling environment for FDI," the Central Bank added in its 2016 Annual Report.

Jayasuriya was appointed BOI Chairman in February 2015. Having joined the Bar in 1976, Jayasuriya joined the Attorney General's Department as a State Counsel on 2 January 1978. On the same day there were several others who joined the department. Among them were Justice Shirani Thilakawardena Rtd., Justice Nimal Gamini Amaratunga Rtd, Justice Priyasath Dep and Justice Sathya Hettige Rtd., all present judges of the Supreme Court and Anil Silva (P.C.).

In 1978 he also served as the First Legal Advisor of the Greater Colombo Economic Commission (present Board of Investments of Sri Lanka) while serving the Attorney General's Department as a State Counsel. During his time its first 70 agreements were executed when Upali Wijewardena was the Founder Chairman of the Greater Colombo Economic Commission.

He was appointed Chairman of the Sri Lanka State Trading Tractor Corporation in 1982. In 1983 he was awarded the Top Young Outstanding Professional Award by Jaycees Sri Lanka under the Entrepreneurship category for converting the corporation into a profit-making venture.

He was later appointed Chairman Ceylon Oils and Fats Corporation which again was turned into a profit-making venture. He was appointed Managing Director/CEO of Ceylon Chocolates Ltd. in 1997 and converted the same into a substantial profit centre.

He held several company directorates and was also a member of the Board of Directors of Upali Investments Holdings Ltd.

He founded Asian Finance Ltd. In 2014 he was elected the President of the Bar Association of Sri Lanka and continued in office for two years.