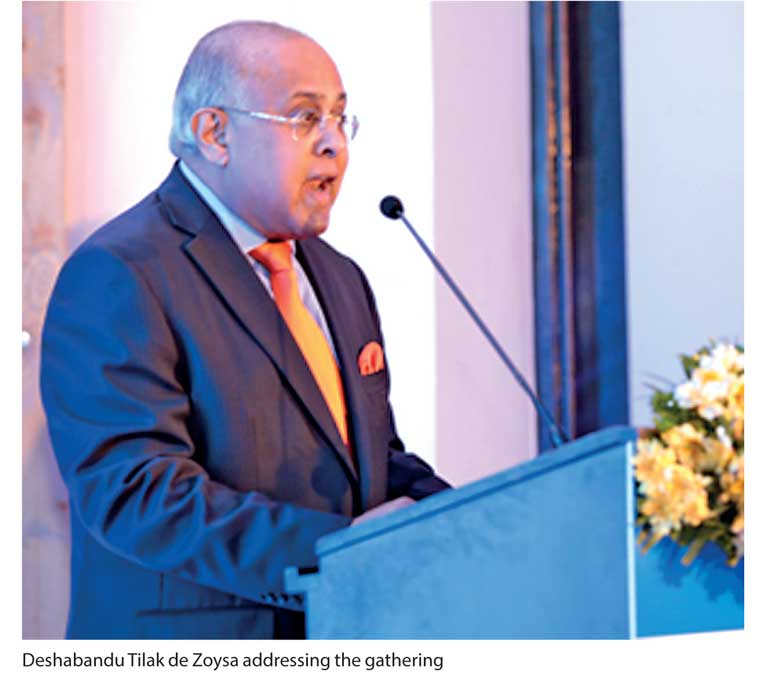 Following is the address by Deshabandu Tilak de Zoysa at the launch of Trinity Steel on 22 June
Hon. Minister Daya Gamage, Mr. Upul Jayasooriya, the Chairman of the BOI, Mr. Arindam Bagchi – Deputy High Commissioner for India, Mr. Sakae Waratani – 1st Secretary – Embassy of Japan, Ms. Charlote Blundell, Counsellor High Commission of Australia, Mr. Samantha Ranathunga – Chairman - Ceylon Chamber of Commerce, Mr. Sohli Captain, Mr. Ray Abeywardane – Chairman – Colombo Stock Exchange, Mr. Vish Govindasamy – Chairman, Indo Lanka Chamber, distinguished ladies and gentlemen, on behalf the Mr. Arun Miranda – the Managing Director and Mr. Jaison Joseph – the Executive Director, I am delighted to extend a very warm welcome, to each and every one of you, and thank you for being here, this evening.

Please allow me to extend a special welcome to Mr. Chuk Ramani, the President of the International Accreditation Services, and Representative of the International Code Council – USA, our key clients Mr. Joe Leffler and his wife Mrs. Shanda Leffler, the Vice President and the Director of Hithachi Koki – USA, Mr. Ned Bassil, Senior Vice President of Prime Source Building Products and Mr. Brad Stro-sal, Vice President of Huttig Building Products, all of them who have travelled from the USA, and also our Machinery and Technology Partners Mr. C.H. Kim and Mr. Jeong Man Cho from Korea. A warm welcome also to Mrs. Miranda, Mrs. Joseph and their family members too.

It was around 18 months ago that Ms. Ayoni Waniganayake – Senior Assistant Secretary General of the Ceylon Chamber of Commerce persuaded me to chair a meeting at the Chamber Board Room to discuss investment opportunities with a high-powered delegation from India. It so happened that Mr. Arun Miranda sat next to me. Our chemistry was right, and we connected immediately. A few months later, Arun returned to Sri Lanka as a member of the Prime Minister Honorable Narendra Modi's delegation.

During this visit, it was at the Indian High Commissioner's House that Arun informed me that in order to expand their production capacity they have decided to establish a factory in Sri Lanka to manufacture industrial fasteners for 100% export to the US, followed by Europe and Australia. I was delighted to be invited as a Partner and the Chairman of the company which is now incorporated and known as Trinity Steel Ltd., a BOI-approved entity.

I would like to acknowledge with much gratitude, the guidance, support and cooperation we received right from the beginning from Mr. Upul Jayasuriya – the Chairman of the BOI, Ms. Renuka Weerakoon – the Executive Director, Mr. Wijekulatilake – Director (Investment), Mr. Sirigampola – Executive Director (Zones), Mr. Lawrence – Zone Director of the Katunayake EPZ Zone and the other BOI officials. We are equally indebted to my respected friend Mr. Sohli Captain for having given his consent to the BOI and for agreeing to sell his factory at the Katunayake Export Processing Zone to Trinity Steel.

Our discussions over the next few months, with two large banks were not successful as we were not agreeable to their terms and conditions. I then approached my close friend Mr. Alex Lovell, the Deputy Chairman of Union Bank. In retrospect, it would have been more prudent for me to have spoken to him in the first place. In which case we would have hosted today's launch three to four months ago.

From our very first meeting with Mr. Indrajit Wickremasinghe – the CEO, Ms. Hiranthi De Silva – the Head of Corporate and her team, and with the blessings of the Chairman Dr. Jayendra Nayak and Alex, all facilities were granted within a month or so and we now enjoy an excellent ongoing relationship with the bank.

I would like to take this opportunity to thank Alex in particular who by the way had to rush overseas on an urgent official matter, and the entire UB team and I have no hesitation in recommending the Union Bank to any prospective investor.

Thanks to the BOI, the Union Bank, our most valued clients and our entire new team, I am happy to place on record that we have not only commenced commercial production well ahead of schedule but last afternoon, Mrs. Shanda Leffler, the Director of Hitachi Koki – USA flagged our first shipment as well to the USA. Ladies and gentlemen, this is the first project for Trinity Steel in Sri Lanka and we are privileged to have as our clients some of the world's leading companies in the industrial power tools and engineering fasteners segment, including Fortune 500 companies.

We have plans for setting up two other projects in the near future to manufacture specialised carbon steel and stainless steel products for export markets. These products would help position Sri Lanka as a new destination for the manufacture of high technology engineering goods and will encourage and attract FDI to the country.

All this will not be possible if not for Arun's and Jaison's meticulous planning, their competence and their exceptional ability to have built strong relationships over the years with all our prestigious clients and stakeholders. Arun and Jaison are blessed with different strengths which complement each other.

I am delighted to be a part of this journey, as I consider both Arun and Jaison as gentlemen and I find them to be ethically above expectations. I am very pleased that Arun has been invited by the Ceylon Chamber of Commerce to be a presenter at the very important Sri Lanka Economic Summit.

Ladies and gentlemen, may I conclude my remarks by thanking all of you once again for being here this evening followed by a short video presentation of our new facility at the Katunayake EPZ Zone.