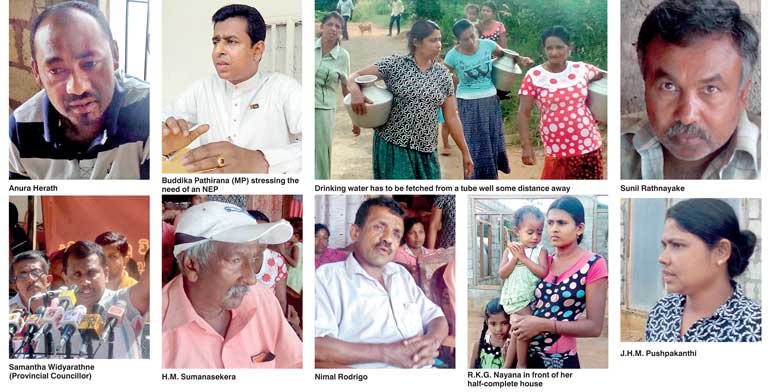 Text and pix by P.D. De Silva

"The fundamental rights and fundamental duties of Sri Lankans are violated by decision makers to profit from commissions doled out for disastrous projects like Uma Oya," said Samantha Widyarathna a former member of parliament and present member of the Uva Provincial Council and the convener of the Peoples Protesting Front of Disastrous Uma Oya project speaking to the media recently.

"The Uma Oya project has violated the rights to existence. Even though the constitution states that the duty of every Sri Lankan is to protect nature and conserve its riches the decision makers are not concerned. As a result of the Uma Oya project over 3,112 wells and waterways have dried up and there is no water to drink let alone cultivate. The people are given 500 litres of water every seven or eight days but what about the earth worms and other creatures that are they being issued with water? The Central Hills is the heart of the nation.

The administrators who get elected by our vote don't care about human life or the environment as they only crave for power, money and wealth; they don't care about safeguarding nature or the people or other living beings. They violate our fundamental rights and every environmental law. We have made representations in parliament and every time that reforms were to be brought to the constitution to safeguard our terrain, ground water and natural resources from being destructed by disastrous development projects like Uma Oya. It is still not too late to scrap Uma Oya and save ourselves and our future generations from the inevitable disaster and also protect our nation from future disastrous development projects from which only politicians benefit," Widyarathna added.

"A National Evaluation Policy will end politicians from implementing disastrous projects like Uma Oya," emphasised Matara District Member of Parliament Buddika Pathirana on being asked how citizens can stall environmental unfriendly development projects which may be proposed in the future. "The Uma Oya disaster has to be managed and expert opinion sought on ways and means of achieving some benefit for the money which has already been spent on the project," he added.

After seeing the houses that had cracked and sunk more than four feet and bone dry wells that had cracked up, fields that were once fertile and lay barren now and after speaking with the residents of Udaperuwa in Bandarawela I went to Welimada and met the villagers of Puhulpola, Ihala Kotwara and Pahala Kotawara who had given up their farm land and houses for the Uma Oya Multipurpose Development project.

Villagers of Kotawara are ancestors of refugees from the 1848 Matale Rebellion. It was in the village situated presently in the Uva Paranagama Divisional Secretaries Division and known as Kotawara that the fore fathers of 53 year old Sunil Rathnayaka took refuge after the Matale rebellion in 1848. And from that day for almost 167 years up to

2015 to be exact that generation after generation of Rathnayakas had lived by farming the fertile land in Kotawara which lays in the fertile Welimada basin. The soil was so fertile that it is cultivated three times a year twice with vegetable and once with paddy.

"Water was abundant and the land being very fertile that by farming a mere quarter acre I earned a profit of over Rs. 600,000 per year. Even my forefathers were known to be wealthy. One season I was able to purchase a three wheeler with the profit I made by growing tomatoes," reminisced Rathnayake who is the last member to cultivate his ancestral farmland before it was acquired for the Uma Oya Multipurpose development project which got underway on 29 April 2008. His two sons or daughter will not take up farming as they don't own sufficient fertile land and have been compelled to seek other occupations.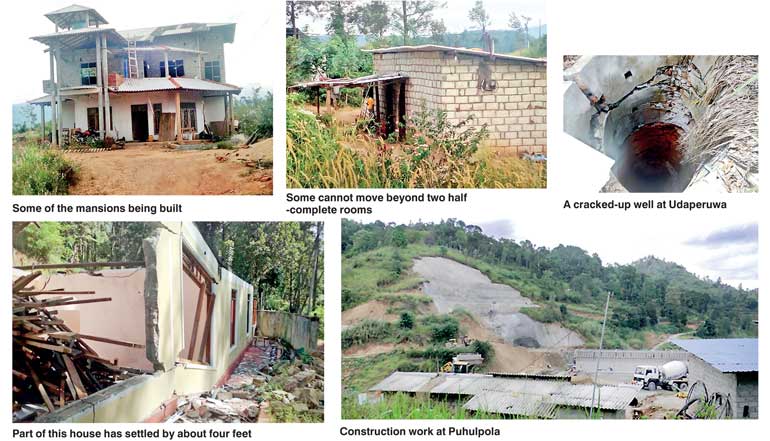 History of the Uma Oya project

It was in 1959 that Uma Oya was first analysed for the potential development of hydro power by the United States Operating Mission (USOM) and Canadian Hunting Survey Corporation (CHSC) and again in 1987-1989 by Lahmeyer (Germany) and by Central Engineering Consultancy Bureau (CECB) in 1989 as the 'South East Dry Zone Development – Preliminary Project Proposals'. A pre-feasibility study was done by CECB in 1991 on a scheme comprising of two reservoirs on Uma Oya and Mahatotilla Oya and a 19 km long tunnel transferring water to Kirindi Oya was envisaged. The Asian Development Bank refused to fund the project as it violated the water rights of the people.

The project was reopened by CECB with Lovell Inc (Canada) in 1991 as the 'Uma Oya trans basin project' to divert water to the south while the Government of Iran agreed to fund the project costing $ 529,059,197 through the Export Development Bank of Iran on condition that Faraab Company be given the contract. The foundation stone was laid on 29 April 2008 while the EIA was performed by the University of Sri Jayawardenapura and approved on 12 April 2011.


Expected benefits of the Uma Oya scheme

By implementation of the Uma Oya Multipurpose Project it is expected to divert 145 million cubic metres of water to the Kirindi Oya annually by the construction of a 30-metre and a 40-metre high dam across the Dalgolla Oya and the Mahatotila Oya two main tributaries of the Uma Oya at Puhulpola and Dyraaba together with a link tunnel 4 kilometres long between the two reservoirs. From Dyraaba near Welimada a 3.29-metre wide and a 24-kilometre long trans basin tunnel is being constructed to an underground power station at Randeniya close to Wellawaya on the right bank of the Kirindi Oya. It is envisaged that the 120Mw hydro power house at Randeniya (Alikota Ara) will add 231 GWh of electricity to the national grid annually.


What the settlers of Uma Nadi New Village had to say

Rathnayaka's was just one of the households that had been acquired in Puhulpola, Ihalakotawara, Pahalakotawara and Divithotawara of the Welimada GN divisions and Uva-Paranagama divisional secretary's divisions. Altogether 256 families have been relocated from the above areas, the dam site, and tank bed area and due to the Welimada – Bandarawela road diversion. Rathnayaka with 88 other families have been relocated on a 35 acre extent of land acquired from Moragolla Estate in Welimada.

They were allocated plots of land ranging from 10 perches to 40 perches and have been compensated for their houses and land while the scheme has been named the 'Uma Nadi New Village'. Uma Nadi Village is situated atop a hill overlooking the town and the soil is gravely and unlike the fertile land they owned in the Welimada basin and there is no water. Water is provided by bowser but drinking water is obtained from a tube well at the foot of the scheme. In addition another 442 families have been partly affected due to the loss of livelihood by the acquisition of farming land.

With over 62% of the population never getting through grade 10 and being simple farmers they were not aware of what action they could take to safeguard their homesteads or livelihood when Government officials enlightened them of the mega development project and glorified its benefits before obtaining their signatures on some documents.

H.M. Sumanasekera (69) said that he has been a farmer all his life and had prospered cultivating over an acre of fertile land in Kotawara.

"All I know is to cultivate and I can't find an employment here to make ends meet now," he grumbled. If I knew that this was going to be my plight I would never have agreed to leave the village," he added.

J.H.M. Pushpakanthi (38) is a mother of two and the most vociferous among the new settlers of Uma Nadi Village. Her husband was disabled while serving in the Army. "I used to lease out other peoples land and cultivate as an additional income. Now we don't have sufficient income and life is hard. It is I who speak out most on behalf of the community the authorities attempted to silence me being helpful but I still speak out for the community," she said.

28 year old Nayana a mother of two little girls aged seven and three used to cultivate half an acre of leased out land with the help of her husband Asankasampath. The money they earned was sufficient for them to manage their little family. Today Asanka has been forced to find casual employment in Colombo to complete their half built house and keep the home fires burning.

42 year old Anura Herath and his ancestors have been farmers for generations. "Unknowingly we had given our consent to the Government to acquire our lands. When we realised of the impact of the project it was too late. We regret for not being able to obtain a better compensation for our loss," he lamented.

Constitution of the Democratic Socialist Republic of Sri Lanka Chapter III Fundamental Rights Section 14. (1) (h) Every citizen is entitled to the freedom of movement and of choosing his residence within Sri Lanka [Sunil Rathnayaka, H.M. Sumanasekera, Anura Herath, Pushpawathy Jayasekera, J.H.M. Pushpakanthi, R.K.G. Nayana and hundreds of others had to part with their ancestral land for the Uma Oya project]


Chapter VI

Directive Principles of State Policy and Fundamental Duties Section 27 (4) The State shall strengthen and broaden the democratic structure of Government and the democratic rights of the people by decentralising the administration and by affording all possible opportunities to the people to participate at every level in national life and in Government [Were the people of Uva Paranagama given the opportunity to reject the Uma Oya Project?]

Section 27 (7) The state shall eliminate economic and social privilege and disparity and the exploitation of man by man or by the state [Have Sunil Rathnayaka, H.M. Sumanasekera, Anura Herath, Pushpawathy Jayasekera, J.H.M. Pushpakanthi, R.K.G. Nayana and hundreds of others been exploited?]

27 (12) that the state shall recognise and protect the family unit as the basic unit of society [Family units who lived together and farmed together have been disrupted as some members had to seek alternate employment]

28 The exercise and enjoyment of rights and freedoms are inseparable from the performance of duties and obligations and accordingly it is the duty of every person in Sri Lanka – to protect nature and conserve its riches [Did our Government do so when the Uma Oya multipurpose project was given the green light?]