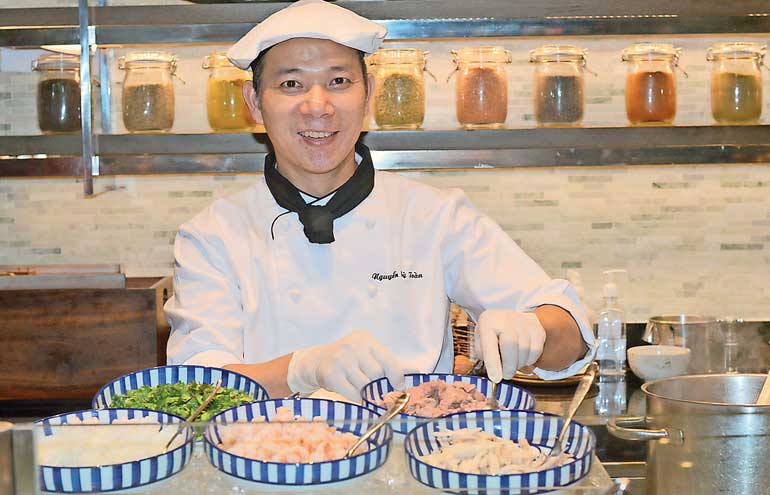 Vietnamese Chef making pho
By Madushka Balasuriya

While a flight to Hanoi might be beyond most people's budgets, for a limited time only you can now experience authentic Vietnamese cooking right here in Colombo at Hilton's Graze Kitchen, which has brought down two leading chefs from the Hilton Hanoi to serve up the finest food Vietnam has to offer.

Graze, which is known for its multitude of cooking stations offering a range of cuisines, recently eschewed its Sri Lankan corner in favour of one offering a revolving door of international cuisines. Kicking off this latest venture are the unique tastes of Vietnam which will be available until 15 July.

As is usually the case with Graze, there are no half measures. Alongside the Vietnamese station, half the salad bar is taken up by a variety of light, fresh offerings, while there are a handful of traditional desserts to flair your taste buds. Themed decorations are also helpfully placed near each item to help guests easily identify the Vietnamese items.


Starters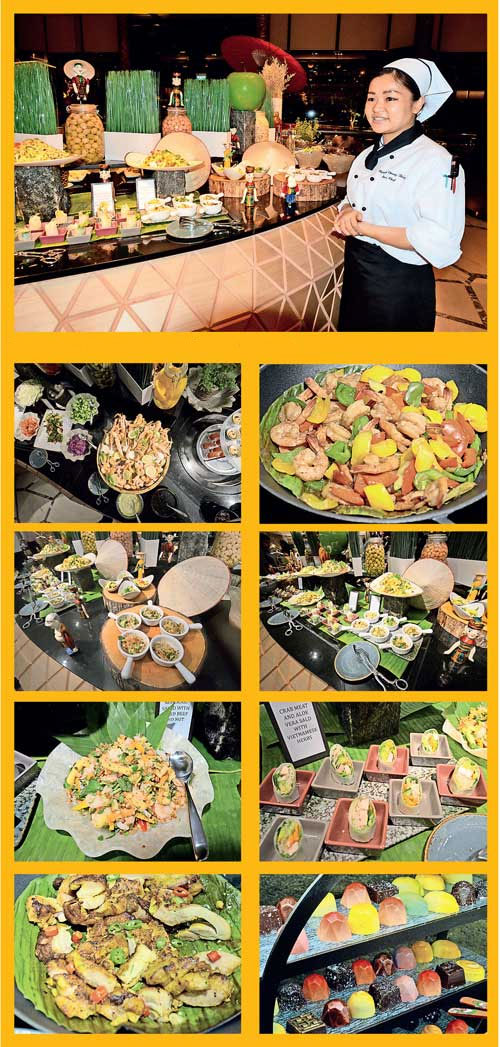 Vietnamese cuisine is considered among the healthiest in the world, and with good reason too. With an emphasis on fresh ingredients as opposed to dairy and oil, it instead relies on complementary textures, a selective use of spices, and fresh herbs and vegetables to separate itself from the vast majority of traditional Asian fare.

Nowhere is this exemplified more than in their salads. The Kohlrabi Salad with Dried Beef and Nuts is an ideal introduction to what Vietnamese cooking is all about – the crunchiness of the nuts, the sweetness of the vegetables and dressing, all combine exquisitely to complement the light chewiness of the dried beef – it is a dish you can just keep eating.

Another noticeable trait is the way in which the flavour of the meat is never overpowered by other elements on the dish. The Crab Meat and Aloe Vera Salad with Vietnamese Herbs perfectly illustrates this, as the freshness of the aloe vera and the nuanced use of herbs ensures that the juicy flavour of the crab is present in each mouthful.

No selection of starters would be complete without a soup offering, and this one did not disappoint. The Hanoi Chicken Soup had a creaminess which belied its clear nature. A simple enough dish on the surface with scarcely any bells and whistles to go with its chicken and mushroom essentials, its flavour profile positively burst on my palate upon tasting. It is everything a chicken soup should aspire to be.


Mains

When asked what Vietnamese food was famous for, Chef Thuy's reply was one simple word: "Pho." While technically a soup, this noodle-based delicacy is no starter. On first viewing it is a simple noodle soup with meat thrown in, taste it though and it becomes clear why this is Vietnam's most popular dish.

The key to its success is in the broth, with beef bones, onions, star anise, ginger, and fish sauce among the ingredients tossed in. It's light, warm and tangy, with a delightful spicy kick at end of each spoonful. The spice however doesn't linger long, so it is definitely a dish that can be enjoyed by all.

Graze offers an option of chicken, beef, or seafood as meat options with its Pho, which is prepped and served on demand. I went for the seafood and the servings were more than generous, with all the expected staples on offer.

While perusing all the options, one of the dishes that immediately caught my attention was the Fried Hanoi Spring Roll with Pork and Glass Noodles. Another dish that came highly recommended by Chef Thuy, it is essential that it is eaten along with the accompanying sauces: one encompassing pickles and carrots, the other a light sweet chilli sauce. The sweetness of the pickle in particular elevates the flavour of the pork immeasurably. It also speaks volumes of Vietnamese cuisine, that even a fried dish can taste so fresh.

Other dishes on offer included Grilled Chicken Legs with Lemongrass and Chilli, Chicken and Lamb dumplings, Stir Fried Beef, and Wok Fried Vegetables with Oyster Sauce. A stand out among them was the chicken dumplings which came with a fantastic chilli sauce.


Desserts

The Vietnamese dessert selection was small with only three on offer: Sweet Taro with Coconut Milk, Green Bean Soup, and Traditional Vietnamese Candy.

If you're a fan of Taro, the first is definitely for you. Personally, none of the dessert dishes particular meshed with my palate.

The green bean soup in particular is an acquired taste, with the closest facsimile in terms of taste possibly a sweet lentil curry.

The traditional candy meanwhile was a throwback to my childhood when I would enjoy small squares of cashew nut melded with honey; the candy filling was essentially cashew nut and honey wrapped with a tough, sweet exterior.


Recommendation

With three menus being rotated through the course of the promotion on alternate days, this review is hardly comprehensive, but if the food on the opening night is anything to go by, it's definitely worth a couple of visits to try everything on offer.

Pix by Shehan Gunasekara