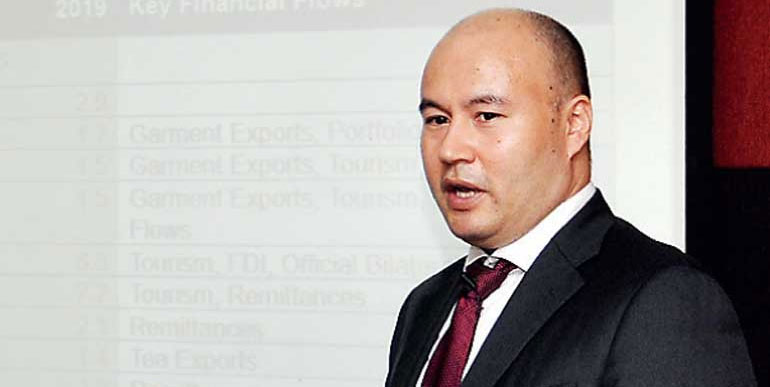 World Bank Senior Country Economist Ralph Van Doorn presenting an update on Sri Lanka's economic performance yesterday – Pic by Ruwan Walpola
Describes economic performance as satisfactory
Reforms of revenue measures, taxes and restructuring SOEs crucial
Predicts deficit likely to be 5.2%, higher than Govt's 4.7% target
Says no discrepancy of debt numbers, 2017 growth 5.2%
By Uditha Jayasinghe

The World Bank (WB) yesterday described Sri Lanka's economic performance as "satisfactory," predicting it would end the year with 4.7% growth, but stressed the Government should fast-track reforms to improve competitiveness and attract investment to sustain development.

Releasing the latest Sri Lanka Development Update (SLDU), the WB said 2017 is "the best time" to kick-start reforms but warned delays in implementing structural revenue measures could slow fiscal consolidation. It also highlighted slower than expected improvement in tax administration, less favourable growth in the global economy and faster than expected global commodity price rises as key risks.

"In addition, faster implementation of several vital reforms, identified by the Government, such as those affecting State-Owned Enterprises like SriLankan Airlines, and measures to strengthen accountability and transparency are crucial. Additional urgent reforms such as improving the ease of doing business in Sri Lanka and trade facilitation are designed to address the issue of the economy's weak competitiveness," the SLDU report said.

Sri Lanka's fiscal deficit for this year is projected to be 5.2% by the bank, higher than the 4.7% targeted by the Budget presented by former Finance Minister Ravi Karunanayake. The World Bank's growth projections however do not include the possible financial fallout from the recent floods that were the worst in 14 years.

The bank also flagged increased debt payments from 2019, faster than expected rises in international commodity prices increasing pressure on balance of payments that could also spill over to making domestic fuel and power price reforms more difficult.

In addition to building resilience to meet natural disasters, among the report's recommendations is the need to raise more revenue while controlling current expenditures to bring public debt to a sustainable path. Implementing the new Inland Revenue Act, soon to be submitted to Parliament, will make for a good starting point, it said.

"The country also attracts a much lower volume of Foreign Direct Investment than peer economies. Sri Lanka has an opportunity to move to new sources of growth and jobs by opening up to trade and diversifying its economy," World Bank Senior Country Economist Ralph Van Doorn told reporters.

"The fiscal deficit is not set in stone and we think it is feasible for the Government to meet its target of 3.5% by 2020. The 2017 number is still in line with what would be needed to meet this number three years from now," he added.

Doorn emphasised that moving ahead with measures to increase exports and fiscal revenue should give Sri Lanka the means to improve the lives of the poor and help the economy adjust. The WB is confident that Sri Lanka will be able to increase its tax revenue without reducing productivity.

The economist also believes Sri Lanka's debt to GDP ratio, which the Finance Ministry had calculated at 79% in its Annual Report released earlier this month but was disputed by the Auditor General as 83%, did not warrant a significant difference.

"The difference of opinion is not big," Doorn said. "We think there is no discrepancy of numbers."

Rather the challenge may come from Government guarantees given to State institutions such as the Road Development Authority (RDA) to obtain loans, which the Treasury would end up having to pay because the companies are incapable of raising enough revenue by themselves. The Sri Lankan Government traditionally approves the Treasury to make these payments.

"Sri Lanka also has more commercial debt relative to reserves, which could reduce fiscal space."

Cautioning against adopting piecemeal solutions, the report notes that Sri Lanka's economic challenges are interlinked and require a comprehensive and coordinated reform approach. Although the island nation must cope with a turbulent external environment and domestic political considerations, a strong political will and the support of the bureaucracy could help advance the reform agenda, the report said.
WB hails Inland Revenue Act
World Bank officials yesterday praised the gazetted Inland Revenue Act, which is expected to be presented in Parliament next month, as a positive step towards increasing public revenue by widening the tax net.

The Act presents a simplified system that would enable even smaller enterprises to pay their taxes by themselves without having to hire an expensive tax accountant, observed World Bank Senior Country Economist Ralph Van Doorn.

This simplicity together with the changes of tax incentives to investors encouraged companies to invest in Sri Lanka long term rather than considering projects for profit.

"The Inland Revenue Act looks simpler and is therefore easier to comply with for businesses. The incentives encourage investment. This new regime only rewards if you actually invest rather than for merely making a profit."

Officials advocated that the new legislation be linked to stronger liberalisation and phasing out of para-tariffs to make the economy more competitive.

The International Monetary Fund (IMF) delayed the third transfer of its $ 1.5 billion Extended Fund Facility (EFF) with Sri Lanka until the Act was formulated satisfactorily. The IMF board is expected to meet in the second week of July after which the Government expects the third tranche to be released.