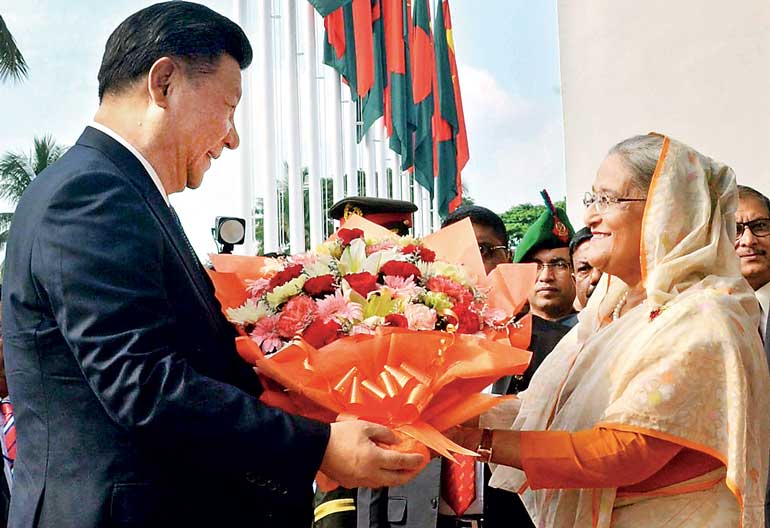 Bangladesh Prime Minister Sheikh Hasina (right) gives flowers to Chinese President Xi Jinping (left) before their meeting at the Prime-Minister's Office in Dhaka, Bangladesh on 14 October 2016
By Azzam Khan

southasianmonitor.com: Bangladesh finds itself between a rock and a hard place. On one side, there is China's One Belt One Road initiative, which promises seamless connectivity to the rest of the world. On the other side, there is the disapproving neighbour, India, ready to take any overtures in the westerly direction as a personal affront. Bangladesh's foreign policy is based on friendship towards all and malice towards none, but how far can it exercise this principle on the ground remains a question.

In May this year, the One Belt One Road (OBOR) Forum was held in Beijing, China. It was attended by 29 heads of state and government, representatives from 130 countries and 70 international organisations. Bangladesh joined after much debate and deliberations within the Government. India was conspicuous in its absence.

In recent years Bangladesh's relations with China have improved vastly and President Xi Jinping's visit to Bangladesh in October last year was a milestone. China has committed $ 24.45 billion in investments to Bangladesh, with as many as 27 deals signed during Xi Jinping's visit. As it is Bangladesh has always procured most of its military hardware from China and the recent purchase of two submarines was another significant step in defence cooperation between the two countries.

So, when China initiated the very promising and pragmatic One Belt One Road initiative, it was only natural that positive vibes were felt in Bangladesh. It envisaged a gateway to global communication, economic expansion, international cooperation and more. Businessmen, academics, professionals and people from all walks of life were excited. This was a futuristic vision ready for implementation here and now.

Of course there were sceptics. India has openly expressed its reservations about the plan, worrying that it is an attempt to build a vast zone of Chinese influence. The US, not quite comfortable with China's fast escalation to top world order, a place which America has long taken for granted, is also speculative about the initiative. However, sheer geographical distance perhaps makes it less of a looming issue for them.


Bangladesh and OBOR

Despite misgivings from quarters within the country and from outside, Bangladesh went ahead to join the OBOR Forum in May this year. However, it was a low-profile representation. At a recent discussion in Dhaka about the OBOR Forum, distinguished fellow of the Centre for Policy Dialogue, Dr. Mustafizur Rahman pointed out: "India didn't go. We went, but hesitantly. We needed higher profile representation, but it is good we went. That was a good policy decision."

The Government realises that it needs to align its policies from now if indeed it wants to become a mid-income country by 2021. It can no longer afford to restrict itself to appeasing only selected allies. When it comes to the country's interests, there is no alternative to farsighted policies and forward-looking polices. Joining the One Belt One Road initiative is an obvious choice which would be a boost to the economy, ushering in investment and opening up opportunities.

Interestingly, while the Bangladesh Government has built bridges with China, literally and figuratively, India has always remained the elephant in the room. It is reluctant to share its ally with China. Whether it is for economic, security, territorial or other reasons, India would always opt for Bangladesh to be on its side, preferably exclusively.

It may not say this in so many words, but the writing is there on the wall. A clear example of this is that as soon as the submarines procured from China arrived in Bangladesh, there was a flurry of visits from India, including one from the army chief himself. And when Bangladesh's Prime Minister Sheikh Hasina visited India earlier this year, among the many deals signed, there were unprecedented defence deals, including procurement of military hardware from India.

Perhaps that is why Bangladesh was hesitant to display so much interest in OBOR. However, not only are business persons and others eager to get on board the OBOR initiative, many members of the Cabinet have no qualms in speaking out in its favour.

Bangladesh's Planning Minister A.H.M. Mustafa Kamal, himself a prominent businessman, was quite open about his interest in this Belt and Road Initiative while speaking at a roundtable organised by a leading daily in Dhaka recently.

He said: "This is nothing new. This initiative is just an extension of the ancient trade route which existed so many years ago in China. We have to look at it from a development perspective now. It is a win-win situation. It has a good feel factor."

As a banker heading a major foreign bank in Bangladesh, Abrar A. Amin says: "OBOR is an opportunity. It involves infrastructure connectivity, investment and trade facilities, and financial cooperation."

It certainly is a win-win opportunity for Bangladesh. Determined to render OBOR a success, China is making large investments among the projected OBOR countries. They are diversifying their investments into the emerging markets. Economists and business persons agree that Bangladesh must take advantage of this situation for the sake of economic expansion.

Presently China exports goods worth $ 12 billion to Bangladesh. Bangladesh exports $ 1 billion to China. This is a huge trade gap. But free access will mean more export opportunities. The key to make the most of this opportunity is diversification. Bangladesh needs to look into export diversification. Readymade garments and textiles are already there and so special attention must be paid to other labour intensive areas.

CPD economist Mustafizur Rahman also sees the need to prepare in order to reap benefits from the connectivity that looms large ahead. He says OBOR needs to be integrated with Bangladesh's 2041 perspective plan.

Half-hearted attendance of the OBOR Forum won't do anything for Bangladesh in this regard. It needs full-fledged preparation from now. The trade facilitation that the initiative offers, calls for standardisation, harmonisation, electronic data exchange and so much more. All these things must be done from now, before the routes are finalised and fixed.

Big investment will be needed. This will not be just a transport corridor. It is an economic corridor. Given the connectivity, China apparently will be wanting to relocate many of its industries. Here is where Bangladesh needs to step in to grasp this opportunity. The special economic zones need to be adequately equipped to take full advantage of the corridor. The competition is high and must be met with expertise and skill. Good governance is also a key factor for successful utilisation of the opportunities.

Bangladesh's economy has doubled over the last decade. China has seen huge expansion over the last 15 years. It needs a market outside. And we need investment in infrastructure and other sectors. China is ready with investment, ready to provide technology transfer. So, the stage is set for cooperation that is mutually beneficial. There is a push factor from China. Bangladesh simply needs to up its pull factor.

Academics in Bangladesh are also looking with interest towards the OBOR initiative. Rashid Al Mamun Titumir, professor of development studies at Dhaka University, says: "When China's President Xi Jinping visited Bangladesh, all the political parties and politicians came forward. This was a rare instance of political consensus in Bangladesh."

That means the way to the modern-day Silk Route is paved and ready, just some prudent policies and independent thinking is required.

Delays can be suicidal. It is said, look before you leap, but if you are going to leap, don't look to long. Already Bangladesh missed a China Plus One opportunity when it prevaricated over being a location for China's diversified locations. It cannot afford to miss another golden opportunity by delaying over the OBOR issue. The stakes are too high.

There is no reason for Bangladesh to prevaricate. Chairman of Bangladesh Institute of International and Strategic Studies (BIISS) and former Bangladesh Ambassador to China, Munshi Faiz Ahmad, says: "OBOR is beneficial for all, all will voluntarily join."

He says China's objectives are clear. Its objective is to create a sphere of friendship, to maintain the continuity of development. They have no desire for any conflict as long as their sovereignty is not at stake.

Economically speaking, China's commodities are not expanding. That sector is saturated. Its main export now is infrastructure. It is importing commodities like iron ore, coal, soybean and so on. So, seamless connectivity will not only benefit China, but all countries which join the initiative. "If any country has reservations or apprehensions, these fears are ill-founded," says Munshi Faiz Ahmed.


The India factor

India actually can't be ruled out of the picture either as eventually it is not likely to miss this chance either. There is the BCIM corridor involving Bangladesh, China, India and Myanmar. India is showing avid interest in the project which will link Kunming with Kolkata, the K2K corridor. Bangladesh can benefit immensely from this.

Bangladesh's apprehensions about India's stand on OBOR may thus possibly be dispelled in the future. After all, India may not have joined as yet, but that does not mean it will be left out. Despite the apparent antagonism, India and China have solid business ties. Four top smart phones used in India are Chinese. China's e-commerce company Alibaba is the biggest online shopping business in India. There are innumerable more examples of business ties between the two countries. So, there is no reason why China and India can't iron out political difference when it comes to pragmatic planning.


Way forward

In the meantime, Bangladesh needs to prove its maturity as an independent nation and do what is best for its people. As OBOR becomes a reality, and Bangladesh is aware of the win-win factor, it must now focus on capacity building, infrastructure development and creating an investment-friendly environment. One Belt and One Road can only lead to one conclusion – seamless success.