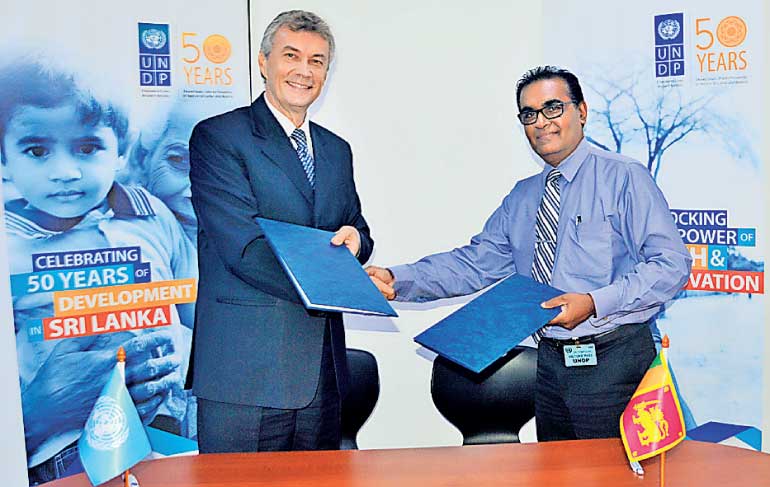 Pioneering initiative with Daily FT expanded to cover Sinhala daily Ada and Tamil Mirror
The United Nations Development Program entered into a partnership with the Wijeya Newspapers, namely the 'Ada' and 'Tamil Mirror' newspapers, last week to promote and provide a space to unlock youth voices across the country via the UNLOCKED platform.

The UNLOCKED Project is an initiative by UNDP Sri Lanka, launched following the National Human Development Report 2014 on Youth and Development. UNLOCKED is a space for Sri Lankan youth to express their views and opinions on development with the aim of creating positive change in the world. With a growing interest and an increasing pool of approximately 40 bloggers onboard over the last three years, the objective of this partnership is to ensure that more young people from across the country will have an opportunity to express their views in Sinhala and Tamil.

Complementing the pre-existing partnership with the Daily FT to roll out youth blogs on youth and development challenges, this partnership with the Ada and Tamil Mirror newspapers will also ensure that UNLOCKED will be disseminated to reach a trilingual audience.

Speaking about this collaboration, Wijeya Newspapers Ltd. Assistant General Manager, Brands and Promotion Sujith Pathirannehe stated, "We are pleased to partner with UNDP to create a space for youth to express their opinions and voice their concerns. It's vital for youth to be heard so that they can become active citizens of the country."

UNDP Country Director Jorn Sorensen speaking on the importance of this partnership stated, "Youth have a pivotal role to play in the development landscape. Therefore, it is crucial to give them the space to express their views in any language. UNDP, through our Youth and Innovation initiatives, are working to empower and provide such platforms for better youth engagements from across Sri Lanka."

For more information on the UNLOCKED and to read some of the previous blogs, please visit: http://www.lk.undp.org/content/srilanka/en/home/ourwork/youth-and-innovation/unlocked/.

UNDP partners with people at all levels of society to help build nations that can withstand crisis, and drive and sustain the kind of growth that improves the quality of life for everyone. On the ground in 170 countries and territories, UNDP offers global perspective and local insight to help empower lives and build resilient nations.